Our price match promise
We will beat or match other retailers
Free UK delivery on orders over £35
Save on postage today
Customer Data Protection
Your data is safe and secure with us
Chlorella Algae
3000 mg 600 Tablets | Pure Chlorella Algae Superfood
Overview
Enjoy the power of nature with Chlorella Tablets! They're perfect for those looking for a gentle daily detox, removing the impurities we all accumulate. In addition to having the highest chlorophyll content of any plant, they contain incredible levels of vitamins, minerals, and Omega-3s. It's particularly unique amongst all plants for its otherwise hard-to-obtain Vitamin B12 content, aiming to energise and revitalise while banishing fatigue.
High quality Chlorella
45-60% premium vegan proteins
Richer in chlorophyll than any other plant
Plentiful micronutrients and vitamin B12
Easy absorb tablet, simple premeasured servings
3000mg strength daily
Notify me when this product is back in stock
Great! We'll notify you when this product comes back in stock.
You have already subscribed for this Email Address.
An Ancient Natural Secret
Chlorella is one of an elite selection of animal and plant species known as 'living fossils'. Living fossils have not evolved for millennia, remaining unaltered through Earth's many changes. There can only be one reason for this - it was perfectly designed in the first place! Chlorella is native to Taiwan and Japan, having been discovered by a Dutch microbiologist in 1890. During World War Two food shortages, it was espoused as a potential new food source, particularly as it's so high in protein and grows four times in a day. In more modern times, it's come to be considered as particularly useful in the purification of the body, in helping to remove toxins found in built-up, polluted areas. This is particularly true in Japan - where it's said that an incredible 200,000 tonnes are consumed every year!
Why We Need to Detox
We all accumulate different toxins in our bodies over time, as we face numerous compounds through diet and environment. For instance, delicious, otherwise nutritious fish like tuna, mackerel, and swordfish often have high levels of mercury. More commonly, much of our food is exposed to pesticides and herbicides, with a risk of remaining residue. These include non-organic meat, a wide range of different fruit, potatoes, leafy greens and dairy products. While we all try to be responsible in our dietary intakes, it's practically impossible to cook everything we eat from scratch - inevitably, we're all bound to consume some of these undesirable compounds. Therefore an entirely natural product that can help to cleanse, clarify and purify our systems of these toxins could be an ideal addition to our daily regimen.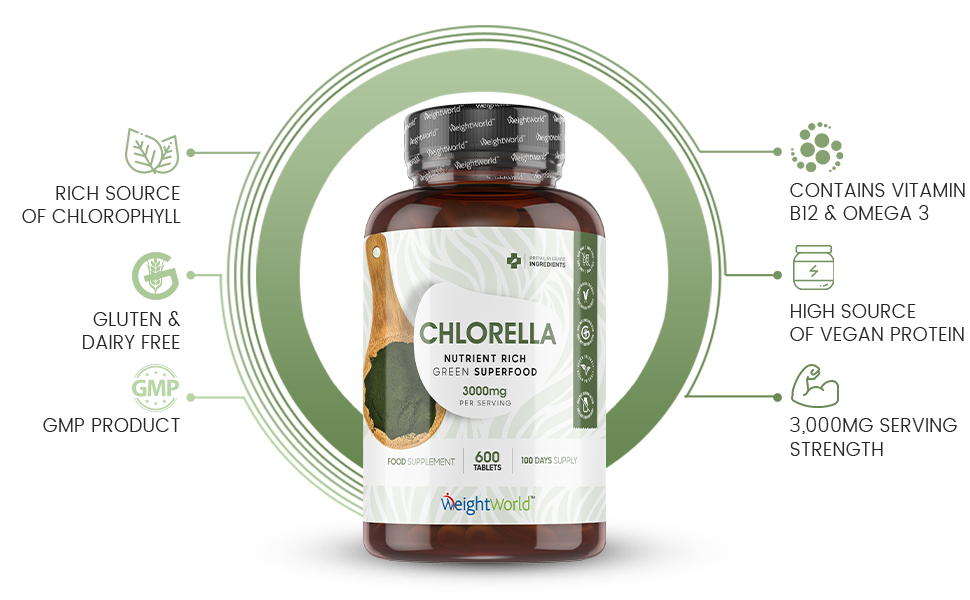 Incredible Chlorella
Chlorella is remarkably high in chlorophyll - it is considered to have more of this compound, responsible for the collection of plants' energy from sunlight through photosynthesis, than any other plant, making it a top source. Chlorophyll is known to help bind with toxins within the body, inhibiting their progress through the system. Chlorella is also known for being an extraordinarily rare vegan source of high levels of Vitamin B12. It's otherwise found exclusively in meat products, with beef liver being the next highest source, leaving vegans deficient in it. It's also high in iron, known to contribute to the immune system, helping to energise the body while purifying and nourishing.
It also naturally contains Vitamins A, C and E, which are known to have a wide range of benefits including contributions to the maintenance of normal skin and vision, the formation of blood vessels and the protection of cells from oxidative stress. Chlorella is also very high in protein at between 45-60%, especially for vegans who frequently lack these physical building-blocks. And, crucially, all the essential amino acids are included, meaning you don't need to go to various supplements to access them all. There are also minerals, such as calcium, magnesium, zinc, phosphorus and potassium. And, last but not least, microalgae are considered a concentrated source of Omega 3, responsible for fish being so naturally high in these essential fatty acids.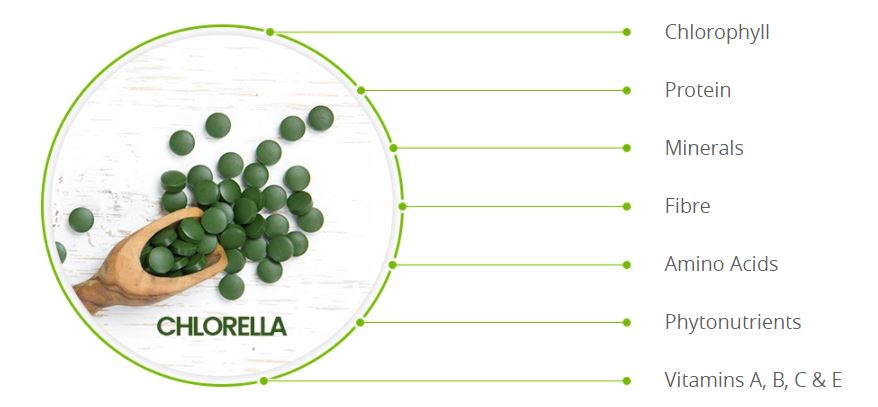 Chlorella Tablets - Harvesting the Power of Algae
Chlorella's unique nutrients are tightly bound in a tough cellulose fibre casing that needs to be 'broken' in order for it to be properly digested when consumed. A special process, that excludes heat and light to preserve nutritional integrity, cracks and pulverises that outer shell wall. This releases all Chlorella's incredible values into an easily digestible form, ready and waiting to do its brilliant work on your body. Compressed into individually small, easy-to-swallow tablets, they can give you a simple, time-saving, precisely pre-measured dose. At 4g a day, and without any additional ingredients, you can enjoy the perfect amount at a market leading strength. You can then enjoy all the brilliantly powerful algae's nutrients in a convenient, easy-to-incorporate form.
Taking Chlorella
The small yet potent tablets will give you a powerful, pure dose of Chlorella's benefits everyday, perfectly complementing the rest of your regular wellness regime. Twice daily, with a large glass of water and before eating, take five Chlorella tablets. To get the most out of the tablets, we recommend taking for at least three months, as well as investing in long-term use.
Advice On Chlorella
As the Chlorella Algae Tablets are made with one natural ingredient with no additives, they have no known side effects. The tablets are suitable for vegans and vegetarians, and are gluten and dairy free. If you're pregnant, breastfeeding, or taking any medication, please consult a healthcare professional before use. They are not intended for use by anyone under the age of eighteen.
Customer Reviews
At WeightWorld we strive to offer the best possible customer service and we take great pride in the feedback we have received from our customers. All testimonials and reviews below are the experiences and opinions of WeightWorld customers. They should not be considered as health, medical or medicinal claims. They are no substitute for taking medical advice.
Outstanding

4.5
82.00% based on 19 Verified reviews

* Results may vary from one person to another.