Our price match promise
We will beat or match other retailers
Free UK delivery on orders over £35
Save on postage today
Customer Data Protection
Your data is safe and secure with us
Hydrolysed Collagen Peptide Powder
500 g Powder | Natural Muscle Supplement
Overview
Are you looking for a collagen supplement to look after your bones, joints & skin health? Specially engineered to promote healthy joints, bones, skin elasticity and hair, our advanced Hydrolysed Collagen Peptide Powder helps tackle the effects of ageing by replenishing the collagen levels. A daily dose of our flavour-free & bioavailable formula can become an essential part of your health routine. Plus, it's great for mixing with your favourite drinks every day!
Natural anti-ageing support
For joints, bones and skin health
Contains 90% pure protein
Sourced from the finest Bovine Collagen
Fits easily into your daily routine
Dairy-free
GMP
ISO
GMO Free
Notify me when this product is back in stock
Great! We'll notify you when this product comes back in stock.
You have already subscribed for this Email Address.
What Is WeightWorld Hydrolysed Collagen Peptide Powder?
Hydrolysed Collagen Peptides Powder is a premium supplement containing all three essential collagen types. As it is highly bioavailable, collagen starts being absorbed by the body within just a few minutes. Enriched with 19 essential amino acids allows for optimal synthesis. What sets our supplement apart from the rest, is its 90% protein content. Low in fats and carbohydrates, this easy to take supplement is a perfect partner for your fitness journey.
What Is It For?
While we're born with an abundance of collagen in our body, the natural ability of our body to produce collagen decreases dramatically as we age. To help you take care of your joints, bones and overall wellbeing, we bring you this advanced collagen complex which can be easily mixed into your drinks, anytime, anywhere! Also, taking collagen supplements may promote the production of other proteins that help structure your skin, helping fight against the signs of fine lines and wrinkles as ageing begins to occurr.
Collagen is helpful for:
Promoting joint and bones health
Keeping your skin and hair at their best
Boosting weight management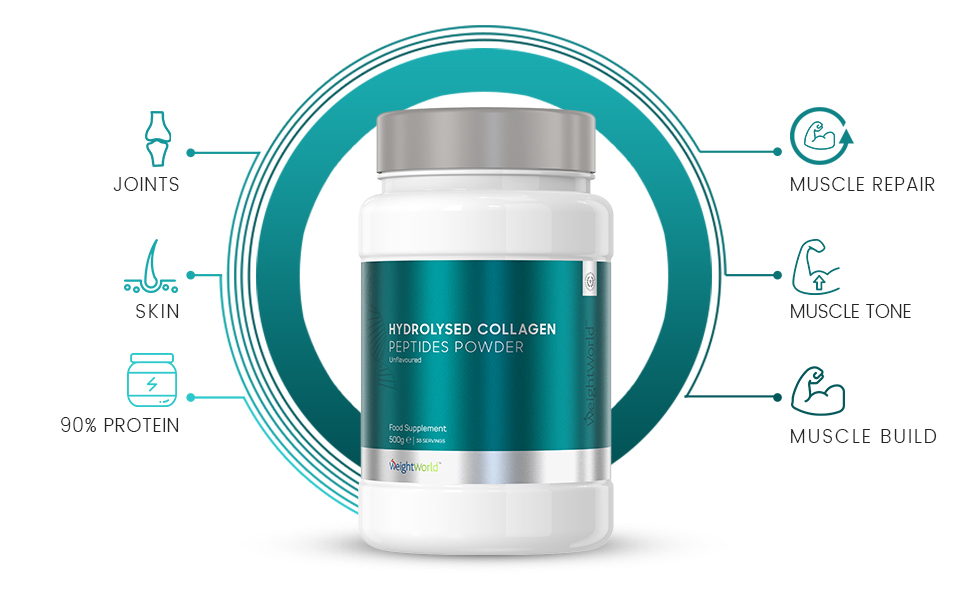 Who Should Use Hydrolysed Collagen Peptide Powder?
Whether you want to boost your workout results or age gracefully, our additive and preservative-free collagen supplement is the perfect addition to your daily health regime. This collagen blend will easily complement your diet plan for you to reap its maximum benefits. It is ideal for both men and women who need extra support for their journey towards a more radiant and healthier body.
How To Use?
Simply mix two heaped scoops of the Hydrolysed Collagen Peptide powder in your water, juice, smoothie or favourite workout shake before, during or after exercise. Please don't exceed the recommended daily dose. Scoop is included in the pack.
Customer Reviews
At WeightWorld we strive to offer the best possible customer service and we take great pride in the feedback we have received from our customers. All testimonials and reviews below are the experiences and opinions of WeightWorld customers. They should not be considered as health, medical or medicinal claims. They are no substitute for taking medical advice.
Outstanding

4.5
81.67% based on 11 Verified reviews

* Results may vary from one person to another.