Our price match promise
We will beat or match other retailers
Free UK delivery on orders over £35
Save on postage today
Customer Data Protection
Your data is safe and secure with us
Vegan Collagen Powder
300 g Powder | Plant Based Anti-Ageing Formula
Overview
Boosting collagen levels can be tricky when you're a vegan or vegetarian, which is why we created our exclusive Vegan Collagen Powder! Our premium flavourless powder supplement is highly versatile and is designed to support natural collagen production within the body. It's made from high-quality natural ingredients to care for the health and wellbeing of the skin including Vitamin C, Hyaluronic Acid and Resveratrol. This means that our Vegan Collagen Powder makes for the perfect plant-based choice to take care of your skin today!
Supports the production of collagen
For healthy, youthful-looking skin
Advanced vegan amino acid blend
100% plant-based formula
Contains 60 full servings
Vegan
GMP
Expert Formula
GMO Free
Notify me when this product is back in stock
Great! We'll notify you when this product comes back in stock.
You have already subscribed for this Email Address.
Product that you are looking for is no longer available, please select from an alternative below.
What is WeightWorld Vegan Collagen Powder?
This Vegan Collagen Powder is a plant-based solution for vegans and vegetarians looking to boost their collagen production. This easy to use powder is made using the best natural ingredients such as Vitamin C, MSM and a whole range of vital amino acids. It is also unflavoured so you can easily add it to your daily routine without any hassle and contains a massive 60 servings to offer excellent value for money.
How does it work?
This special Vegan Collagen Powder is made with premium quality plant-based ingredients mixed together to deliver natural collagen-boosting action. From Vitamin C, known to support collagen production, to Resveratrol and Hyaluronic Acid, working to support skin's moisture, every single ingredient in this formula has been hand-chosen to play a role in your anti-ageing routine. It is also enriched with a secret weapon - an advanced vegan amino acid blend that is essential for supporting collagen production.
Who is it for?
WeightWorld's Vegan Collagen Powder has been created as a way for those following a vegan or vegetarian diet and who live an environmentally-friendly lifestyle to access these products and enjoy the benefits of collagen production in the body. It is also ideal if you want a more versatile way to boost collagen levels as the powder form is easy to use and add to smoothies, drinks and more. What's more, this supplement is also an excellent choice for those looking for maximum absorbency and want to make the most of what they're putting in their body.
Directions for use
To use, simply add a teaspoon (5g) of the Vegan Collagen Powder to water each day. You can also add it to fruit juice or a smoothie if preferred. If you want to be even more adventurous, you can add the powder to your favourite recipes including hot and cold drinks, cakes and protein bites - it's completely up to you and your imagination!
This premium supplement uses only natural and plant-based ingredients so is safe to use with no known side effects. Please read the full ingredients list before use to check for any personal allergens.
Full list of ingredients
Vitamin C, Zinc, Vitamin E, Orange Powder, Kale Powder, Broccoli Powder, Rosehip Powder, Methyl Sulfonyl Methane (MSM), Rutin, Resveratrol, Enzyme Blend (Amylase, Protease, Lipase, Lactase, Cellulase), Lactobacillus Acidophilus, Hyaluronic Acid, Peppermint.
Frequently bought together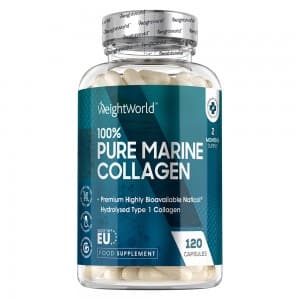 +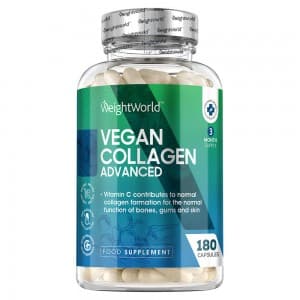 Customer Reviews
At WeightWorld we strive to offer the best possible customer service and we take great pride in the feedback we have received from our customers. All testimonials and reviews below are the experiences and opinions of WeightWorld customers. They should not be considered as health, medical or medicinal claims. They are no substitute for taking medical advice.
Outstanding

5
90.48% based on 20 Verified reviews

* Results may vary from one person to another.