Silhouette Combo
Combo | Waist Trainer & Belly XS
Are you one of the many, many people all over the world worried by the shape of your torso? If you're someone who finds themselves poking, prodding and sucking in their belly, the Silhouette Combo was designed just for you. To target both external appearance and internal functions, this pack includes both Waist Trainer garment and Belly XS capsules. Now you can find a dual-edged approach to your worries and insecurities.
Contains the Waist Trainer & Belly XS
Specifically targeted for the stomach area
Sculpts the appearance of the waist
Comfortable and discreet to wear
Made with natural ingredients
With Caffeine, Guarana & Zinc
No matter how hard we work out or the time we put into our duet, some of us seem to always struggle to achieve the flat belly common to pop stars and actors everywhere. So that you can take an innovative new approach, the Silhouette Combo addresses both components of your worries. Everyday capsules, and a waist cinching garment, could be the key to restoring confidence in your shape.
Free Delivery on all UK orders over £35.
Waist Trainer
Everyday our lives are getting busier and busier, and as a result it can be hard to hit the gym everyday and keep our bodies looking the way we would like. For those looking for a more short term option and a way to instantly achieve the look of a more toned and hourglass figure, the Waist Trainer is the perfect choice. Comfortable and discreet to wear, it can shape the appearance of the waist and stomach the second it's put on, making it ideal for a special occasion or even just to make the most out of a regular day.
Made using only high quality materials, the Waist Trainer has been designed to adapt to each users individual body types and to compliment their natural curves. To maintain its structure, it features a fine metal that has been carefully woven through the fabric and then additionally reinforced with cushioned padding for extra comfort. Together, these help the corset to slim and trim the appearance of the waist, but whilst still being lightweight and flexible enough for easy movement.
Belly XS
If you're looking to get rid of belly fat in the long term, it going to take hard word, a good diet and plenty of exercise. Whilst this is in theory simple enough, for many of us this can be hard to maintain. For those looking for that extra boost there is Belly XS, a premium food supplement specifically designed to give you that extra push when it comes to exercising the stomach.
Formulated with a unique blend of 13 active ingredients, Belly XS creates a 360° supplement that aims to help with all aspects of weight management in the abdominal area. This includes energy to get you going, appetite management to help avoid those pesky cravings, balancing fat and sugar levels, protecting and strengthening the doy within as well as providing the motivation to help you reach you day-to-day and long term goals.
Complete Belly XS ingredients
Active Ingredients: Caffeine Anhydrous, Citrus Bioflavonoids (60% Flavonoids), Tyrosine, Guarana Seed Extract (22% Caffeine), Apple Cider, Garcinia Cambogia, 5-HTP (From Griffonia Seed), Turmeric Extract (95% Curcuminoids), Vitamin B3 (Niacin), Zinc (as Zinc Glycinate), Copper (as Copper Glycinate), Chromium (as Chromium Picolinate).
Other Ingredients: Capsule Shell - Vegetable Cellulose. Anti-Caking Agents - Silicon Dioxide, Magnesium Stearate.
How to use
Waist Trainer: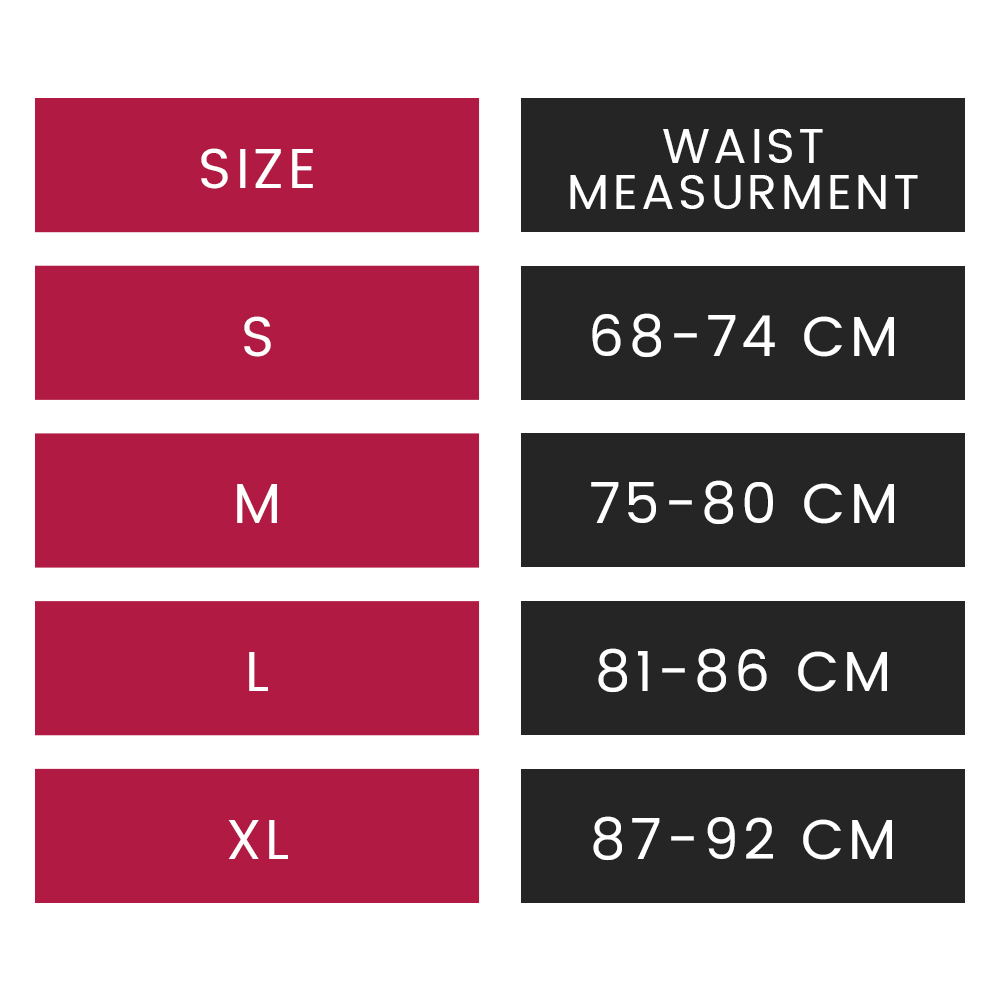 Start by making sure you have chosen the correct Waist Trainer for you and your body using the size chart. Measure your waist line by going about 2 cm above the navel in order to get an accurate measurement. If you happen to fall between 2 different sizes, we recommend beginning with the larger and then moving on to the smaller if needed.
To put on and wear your Waist Trainer, wrap it around your waist, making sure the upper portion of the corset is just below the bust line, and the do up the hooks. The Waist Trainer features 3 levels of hooks so that you can easily and comfortably tailor it to you and your body. It is up to you what time of day to wear the corset, however we suggest beginning with 1-2 hours per day and building up over time until reaching the maximum of 6.
Belly XS:
This natural supplement has been carefully designed to be an easy addition to any daily routine. Simply take 2 capsules daily with water. The time of day to take the capsules it up to you, but we recommend being consistent. Each bottle contains 60 capsules so therefore will last for 30 days or around a month.
Advice
Both the Waist Trainer and Belly XS that make up the….. Are made to a high standard and so therefore are safe to use as instructed. If you have not taken Belly XS before, we suggest reading through the complete ingredients list so you can check for any potential personal allergens. If you are pregnant, breastfeeding or any medication, consult your doctor before taking the supplement. If you have not used the Waist Trainer before, begin wear in sessions and build up time and make sure not to wear it too tight.
Read More
Customer Reviews
At WeightWorld we strive to offer the best possible customer service and we take great pride in the feedback we have received from our customers. All testimonials and reviews below are the experiences and opinions of WeightWorld customers. They should not be considered as health, medical or medicinal claims. They are no substitute for taking medical advice.
Outstanding

4.5
85.45% based on 11 Reviews
* Results may vary from one person to another.