Our price match promise
We will beat or match other retailers
Free UK delivery on orders over £35
Save on postage today
Customer Data Protection
Your data is safe and secure with us
Abs Bundle
Combo | Abdominal Performance Set
Overview
Take your workout routine to the next level with the Abs Bundle! This exclusive bundle comes with a range of devices and a natural food supplement to help tone your muscles. The 8 Pad Abs Stimulator and Hip Trainer are easy to use devices that allow you to work out from the comfort of your own home! There's no need for shakes or regular visits to the gym thanks to all your needs being covered with this convenient bundle!
8 Pad Abs Stimulator & Replacement Gel Pads
Hip Trainer & BCAA With B6 Tablets
Comfortable & efficient devices
Ideal for building & toning muscle
Includes an all-natural tablet supplement
Notify me when this product is back in stock
Great! We'll notify you when this product comes back in stock.
You have already subscribed for this Email Address.
What Is The Abs Bundle?
Including 4 unique products, this bundle is all you need when it comes to toning your muscles. Consisting of exclusive devices and a convenient food supplement with a variety of natural ingredients, these products are a convenient and ideal way to help you get the most out of your workout routine. Each of the 4 products combine together in perfect harmony for the body, with each one providing their own benefits.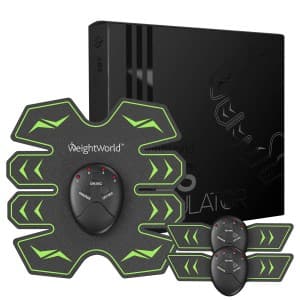 8 Pad Abs Stimulator
The 8 Pad Abs Stimulator is a convenient device ideal for building and toning muscle. This device includes a USB rechargeable controller and is ergonomically designed for your own personal comfort when using. With alternate arm application and 6 modes of function to customise your experience, take your workout routine to the next level all from the comfort of your own home!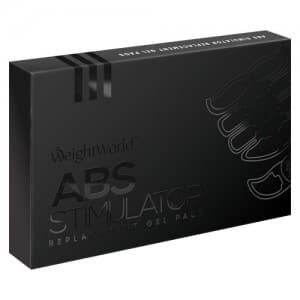 Abs Stimulator Replacement Gel Pads
The Abs Stimulator Replacement Gel Pads perfectly complement the 8 Pad Abs Stimulator. These pads are comfortable and efficient as well as being simple to replace and apply. With 12 replacement ad pads in the pack, replace every 20 to 30 sessions to really get the most of the 8 Pad Abs Stimulator to help you get the look you desire!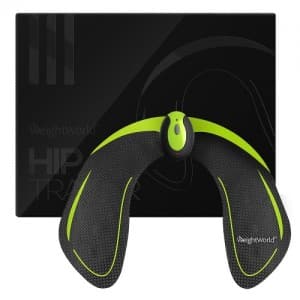 Hip Trainer
You can follow this up with the Hip Trainer device which is also ideal for toning and building your hips, thighs and buttocks. This unique device is great for core strength and stability and its ergonomic gel padding makes it perfect for fitting any user. This CE certified EMS device comes with 6 different modes and 10 levels of intensity to customise to your workout needs without any need of visiting the gym!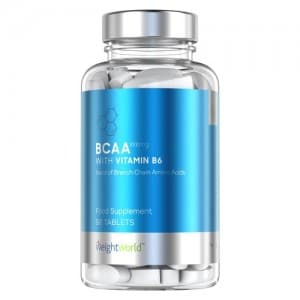 BCAA With B6 Tablets
Lastly, the BCAA with B6 Tablets complement these devices and consist of a potent 1000mg per serving ideal for muscle performance. These tablets include all 3 essential BCAA Amino Acids and Vitamin B6 to provide you with a natural energy boost. What's more, these easy to take tablets contain no artificial flavours, sugar or additives to provide you with a quick and convenient alternative to these devices or the hassle of making shakes!
Active Ingredient: Blend of Branched Chain Amino Acids (BCAA: L-Leucine, L-Isoleucine, L-Valine, carrier: hydroxypropyl methyl cellulose), Bulking Agent (cellulose E460i), Anti-Caking Agents (magnesium stearate,silicon dioxide), pyridoxine hydrochloride (vitamin B6).
How To Use The Abs Bundle
To get the most out of your Abs Bundle, here's what you need to do:
8 Pad Abs Stimulator
Insert and secure batteries in the main console device.
Attach the main console device to the centre of the gel pad pack via the two buttons.
Remove gel pad cover and make sure your abdominal area is clean and dry
Then place the gel pads on to your abdominal area, ensure they are placed down flat and then smoothed over for the gel adhesive to properly stick.
Turn on the device using the 'ON/INC' button on the console device.
The device will begin stimulation and the mode of stimulation can be changed by pressing the 'programme' button, the intensity of the sensations can be altered by pressing either the 'ON/INC' or 'OFF/DEC' button.
We recommend that you use the device for 12 minutes at a time and between 2 and 3 times per day. Always return the gel pad cover following use.
For stimulating muscles in your arm, repeat this process using the special gel pads designed for arms.
Abs Stimulator Replacement Gel Pads:
You should replace your Gel Pads when...
You're not getting the intensity you want
The muscle stimulation isn't as strong as you're used to
You can't work at your usual intensity level
The pad's surface is uneven and flakes off
The EMS pulses cannot be distributed as effectively
It is pierced, broken or torn
And this is how you replace them:
Each box contains 6 packets with 2 gel pads each
Open the protective packaging and take out the gel pads
Carefully remove the blue protective film from the individual replacement gel pad
Stick the gel pad to the back of your device pads, pressing gently
Hip Trainer:
If you need a hand with your weight management efforts, the Hip Trainer is perfect for you! Here's how to use it:
Ensure that your waist and buttocks are clean and free of sweat before ensuring the battery has been correctly inserted into the console device.
Connect the pack to the gel pads and remove the protective film covering the gel pads.
Apply the gel pads to the body so that each pad reaches down over either buttock.
Turn on the power button on both the console device and the controller to commence muscle stimulation.
You can then customise and control the intensity and modality of the stimulation via the buttons on the controller for a tailored hip muscle routine.
After 15 minutes, stop the muscle stimulation, turn off the device, remove, and return the protective film covers to the gel pads.
Do not use the Hip Trainer if you have a skin condition, scar or severe blemishing in the waist and hip area, are recovering from recent surgery, if you possess a pacemaker, suffer from heart complications or if you are in a hot and humid environment.
BCAA With B6 Tablets:
These are perfect for complementing your workout routine and these devices! To use, simply consume 3 tablets a day. Consume with water on an empty stomach or alongside a light carbohydrate snack to get the most out of the tablets. You can take these before or after engaging in exercise, but it is preferred that you take them after you've exercised as this is when the muscle repair process begins. Remember to follow a balanced diet and exercise routine.
Advice
The BCAA with B6 Tablets within the Abs Bundle are made to a high quality using natural ingredients and therefore have no known side effects. If you have not used this product before, we suggest reading through the full list of ingredients to check for any personal allergens. If you are pregnant, breastfeeding or on any medication we recommend that you consult with your doctor before use. This supplement is not intended for those under the age of 18.
Customer Reviews
At WeightWorld we strive to offer the best possible customer service and we take great pride in the feedback we have received from our customers. All testimonials and reviews below are the experiences and opinions of WeightWorld customers. They should not be considered as health, medical or medicinal claims. They are no substitute for taking medical advice.
Be the first to review this product

* Results may vary from one person to another.