Our price match promise
We will beat or match other retailers
Free UK delivery on orders over £40
Save on postage today
Customer Data Protection
Your data is safe and secure with us
Pure Marine Collagen Capsules
1170 mg 120 Capsules | Type 1 Hydrolysed Marine Collagen
Overview
Not all collagen is made equal! Our Pure Marine Collagen Capsules utilise NatiCol® Marine Collagen sourced from Pangasius and Tilapia fish, one of the most effective sources of collagen on the market. with 1170mg of Collagen per serving, our Marine Collagen Capsules are perfect to help you rejuvenate and support your joints, skin and bones. We are so confident that you will love it, we offer a full money-back guarantee. Bring back the glow to your skin today.
Perfect for targeting the appearance of ageing
Ideal for rejuvenating skin and hair
Great for your bones, joints and cartilage
Powerful 1170mg strength per serving
Hydrolysed type 1 marine collagen
Made with premium NatiCol® Collagen for max bioavailability
Gluten-free
Lactose Free
GMP
GMO Free
Buy 1

£14.99

£19.99
Buy 2

£26.98

£29.98 You Save 10%
Buy 3

£35.97

£44.97 You Save 20%

Buy now and earn 1 Comfort Point ?
Collagen and the body
Key to the maintenance of the skin, bones and joints, Collagen is a naturally occurring structural protein. When the body is young, skin appears smooth and firm, bones are strong and joints are flexible. This is due to ample levels of Collagen. As we age and through other factors such as physical stress, environment (sunlight and pollution) and excessive strain (on the bones and joints), the naturally occurring levels can unfortunately decrease.
This may result in oxidative stress in the skin's cells which can be a cause of your skin becoming less smooth and firm as well as other ageing signs. For the bones and joints, it can mean a decline in movement, stiff joints and brittle bones. To help give the body's Collagen levels a natural boost, many people are now turning to natural health and beauty products that are a good source of Collagen. These types of products are often ideal for those that lead an active lifestyle as well as those looking for help with the appearance of ageing.
Hydrolyzed Marine Collagen vs. Bovine Collagen
Also known by the name Fish Collagen, Marine Collagen is a natural protein extracted from the scales of saltwater fish. This form of collagen contains peptides, which are small molecules that are known to have a low molecular size and weight. These particular properties make Marine Collagen have a high level of bioavailability and is said to be absorbed 1.5x more efficiently than other forms including Bovine and Porcine. This is what has led to a rise in the popularity of Marine Collagen supplements, with pure forms being extremely in demand for their potency.
With the rise in popularity, there has now been more and more research conducted on Marine Collagen and its benefits. One particular study has looked into its peptides and their link with Collagen synthesis and quality. It has been suggested that Marine Collagen can have beneficial properties for the skin and can also be useful for those following a high antioxidant skincare regime or diet.
NatiCol® Marine Collagen
As a form of Marine hydrolysed Collagen, NatiCol® Marine Collagen is a premium source that ensures only the highest quality. One way it does this is through knowing exactly where it comes from so it can guarantee that you can get the most out of it from start to finish. This particular type of Collagen is selectively derived from Pangasius and Tilapia fish originating from areas of Asia and North and South America and consists of 95% pure Marine Collagen.
To prove its high quality and purity, even more, it's also carbohydrate, fat, bovine, cholesterol, OGM and preservative free. What also makes NatiCol® Marine Collagen so unique in comparison to other sources is that it contains a massive 8 different amino acids with their own beneficial properties as well as an extraordinary level of low molecular weight for bioavailability.
Directions
Simply take 2 collagen capsules every night after dinner with a glass of water. We know sometimes your daily routine isn't always regular, but we suggest taking the marine collagen supplement around the same time each day for consistency. Each bottle contains 60 servings (120 capsules) and will provide you with around 2 months supply.
Full list of ingredients
Active ingredients: Marine Collagen.
Other ingredients: Gelatin (capsule), Magnesium Stearate.
Pure Collagen supplement
As this supplement is made using only natural pure Marine Collagen and contains no artificial colours, flavours, sweeteners or preservatives, this supplement has no known side effects. This product is Halal certified, however as the capsule shell is made from Gelatin, it is not suitable for vegetarians and vegans. Please read the ingredients before taking them for the first time to check for any personal allergies. This marine collagen supplement is intended for those over the age of 18.
Frequently bought together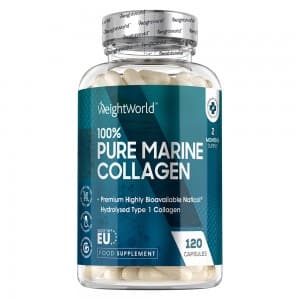 +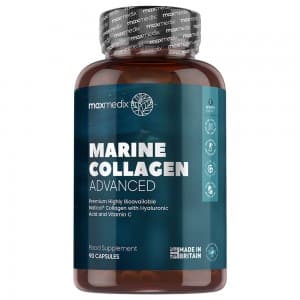 +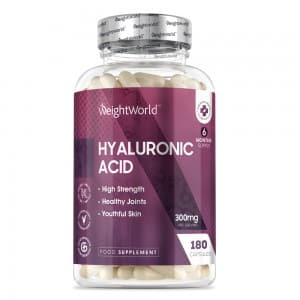 Customer Reviews
At WeightWorld we strive to offer the best possible customer service and we take great pride in the feedback we have received from our customers. All testimonials and reviews below are the experiences and opinions of WeightWorld customers. They should not be considered as health, medical or medicinal claims. They are no substitute for taking medical advice.
Outstanding

5
94.49% based on 68 Verified reviews

* Results may vary from one person to another.