All-Natural Supplements
GMP-certified and GMO-Free
Free UK delivery on orders over £30
Save on postage today
100% Customer Satisfaction
We offer a full 90-day money back guarantee
Antarctic Krill Oil
1000 mg 120 Softgels | Pure & Sustainable Omega-3
£15.99
£19.99
You Save £4.00
£0.13 / Softgels
Free Delivery on all UK orders over £30.

Buy now and earn 2 WeightWorld Points ?
Key Features
Premium, pure & sustainable Antarctic Krill Oil
Full of essential fatty acids such as EPA & DHA
Revitalises your heart and eyes
Full of omega 3 for eyes, joints and hair
Astaxanthin supports youthful skin and joint mobility
Highly bioavailable and easy-to-swallow softgels
No unpleasant fishy odour or aftertaste
Money Back Guarantee
Gluten-free
Lactose Free
Dairy-free
What are WeightWorld's Krill Oil Softgels?
Our Krill Oil Softgels have been developed to help you give your body the boost it deserves to take on your day with power, comfort and confidence! As a natural source of essential fatty acids, omega 3 and astaxanthin, krill oil is the ideal supplement to help you rejuvenate and give your skin, joints, heart and eyes the support they need to stay youthful and stay stronger for longer.

What are the benefits of krill oil?
Like fish oil, krill oil is a rich source of DHA, EPA and omega-3, But what does that mean? This means that it is ideal for:
keeping your joints supple
Supporting smooth skin
Your heart
Cognitive function
Helping your mind stay alert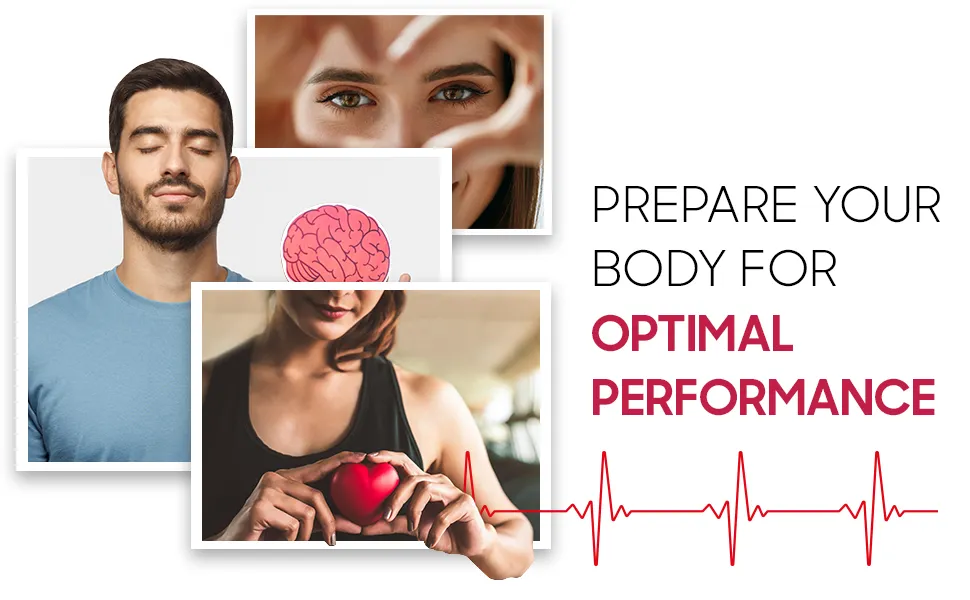 Why choose WeightWorld Krill Oil Softgels?
Our WeightWorld Krill Oil has been formulated with the optimal strength to give your body the support it needs to rejuvenate and stay strong. Not only that, but our softgels provide high bioavailability as well as an odourless, tasteless and easy-to-swallow solution. Our krill oil is also GMP-certified and GMO-free to give you peace of mind when using it!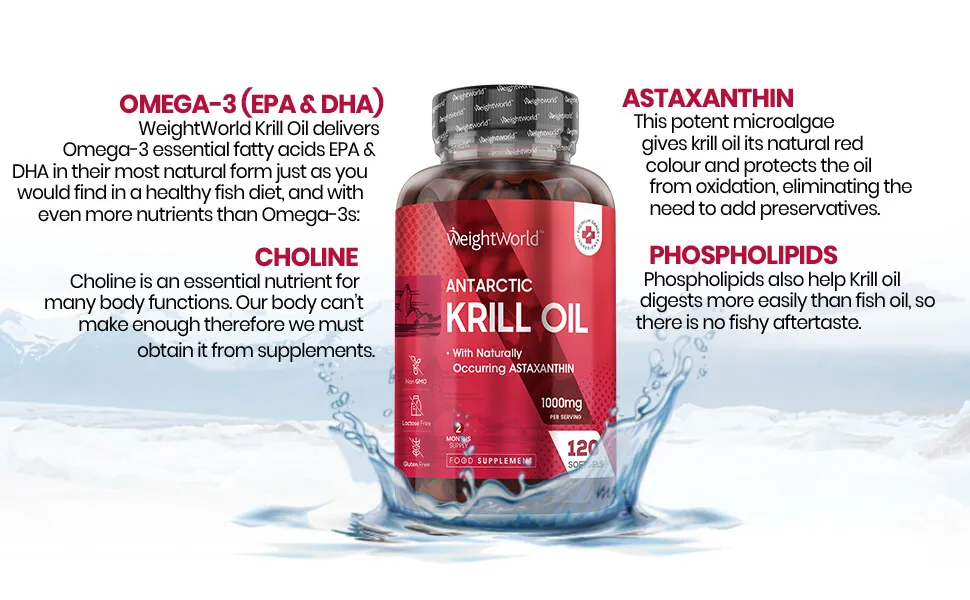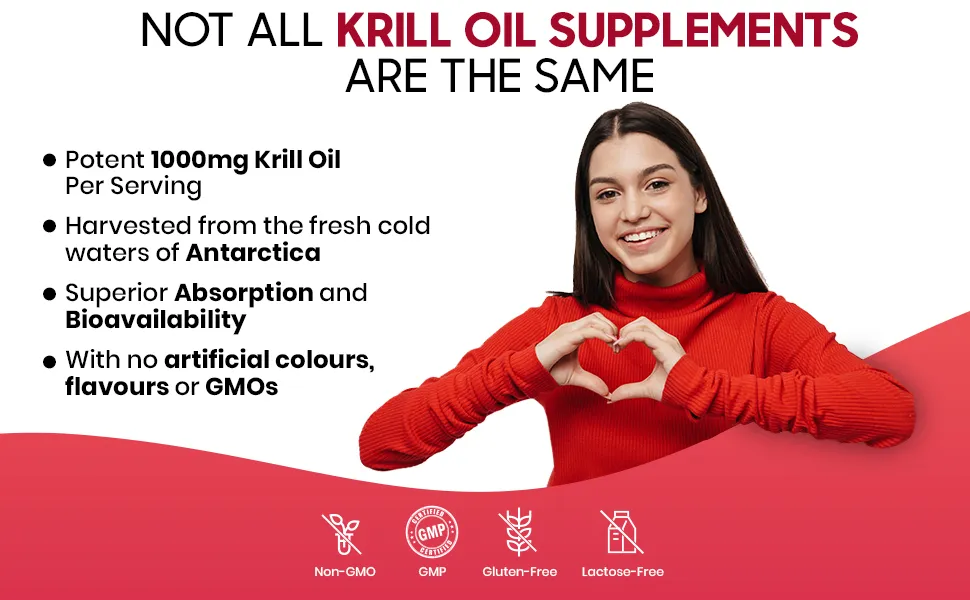 How to Take This Supplement
To take WeightWorld Antarctic Krill Oil, take 2 softgels daily preferably with a meal. Most customers see the best results after 6 months of consumption (so to help you make the most of this product we've given you 20% off on the purchase of 3 bottles)! Antarctic Krill Oil softgels are all-natural; they have no known side effects, but please do not take them if you have a crustacean allergy. If you're pregnant, breastfeeding, or taking any medications, please consult a healthcare professional before use. They are not intended for use by anyone under the age of eighteen.
What is Krill Oil?
Antarctic Krill Oil is a premium supplement enriched with 1000 mg of pure Crustacean Antarctic Krill oil along with Astaxanthin, Phospholipids, EPA & DHA. These ingredients work in tandem to take care of your eyes, bones, heart, skin and hair.
What are the benefits of taking Krill Oil supplements?
Krill oil supplements are a rich source of DHA, EPA and Omega-3 which supports your heart, eyes, cognition, alertness, joint mobility, smooth skin and strong hair.
Is Krill Oil better than Fish Oil?
Krill oil is better than fish oil as it is more highly bioavailable, meaning it gets more quickly absorbed by the body to help you experience its benefits better. Our Krill oil softgels don't even have any fish odour as can be experienced while having raw fish oil.
What are the recommended daily doses of Krill Oil?
The recommended daily dosage of Krill oil is approximately between 1000 mg to 4000 mg depending on your requirement.
Is Krill Oil safe for pregnant and breastfeeding women?
We suggest you consult your doctor before taking these softgels if you're pregnant or breastfeeding.
Is Krill Oil suitable for vegetarians and vegans?
Since Krill oil is sourced from Krill fish, these softgels are not suitable for vegans and vegetarians.
How does Krill Oil support joint health?
Krill oil is often credited for supporting the flexible movement of your joints and can also help in alleviating joint pain.
Can Krill Oil help with weight loss?
Krill oil is a source of omega-3 fatty acids, which helps in normal food regulation in your body. Optimal bodily regulation can assist you in managing your weight effectively.
What are the side effects of taking Krill Oil?
We pride ourselves on using all-natural ingredients in our products, which means there are no known negative side effects and you can have peace of mind while using them.
How long does it take for Krill Oil to work?
Our customers have reported seeing results within a couple of weeks. But since everyone's body works differently, we recommend you continue using the softgels till you see your desired results.
Is Krill Oil good for the heart and cardiovascular health?
Yes, Krill oil is known to support your heart to help it work normally and thus, takes care of your cardiovascular health.
Can Krill Oil help with depression and anxiety?
Being a rich source of EPA and DHA, Krill oil can help enhance your mood and support normal cognition, which can be beneficial in managing depression and anxiety issues.
Is Krill Oil good for skin health and anti-aging?
Krill oil is popular for its positive influence on the skin. It can help with managing the appearance of ageing, thereby giving you a youthful glow.
What are the differences between Krill Oil and Omega-3 fatty acids supplements?
Omega-3 fatty acid supplements are rich in EPA and DHA. However, our Krill oil supplement is not only rich in EPA and DHA but also offers the benefits of pure Krill oil along with Phospholipids and Astaxanthin.
Frequently bought together

+

+

Customer Reviews
At WeightWorld we strive to offer the best possible customer service and we take great pride in the feedback we have received from our customers. All testimonials and reviews below are the experiences and opinions of WeightWorld customers. They should not be considered as health, medical or medicinal claims. They are no substitute for taking medical advice.
Outstanding

5
95.82% based on 654 Verified reviews

* Results may vary from one person to another.