Our price match promise
We will beat or match other retailers
Free UK delivery on orders over £35
Save on postage today
Customer Data Protection
Your data is safe and secure with us
Bedtime Complex
350 mg 60 Capsules | Natural Sleep Supplement
Overview
Struggling to get a good night's rest? Naturally manage your sleeping routine with WeightWorld's Bedtime Complex capsules! This all-natural supplement combines 75mg of 5-HTP, Vitamin B Complex and 75mg of soothing Chamomile in every serving to let you enjoy a calming sensation just before you nod off. Feel the benefits of essential vitamins and minerals to save yourself endlessly counting sheep or staring at the ceiling with these easy to take capsules today!
Natural sleep supplement
With 5-HTP, Vitamin B & Chamomile
Includes essential vitamins & minerals
60 capsules for a month's supply
Suitable for vegan & vegetarians
Vegan
Gluten-free
GMP
GMO Free
Buy 1

£14.99

Buy 2

£26.98

£29.98 You Save 10%
Buy 3

£35.97

£44.97 You Save 20%

Buy now and earn 1 Comfort Point ?
The Importance Of A Good Night's Rest
Ah, the power of a good night's rest. The importance of rest for your skin and mood is undeniable, with those overnight hours being an essential time to give your body the chance to regenerate and recover after a long day. The only problem? Getting the recommended 8 hours of a good night's rest isn't quite as easy as it sounds.
Packed schedules, endless to-do lists, and a general lack of time are often the culprits for keeping you up at night. Not to mention that once you finally do get in bed, falling (and staying) asleep can become an issue. This is where WeightWorld's Bedtime Complex capsules can come in to help you get that good night's rest you deserve!
Why Choose Bedtime Complex?
If you're looking to get a sound rest and don't want to resort to medications, WeightWorld's Bedtime Complex could be the perfect supplement for you. These easy to take capsules offer you a convenient and affordable way to naturally manage your sleep. With a unique blend of 5-HTP, Vitamin B Complex, Chamomile, these capsules provide you with the multivitamins and minerals you need for a sound rest. All of these natural, active ingredients combine to help relax your body and mind so that you can experience a calming sensation just before bedtime approaches.
Key Ingredients
5- HTP
5HTP, or 5-hydroxytryptophan, is an amino acid and a natural by-product of one of the body's most important proteins, L-tryptophan. Your body uses it to produce serotonin. Since serotonin is known to help manage mood and behavior, 5-HTP can be ideal for naturally managing your sleep, mood and appetite.
Chamomile
Chamomile is known for its natural soothing properties. Many people have integrated chamomile into their diet via chamomile tea or through diffusing it as an essential oil. This is because Chamomile can help you experience a natural relaxing sensation to help you manage any stress you may be feeling and naturally calm your body.
Vitamin B Complex
Bedtime Complex combines a powerhouse of all 6 essential B Vitamins and Vitamin C that are important for the normal maintenance of various body functions. These include the normal functioning of the immune system, nervous system and psychological function to help you relax before you go to sleep.
Who Is It For?
This supplement has been formulated to help individuals finding it difficult to get a decent rest routine or who want to get the most out of their sleep time. These easy to take capsules could be ideal for your sleeping routine if you're feeling stressed out from your job, meeting college deadlines, looking after a new born baby or if you work night shifts. What's more, these capsules are vegan and vegetarian-friendly, ensuring this natural supplement seamlessly fits into whatever dietary requirements may be!
How To Use
Simply take 2 capsules daily with a full glass of water, preferably with a meal.
Advice
Do not exceed the recommended daily dose. Food supplements must not be used as a substitute for a varied and balanced diet and a healthy lifestyle. If you are pregnant, breastfeeding, taking any medications, or are under medical supervision, please consult a doctor or healthcare professional before use. Discontinue use and consult a doctor if any adverse reactions occur. Not intended for use by those under the age of 18.
Warning
Not recommended in case of a personal or family history of hormone-dependent cancer.
Full Ingredient List
5-HTP (From Griffonia Seed),Chamomile, Hops, Vitamin C, Rhodiola Extract, Vitamin B1 (Thiamin), Vitamin B2 (Riboflavin), Vitamin B3 (Niacin), Vitamin B6, Vitamin B12, Vitamin B5 (Pantothenic Acid), Folic Acid, Magnesium, Zinc,Capsule Shell (Hydroxy Propyl Methyl Cellulose), Bulking Agent (MicrocrystallineCellulose), Anti-Caking Agents (Magnesium Stearate, Silicon Dioxide).
Frequently bought together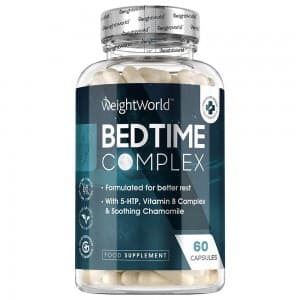 +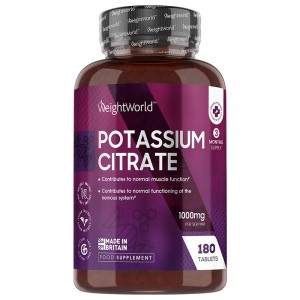 Potassium Citrate
1000 mg 180 Tablets | For muscles, nervous system and blood pressure
£14.99
+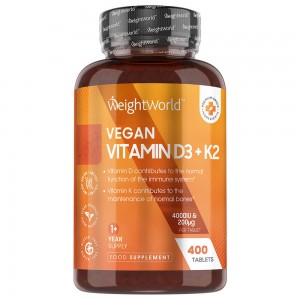 Customer Reviews
At WeightWorld we strive to offer the best possible customer service and we take great pride in the feedback we have received from our customers. All testimonials and reviews below are the experiences and opinions of WeightWorld customers. They should not be considered as health, medical or medicinal claims. They are no substitute for taking medical advice.
Outstanding

5
87.27% based on 10 Verified reviews

* Results may vary from one person to another.