Our price match promise
We will beat or match other retailers
Free UK delivery on orders over £40
Save on postage today
Customer Data Protection
Your data is safe and secure with us
Belly XS
180 Capsules | Stomach Targeting Supplement
Overview
Are you finding it hard to get rid of that stubborn belly fat? We have developed Belly XS with 11 key ingredients that target the stomach area. We know it can be disheartening to exercise and not lose weight. To tackle this issue, Belly XS is an advanced Keto diet blend that works by managing your appetite while providing you with the energy, strength and motivation to smash your weight management goals. Because we are so confident that you will love it, Belly XS comes with our money-back guarantee. Try it today, you won't regret it.
Perfect for stubborn belly fat
Ideal to achieve your weight management goals
High-Strength 11 ingredient formula
Enriched with B3, Garcinia and Apple Cider Vinegar
Advanced Keto Diet Blend
Complements your workout for accelerated results
Vegan
Gluten-free
GMP
Expert Formula
Buy 1

£15.99

£19.99
Buy 2

£28.78

£31.98 You Save 10%
Buy 3

£38.37

£47.97 You Save 20%

Buy now and earn 2 Comfort Points ?
How To Get A Flat Belly
If you've ever stood in front of the mirror holding your stomach thinking 'if only...' you're not alone.
Everyone desires a flat belly. Achieving a flat stomach isn't easy. It takes a balance of healthy eating and plenty of exercise to achieve and maintain it in the long run, but here are some handy tips to get you going and inspire you in the right direction.
Try stomach targeting exercises such as crunches and lunge twists
Strengthen your core and stomach muscles
Eat a healthy, balanced diet including lean proteins
Reduce your salt and sodium intake
Add more B vitamins into your diet for motivation and energy
Add to your efforts with a natural food supplement such as Belly XS
Set realistic goals that you can steadily achieve
Belly XS Directions
To use, take 2 capsules daily with water. It is up to you what time of the day you take each capsule but we suggest taking at the same or similar time each day. Each bottle of Belly XS contains 180 capsules and will last for 90 days. For best results, it is recommended that you take this supplement for at least 3 months.
The 11 key ingredients
The unique fusion of 11 active ingredients within the Belly XS formula have all been specifically chosen for their particular properties, and all aim to help the body in one of 5 ways; for energy, appetite management, fat & sugar balance, focus and motivation and protection & strength.
Natural Fat and Sugar Balance
Appetite Management
Focus and Motivation
Protection and Strength
Full List Of Ingredients
Niacin (Nicotinamide), Zinc (Zinc Bisglycinate), Copper (Copper Bisglycinate), Chromium (Chromium Picolinate), Citrus Bioflavonoids Fruit Powder, Green Tea (Camellia Sinensis), Tyrosine, Apple Cider Vinegar (Malus Pumila Mill.), Garcinia Cambogia Fruit Powder, 5-HTP, Turmeric (Curcuma Longa) Extract, Anti-Caking Agent: Magnesium Stearate, Vege Capsule Shell: Hypromellose (HPMC).
Natural Formula
Belly XS is made using a range of natural ingredients so therefore has no known side effects and is completely safe to take. The capsule shell has even been specifically made out of vegetable cellulose instead of gelatin to make it suitable for both vegans and vegetarians and fully plant-based. This supplement is not intended for those under the age of 18.
Frequently bought together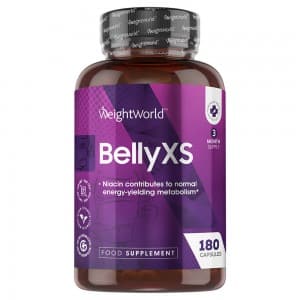 Belly XS
180 Capsules | Stomach Targeting Supplement
£15.99 £19.99
+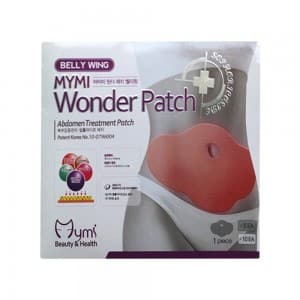 +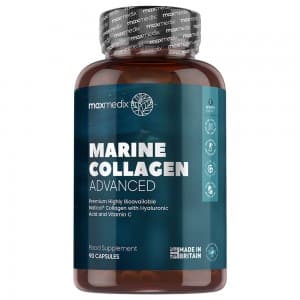 Customer Reviews
At WeightWorld we strive to offer the best possible customer service and we take great pride in the feedback we have received from our customers. All testimonials and reviews below are the experiences and opinions of WeightWorld customers. They should not be considered as health, medical or medicinal claims. They are no substitute for taking medical advice.
Outstanding

4.5
88.00% based on 34 Verified reviews

* Results may vary from one person to another.