All-Natural Supplements
GMP-certified and GMO-Free
Free UK delivery on orders over £40
Save on postage today
100% Customer Satisfaction
We offer a full 90-day money back guarantee
Spirulina Tablets
Energising Protein-Rich Superfood
Overview
Spirulina is a powerful Superfood, approved even for those travelling into space... now you can enjoy it in your own home! It's packed with energy-boosting, strength-enhancing compounds. These include revitalising, re-energising Vitamins and Minerals, and extraordinarily high amounts of vegan protein, all of which will help you achieve more in your fitness activities. With Spirulina Tablets, you easily can work a powerful, potent supplement into your everyday routine.
Market leading 3000mg daily strength
Rich, varied multivitamin complex
Up to 70% powerful vegan protein
Contains essential minerals
All-natural formula
Suitable for vegans and vegetarians
Now you can take maximum advantage of the incredible power of nature with unbelievable ease and convenience. They contain powerful vegan protein and all the essential amino acids, remarkable amounts of vitamins as well as body-boosting minerals. Spirulina Tablets are ready and waiting to boost your vitality on a daily basis, so that you can feel stronger and healthier.
Vegan
Gluten-free
GMO Free
Product that you are looking for is no longer available.
Powerful Spirulina
In a matter of years, Spirulina has gone from being an Ancient Aztec ingredient to a UN sanctioned, NASA approved, protein-rich foodstuff. NASA, or the National Aeronautics and Space Administration, took out research and now assert that 1kg of Spirulina has the nutritional value of 1000kg of other fruits and vegetables. This makes it an ideal Superfood, for both astronauts and those of us who are happy to remain on Earth! What's more, it's increasingly grown (at its natural rapid rate!) in deprived parts of Africa, as a way of fulfilling nutritional needs. The United Nations often collaborates with humanitarian groups to bring its benefits to undernourished children, and has advocated its potential use in aiding world hunger. Especially in powder form, it's a highly concentrated, super-strength food source, with international renown amongst nutrition experts.
Spirulina & Your Body
Performance
Blood
Cholesterol
Fatigue
Heart
Muscles
Brain
Hair
Increasing research has found that including Spirulina in your diet everyday can help to strengthen, energise and revitalise your body, with its incredibly powerful range of nutrients working in harmony to boost your body in numerous ways. Expert study has associated Spirulina with enhanced exercise performance, including taking longer to fatigue, as well as connecting it with encouraging muscle resilience. It's been suggested it is just as impactful on cholesterol levels, in addition to managing blood glucose and helping with blood pressure. It's even been found by researchers to invigorate brain function and memory! With Spirulina tablets, you can take a superfood considered by experts to be both incredibly nutritious, but also that's considered to have a remarkable impact on your body's response to exercise.
Strengthening Superfood
Spirulina became especially famous for its remarkably potent protein levels. Between 60-70% of Spirulina algae is composed of protein, making it an incredible source, especially as it's pure, natural and completely vegan suitable. Even in comparison to other vegan protein sources, it comes out on top, with dry roasted soybean at 43%, peanuts at 26%, and lentils at 24% protein. What's more, with all eight essential amino acids, it is a complete source, giving your body what it needs to synthesise its own protein. In combination, these compounds can help to strengthen, support and sustain your body from within, so that it can run at its best.
Nutritional Value per Serving Energy 48.48kJ / 11.58kcal Fat 0.22g Saturated Fatty Acid 0.1g Carbohydrates 0.31g of which Sugars 0 g Dietary Fiber 0.26g Protein 2.08g Salt 0.06g Calcium 4.65mg Potassium 45.81mg Iron 1.86mg Magnesium 7.35mg Vitamin B1 0.13mg Vitamin B2 0.20mg Vitamin B3 0.18mg Vitamin B6 0.55mg Vitamin B12 4.56µg Vitamin C 0.05mg Vitamin D 7.17IU Folic Acid 8.55µg
The Secrets of Spirulina's Success
Vitamins, minerals and other key compounds are crucial in energising the body, and Spirulina is packed with them! Vitamins A, B, C, D, E, F and K give an almost unimaginable range of benefits. These vitamins are known to help the body in so many ways, ranging from the energy-yielding metabolism to the nervous system, as well as gums, vision, blood… one could go on and on! You can also find high amounts of Iron, known to contribute to the immune system and red blood cells; Magnesium, for protein synthesis and psychological function; and Calcium, for muscles and bones. Chlorophyll, the compound that processes sunlight into energy, is known to help the body to detoxify, cleansing of damaging factors. With the help of Spirulina, the entire body can feel strengthened and invigorated, resulting in a sense of energy and purpose in every part of life.
Spirulina Tablets
Naturally found growing wild in tropical and subtropical regions of Central America, the algae you can take in Spirulina Tablets is carefully cultivated in a controlled environment, to produce the highest quality. From there it's harvested and compressed into individually small, easy-to-swallow tablets, giving you a simple, time-saving, precisely pre-measured dose. With no other ingredients involved, they are a completely pure source. At 3000mg strength a day, you can enjoy the perfect amount at a market leading strength.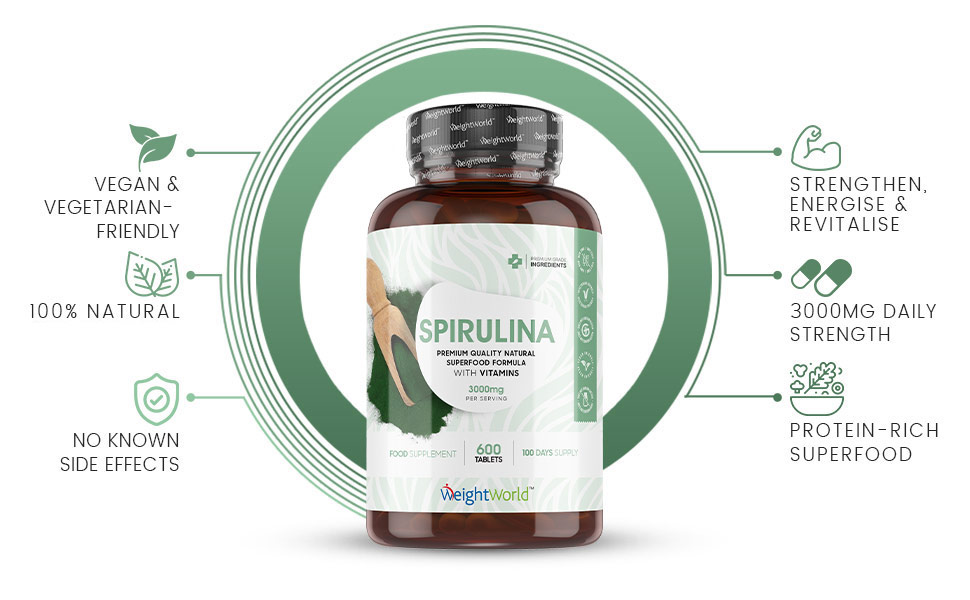 Directions
For a pure, powerful, daily dose of Spirulina's benefits, take these small yet potent tablets. They'll perfectly complement your regular wellness routine, incorporating easily into your day.
Take 3 tablets twice a day, ideally with a glass of water. Take the first 3 tablets 30 minutes before breakfast or lunch, and then the final 3 tablets 30 minutes before lunch or dinner.
Advice
Spirulina Tablets have no known side effects, as they are made with one natural ingredient with no additives. The tablets are suitable for vegans and vegetarians, and are gluten and dairy free. If you're on any medication, pregnant or breastfeeding, please consult a healthcare professional before taking a new supplement. They are not intended for use by anyone under the age of eighteen.
Frequently bought together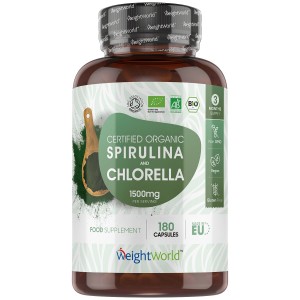 +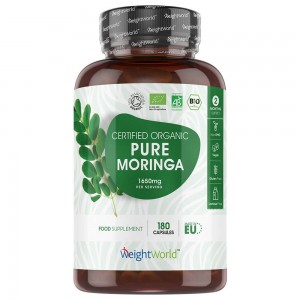 Customer Reviews
At WeightWorld we strive to offer the best possible customer service and we take great pride in the feedback we have received from our customers. All testimonials and reviews below are the experiences and opinions of WeightWorld customers. They should not be considered as health, medical or medicinal claims. They are no substitute for taking medical advice.
Outstanding

4.5
89.71% based on 137 Verified reviews

* Results may vary from one person to another.