Our price match promise
We will beat or match other retailers
Free UK delivery on orders over £35
Save on postage today
Customer Data Protection
Your data is safe and secure with us
Chlorella Super Pack
Combo | Pure Chlorella Tablets & Powder
Overview
With the Chlorella Super Pack, you can make the most of microalgae's incredible nutritious power in both powder and capsule form! Both are ideal for anyone aiming to incorporate a gentle detox into their daily routine, helping to carefully extract the contaminants we all regularly encounter. These algae contain not only the highest chlorophyll levels of any plant, there's also a wide variety of vitamins, minerals, and Omega-3s. Especially unique amongst plant species, it contains rare vegan Vitamin B12.
Chlorella in two premium bioavailable forms
Up to 60% premium vegan proteins
Richer in chlorophyll than any other plant
Plentiful micronutrients and vitamin B12
Tablets are pre-measured doses
Powder is highly recipe-adaptable
£33.28
£36.98
You Save £3.70
Free Delivery on all UK orders over £35.
An Ancient Secret of Nature
One of an elite group of species known as 'living fossils', Chlorella has not evolved in thousands of years - the incredible events taking place on our planet passed it by unnoticed! It must have been perfectly designed in the first place. It was discovered by a Dutch microbiologist in its native environment, East Asia, in 1890. Decades later, after the ravages of World War 2 sparked fears of an international food shortage, it was advocated by experts as a potentially life-saving, protein rich new food source. Additionally, as it can quadruple everyday, it's a naturally self-renewing food source. Recently, it's come to be known as a useful detoxifying agent. Nowhere is this more true than in Japan, the population of which is believed to consume an epic 200,000 tonnes yearly!
Detox: An Increasing Necessity
Unknown to most of us, we all risk absorbing different toxins into our bodies, in a number of way from the air we breathe to the food we eat. For example, some otherwise health-loving fish, including swordfish, tuna and mackerel, have unusually high mercury levels. More common dietary elements, including a wide variety of fruit and vegetable, dairy, and non-organic meat, are also often exposed to pesticides and herbicides. As responsible as we all try to be, unless everything we eat is grown and cooked from scratch, there's just no way we can be sure all that we consume is completely pure. The best possible solution could be an all-natural product we could take everyday, helping us to purify, clarify and cleanse our bodies.
Chlorella's Astonishing Attributes
Chlorella distinguishes itself for its extraordinary chlorophyll content - which is considered to be higher than any other plant! This natural pigment provides not only the algae's rich green colour, but also the process by which energy is collected from sunlight, known as photosynthesis. Able to help bind with your body's toxins, it thereby slows their journey through your system and eventually allows their removal. Unique amongst plant species, Vitamin B12 is also found here in this amazing plant. Normally it's only sourceable from meat products (beef liver is the next best source) which means that vegans are frequently left deficient; as a result Chlorella is a fantastic addition to any vegan's diet. Iron is also found within Chlorella in abundance, known to help to maintain your natural immunity, and energising while purifying and nourishing.
Vitamin A, C and E are also naturally found in Chlorella, giving you a broad range of benefits. These include helping to maintain healthy vision and skin, forming blood vessels and protecting cells from oxidation. Chlorella is even richer in protein, twice as much in fact, than spinach, with up to 60% of the algae being formed of it. And, vitally, every amino acid you need can be found within it, so that you can get all those you need in one place. Minerals, such as calcium, magnesium, zinc, phosphorus and potassium are also present. Finally, Omega 3s can be sourced in highly concentrated amounts. In nature, they are fish's own source of these nutritious fatty acids, and the reason for fish being such a popular health food.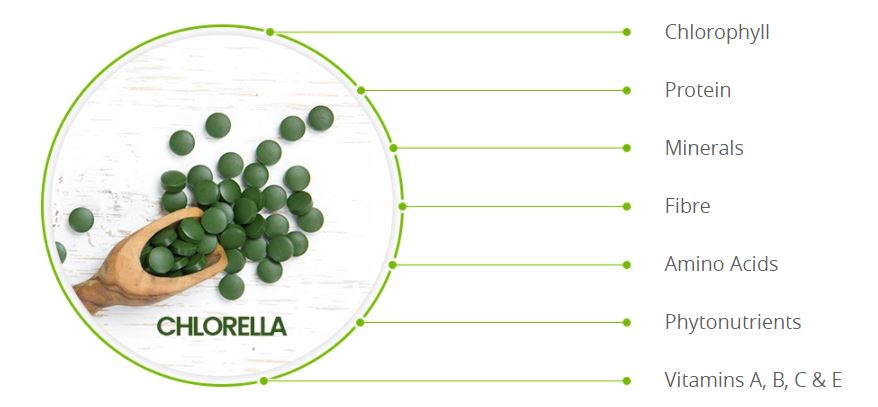 Harnessing Microalgae Magic
Chlorella naturally wraps it precious nutrients in a tough cellulose fibre casing. This barrier needs to be 'broken' so that the human body can digest it after consumption. A unique process, that carefully avoids light and heat in order to maintain nutritional integrity, shatters and crushes that exterior. This releases all of Chlorella's incredible values into an easily digestible form, ready to be compressed into a tablet or, left in powdered form, blended into a variety of drinks and dishes.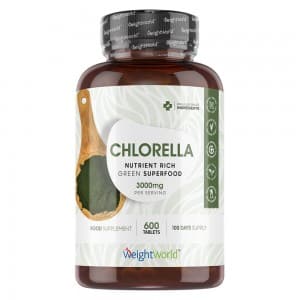 Bio Chlorella Tablets
At up to 4000mg every day, you can enjoy a market-leading strength in a highly precise, perfect measurement. This quick, convenient form is ideal for those with a busy lifestyle and who just need a speedy top-up, without having to incorporate it into other components of their diet.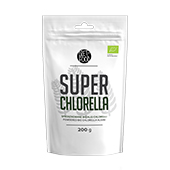 Super Chlorella Powder
Chlorella Powder is super versatile and flexible, ideal for those that love to experiment with recipes, and who love to celebrate and share their holistic, healthy lifestyle. Depending on your preference, you can adapt to how you like to enjoy it, blending it into your wellness regime.
Enjoying Chlorella Capsules & Powder
Regarding Chlorella powder, you should use one teaspoon per serving, up to a maximum of three per day. Chlorella tablets should be taken maximally ten a day; we suggest dividing them into two servings, each before a meal with a large glass of water. To fully enjoy Chlorella, we recommend taking these supplements for at least three months and investing in long-term use.
The Chlorella Super Pack gives you the opportunity to enjoy Chlorella algae's astonishing benefits in two different forms. On a day to day basis, we recommend a balanced approach, substituting capsules and powder as suits you. Bearing in mind each product's individual maximum doses, be careful not to ingest the maximum of both. The body can only productively digest and utilise a certain amount.
Removing Impurities From Within
It's becoming increasingly difficult to know exactly what's going into our bodies through the environment and our diet - so is it any wonder that 'detox' is the word on all our lips? Many of us are increasingly interested in being able to carefully remove potentially damaging compounds everyday. With the Bio Chlorella tablets, you can easily cleanse while topping-up your daily nutrition; the powder means you can work this amazing superfood into any part of your day, be it food or drink. This combination Super Pack means you don't need to decide which will better suit you - you can discover for yourself!
Chlorella Super Pack Advice
We place a premium on selling products that we believe in: natural supplements, free from harmful additives and fillers. Both capsules and powder are pure, 100% untainted Chlorella powder. However, as with any supplement, please consult with a medical professional before taking if you're on any medication. Neither product is intended for use by under-eighteens.
Customer Reviews
At WeightWorld we strive to offer the best possible customer service and we take great pride in the feedback we have received from our customers. All testimonials and reviews below are the experiences and opinions of WeightWorld customers. They should not be considered as health, medical or medicinal claims. They are no substitute for taking medical advice.
Outstanding

4.5
73.33% based on 5 Verified reviews

* Results may vary from one person to another.