All-Natural Supplements
GMP-certified and GMO-Free
Free UK delivery on orders over £30
Save on postage today
100% Customer Satisfaction
We offer a full 90-day money back guarantee
Outstanding



Chlorella
WeightWorld truly cares about the experience of their customers, so we never fail to bring you the best topical ingredients! Pure Chlorella is a natural supplement that is used across the UK because it is a valuable food source for immune boosting and detoxification. Photosynthesizing its energy from the sun, this superfood provides a broad spectrum of nutrients including protein, essential fats, fiber, chlorophyll, vitamins, minerals and trace minerals. We provide Bio Chlorella Algae and
Organic Chlorella Capsules
, so that you can decide which form works best in your routine. Follow this link if you want to learn more about
benefits of Chlorella powder and capsules
.
Read More
All Products In This Category
What Is Chlorella?
One of the most nutrient-dense of the superfoods, chlorella is a nutritional powerhouse. In its raw form, it is a single cell green algae that although doesn't sound that exciting is surprisingly amazing as a superfood. Additionally, it also is believed that such greens have a beneficial alkalizing effect on your body's chemistry.
Spirulina & Chlorella
For those who don't consume sufficient amounts of leafy green vegetables, chlorella can be an excellent supplement with sufficient sources of nutrients and chlorophyll. In fact, it is actually said to be the richest source of chlorophyll per gram than any other plant which is just one of the reasons it is so amazing. It is commonly unknown, but algaes are often some of the healthiest substances in the world and along with its cousin spirulina, chlorella is a superfood to be reckoned with. That's why the wellness industry is bringing Spirulina and Chlorella supplements to provide you the benefits of both in one.
Known as one of the oldest species of algae in the world, it is native to the Far East in countries such as Japan and Taiwan and is a single cell algae that grows in freshwater. Despite being around for centuries, it was discovered in the late 19th century in Western society and has since had numerous studies conducted around its many potential health benefits. Nowadays,
Most of the chlorella available in the UK is grown in the freshwater lakes of Japan or Taiwan and is then harvested and processed into tablets, liquid extracts or powders for dietary supplementation.
What Is Its Nutritional Content?
Chlorella contains an extraordinarily high nutrient density. One ounce (3 tablespoon) serving of this contains:
Protein 16g
Vitamin A 287% of recommended daily allowance
Vitamin B2 71% of recommended daily allowance
Vitamin B3 33% of recommended daily allowance
Iron 202% of recommended daily allowance
Magnesium 22% of recommended daily allowance
Zinc 133% of recommended daily allowance
It also contains an adequate amount of vitamin B1, vitamin B6, and phosphorus
This nutrient score is why this green gem is ranked in one of the top 10 health foods in the world. In fact, per gram it is way more nutrient dense than other superfood greens including kale, spinach and broccoli.
Benefits - What Is Chlorella Good For?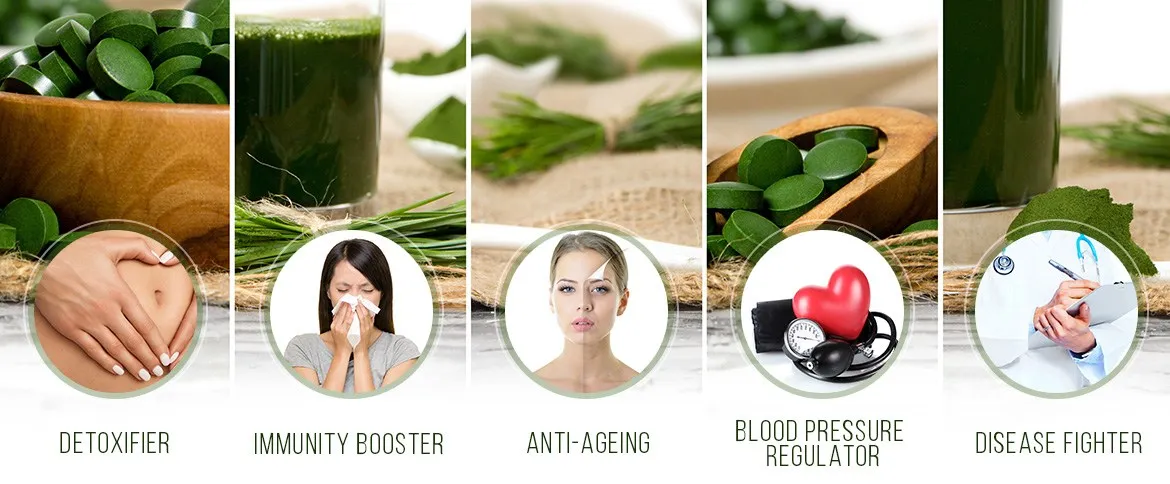 Apart from its popularity as a supplement for general wellbeing, there are many other potential health benefits of Chlorella such as:
Detoxification - Very few know that it was widely used to help those affected by the radioactive fallout to detox their bodies of toxic chemicals during the Fukushima disaster in Japan. It helps absorb toxins such as uranium, cadmium, and mercury by hiding them on its cell wall. Losing weight can also be a potential bonus of body detoxing.
Diseases - Albumin is a protein normally present in the bloodstream, and this microscopic superfood helps to increase the level of albumin in the body which provides protection against a number of illnesses and aids the immune system to fight against these illnesses.
Signs of ageing - It is famed for its high vitamin and mineral content which can help keep skin healthy. It also contains antioxidants which can help protect the skin from free radicals that can cause cellular damage. This damage to the skin's cells can then be responsible for the premature signs of ageing such as fine lines, wrinkles and loss of elasticity.
Blood pressure - It has been used by Japanese natives traditionally to help lower your blood pressure. Although high blood pressure can be caused by a number of factors, one factor can be from not receiving enough vitamins and minerals which can be helped with chlorella.
Immunity - A compound called 'chlorella growth factor' present in this superfood, promotes normal cell growth and helps to boost the immune system. It's commonly used to supplement diets of those regularly suffering from colds and flu.
Chlorella Tablets vs. Chlorella Powder

When looking for a way to add this into your diet the most common forms to find this superfood is in tablet form powder form. These generally offer the same benefits (depending on the supplier) so you wouldn't have to choose based on the chlorella itself but more on how you would prefer to consume this superfood.
Tablets or supplements are popular amongst those that champion convenience and want a supplement for on the go. The tablets are ideal for this as they are already pre-measured into easy to take capsules that with the correct quantity from each product can easily and quickly give you your daily dose of chlorella. In supplement form they are also generally more discreet and can be easily taken wherever you are so is perfect for those with a busy schedule and need something to help provide them with a nutritional boost.
On the other hand, the powder is more favoured for those that like to take their time with their nutrition and like to be more flexible with their superfoods. In powder form it's ideal to add to recipes to give your meal a boost and is most commonly found added to superfood smoothies that combine a number of beneficial superfoods in order to make a super smoothie! The only possible downside is that the measurements for the powder will not be quite as exact as tablet form as you would need to measure it out manually. However, if you are not fussed about monitoring exact quantities then powder form could be perfect for you.
What Is The Right Dosage Of Chlorella Powder?
Three grams per day is a common daily dosage, however, the exact amounts vary with the user's preference and manufacturer guidelines. A higher dose range is of 5-7 grams per day which is quite common too, and at this level improvements in digestion, energy and overall health become more readily apparent. Although it is advisable to start using the powder with a lower dose and slowly work your way up to 4 grams a day.
Where To Buy Chlorella
If you are searching for this superfood supplement in the UK, WeightWorld offers supplements and powders that are safe to consume and can support your health regime. The products include:
Bio Chlorella tablets
Super Organic Chlorella powder
Bio Super Slim Mix
Bio Super Detox Mix
We believe in providing the highest quality products for the best possible price. All of our products are natural and contain no fillers, binders or artificial ingredients than can have a negative impact on your health. We only want to give the best to our customers so believe in natural products and their abilities.
*It is important to note that the results of our products may vary with each individual user. You should always use these products alongside a nutritionally balanced diet and a regular exercise regime. All customer reviews found on this website are genuine.