Our price match promise
We will beat or match other retailers
Free UK delivery on orders over £35
Save on postage today
Customer Data Protection
Your data is safe and secure with us
Daylight Therapy Lamp
Mood Enhancement Device
Overview
Not getting enough of the right natural lighting in your life can lead to a decline in your mood, especially in the winter months where light is scarce and the clouds have rolled in. That is why we are proud to bring you the CE certified Daylight Therapy Lamp, an innovative remote operated mood lamp that provides light that mimics the naturally invigorating properties of sunlight for stimulating your brain for both mood and support against Seasonal Affective Disorder.
Ideal for support against Seasonal Affective Disorder
Fills your home with light that mimics the sun
High-quality CE certified medical device
Dual daylight and mood light function
Remote Bluetooth operation
Suitable for Android and iOS
Comes with 2 years warranty
Product that you are looking for is no longer available, please select from an alternative below.
What is the Daylight Therapy Lamp?
This innovative lamp that aims to help stimulate your brain and target your day to day mood. This product is designed to help lift your mood and provide you with greater feelings of comfort and warmth on a day to day basis. It does this by emitting unique light that mimics the naturally invigorating properties of sunlight that stimulate the brain in a way that is unachievable with regular artificial light. This is especially important for sufferers of Seasonal Affective Disorder, a mood condition that affects many people during the winter months.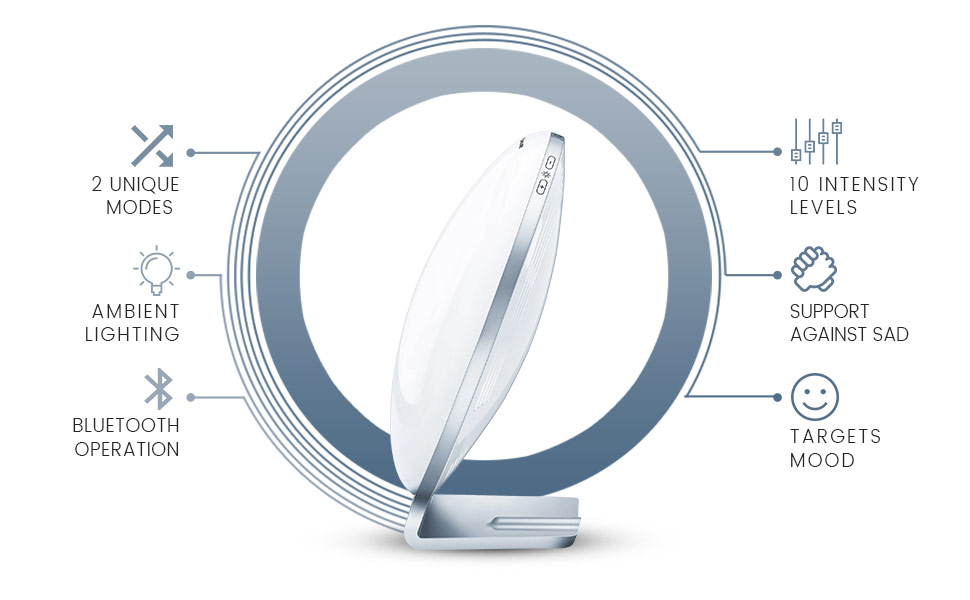 What is SAD and light therapy for depression?
During the Winter time, a specific problem can affect many people known as SAD or Seasonal Affective Disorder. As human beings, our bodies are hardwired to react to natural environmental factors, most significant of all is the sun's light. Many people find themselves experiencing a drop in mood during the Winter months as the days grow shorter and sunlight becomes scarce. 1 in 4 people experience a mood or cognitive problems and for Seasonal Affective Disorder, in particular, prevalence is four times higher in women.
Therapy Lamps (or Sad Lamps) are an amazing scientific way to tackle this problem and studies have shown that they have an influence on this problem. They mimic the sun's rays perfectly, stimulating the release of serotonin in the brain. This can help generate a positive mood and keep you feeling yourself throughout the colder and darker periods of the year. Light box therapy is incredibly popular, and sadlight therapy lamps are considered a must have for people who experience deflated mood at certain times of the year.
The benefits of the Daylight Therapy Lamp
The Daylight Therapy Lamp is designed with the purpose of providing you with continued stimulation throughout the day, it also offers you the highest standard of user experience with Bluetooth operation. However, the main benefits of this device come thanks to its dual modality.
Directions of use
To use the Daylight Therapy Lamp, first ensure that you have downloaded the 'beurer LightUp' app onto your phone. Turn on your phone and Bluetooth whilst also ensuring the Daylight Therapy Lamp is plugged in, is sitting on an even surface and is positioned 10 - 40cm from you for a session use. You can then use the app to customise the device settings. Please refer to the device manual for information regarding how long to use the device for, etc. in reference to the level of brightness and mode.
Advice when using the Daylight Therapy Lamp
You can use this device for as long or as little as you want but we recommend that you use it for 7 consecutive days between the hours of 6 am and 8 pm for 2 hours per day. During use, we suggest that you do not look directly into the light for prolonged periods, rather that you look directly into the light for short intervals. This device is ideal for use during the darker Winter months. Please use this device in conjunction with a healthy lifestyle and refrain from use if you have any eye conditions or have recently undergone eye surgery.

Daylight Therapy Lamp
Mood Enhancement Device
Customer Reviews
At WeightWorld we strive to offer the best possible customer service and we take great pride in the feedback we have received from our customers. All testimonials and reviews below are the experiences and opinions of WeightWorld customers. They should not be considered as health, medical or medicinal claims. They are no substitute for taking medical advice.
Outstanding

5
83.33% based on 5 Verified reviews

* Results may vary from one person to another.