Our price match promise
We will beat or match other retailers
Free UK delivery on orders over £40
Save on postage today
Customer Data Protection
Your data is safe and secure with us
Detox Bundle
Natural Cleansing & Energising Bundle
Overview
Enjoy a relaxing sensation by naturally cleansing your body with the Detox Bundle! This unique all-natural trio is designed to help you feel cleansed, lighter and healthier from within. This bundle includes 3 easy to take natural food supplements that work to assist you with your weight management efforts and provide you with a natural energy boost when you need it most. Spice up your fitness routine and cover all your detox needs with this convenient bundle now!
Detox Tone, Detox Tea & Bio Spirulina Algae
Natural energising boost
Perfect for weight management
Cleanses from within
Suitable for vegans & vegetarians
Product that you are looking for is no longer available.
What Is The Detox Bundle?
Including 3 food supplements, this bundle is a fun and delicious way to provide you with a natural boost to your weight management efforts and energy levels. Including a variety of natural ingredients, these supplements are a convenient and ideal way to top up your energy levels. Each of the 3 products work together perfectly to help you naturally cleanse from within, with each one providing their own benefits.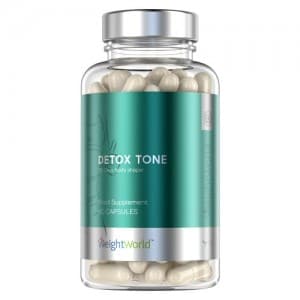 Detox Tone
Detox Tone is a natural plant-based supplement designed to help you feel cleansed from within. Enriched with Ginger, Chlorella and Aloe Vera, these capsules provide you with a natural energising boost to help you with your toning efforts. Ideal as a vegan and vegetarian alternative, get the shape you desire and feel the benefits of these easy to take capsules.
Active Ingredients: Psyllium Husk Powder, Liquorice Root Extract 4:1, Garlic Herb Powder, Citrus Pectin, Clove Bud, Fennel Seed Herb Powder, Dandelion Root Extract 4:1, Chlorella Powder, Cayenne Powder, Aloe Vera 200:1 Extract, Ginger Root Powder 20:1.
Other Ingredients: Bulking Agent (Rice Flour), Capsule Shell (Hydroxypropyl Methylcellulose), Anti-Caking Agent (Magnesium Stearate), Flow Agent (Silicon Dioxide).
Detox Tea
Follow this up with Detox Tea, an all-natural purifying tea without that boring, bitter taste! This supplement's complete 28-day programme is a revitalising blend designed to deliver a natural cleanse that works from the inside-out along with a nutritional boost to help you with your weight management. With a delicious combination of herbal extracts, this convenient tea is an easy and enjoyable way to keep you fit and active!
Active Ingredients: Green Tea (40%), White Tea (20%), Aniseed (10%), Nettle Leaves (10%), Dandelion Root (8%), Lemon Verbena (5%), Burdock Root (5%), Spearmint (2%).
Bio Spirulina Algae
Finally, Bio Spirulina consists of a market-leading 4000mg daily strength perfect taking your exercise efforts to the next level. These easy to take tablets are packed with a revitalising multivitamin complex to provide you with that natural energy boost you need. With up to 70% potent vegan protein, boost your vitality and feel the benefits of this potent supplement that will seamlessly fit into your daily routine!
Active Ingredient: 100% Spirulina (Arthrospira Platensis).
How To Use The Detox Bundle
To get the most out of each of the supplements in your Detox Bundle, here's what you need to do to meet your requirements:
Detox Tone is designed to be an easy to use supplement that can perfectly fit into your daily routine. To use, simply take 2 of these easy to swallow capsules each day with water. We recommend taking them around the same time each day for consistency.
If you're looking to take a step up in your fitness efforts, give Bio Spirulina Algae a go instead. For a pure, powerful, daily dose of Spirulina's benefits, take these small yet potent tablets. They'll perfectly complement your regular wellness routine, seamlessly fitting into your day. Twice everyday, take 5 tablets with a glass of water before eating. We suggest taking for a minimum of three months to get the most out of the supplement
Complement whichever of these detox supplements you decide to go for with the Detox Tea. Take your cleansing tea bag and pop it into your mug. Pour near-boiling water into the cup and then leave the tea to diffuse for around 5 minutes. It's recommended that you drink this tea every evening and combine it with either Detox Tone or Bio Spirulina Algae to truly feel the weight management benefits of the Detox Tea!
Advice
All 3 products within the Detox Bundle are made to a high quality using natural ingredients and therefore have no known side effects. If you have not used any of these products before, we suggest reading through the full list of ingredients to check for any personal allergens. If you are pregnant, breastfeeding or on any medication we recommend that you consult with your doctor before use. These supplements are not intended for those under the age of 18.
Customer Reviews
At WeightWorld we strive to offer the best possible customer service and we take great pride in the feedback we have received from our customers. All testimonials and reviews below are the experiences and opinions of WeightWorld customers. They should not be considered as health, medical or medicinal claims. They are no substitute for taking medical advice.
Be the first to review this product

* Results may vary from one person to another.