Our price match promise
We will beat or match other retailers
Free UK delivery on orders over £40
Save on postage today
Customer Data Protection
Your data is safe and secure with us
Hip Trainer
Device | EMS Hip Trainer & Butt Toner for Women
Notify me when this product is back in stock
Great! We'll notify you when this product comes back in stock.
You have already subscribed for this Email Address.
Product that you are looking for is no longer available, please select from an alternative below.
Why You Should Exercise The Hips?
When it comes to both exercise and weight management, the hips form an incredibly important part of the body. In terms of muscle training, they sit at the bottom of your midsection and help guide movement down the legs, and from a weight management perspective, they act as a key area where fat can gather. Taking the necessary steps to carry out hip exercises, and stimulate the muscles in the hip area, can work wonders for both improving your hip strength, balance and toning; and can keep your hips slim and free of lipid build-up.
How Does The Hip Trainer Work?
The Hip Trainer from WeightWorld has been crafted as the perfect device to complement your weight management or muscle building routine. It makes use of a user-orientated ergonomic design to easily fit the individual shape of the wearer and then transfer powerful electrical impulses into the hip muscles; courtesy of state of the art gel stimulation pad technology. These impulses work to deeply stimulate the muscle in the hips, build strength, size and tone, and also prevent the build-up of fat and tackle existing fat. This innovative device's 6 individual modes of function, and a further 10 levels of intensity make for a user experience that is tailored to your needs. The lightweight build and battery operation allows you to take your workout with you no matter where you go.
How To Use The Hip Trainer
The EMS Hip Trainer from WeightWorld has been engineered with ease of use as one of its key aims. Below you will find a handy step by step guide on how to prep and operate for premium quality Hip Training.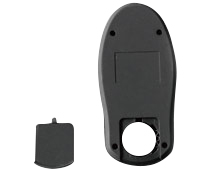 1.

Clean and Insert

Firstly, you should ensure that your waist and buttocks are clean and free of sweat before ensuring the battery has been correctly inserted into the console device.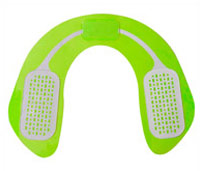 2.

Connect

Then connect the pack to the gel pads and remove the protective film covering the gel pads.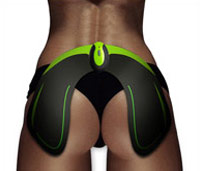 03.

Apply

Then apply the gel pads to the body so that each pad reaches down over either buttock.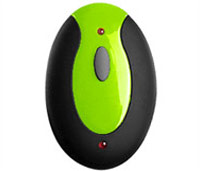 4.

Turn power on

Turn on the power button on both the console device and the controller to commence muscle stimulation.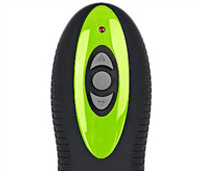 5.

Customise

You can then control the intensity and modality of the stimulation via the buttons on the controller for a tailored hip muscle routine.
6.

Return

After 15 minutes, cease muscle stimulation, turn off the device, remove, and return the protective film covers to the gel pads.
Considerations When Training Hips
The Hip Trainer machine is not intended for use if you find yourself in any of the following scenarios:
A skin condition, scar or severe blemishing in the waist and hip area
Recovering from recent surgery
If you possess a pacemaker
If you suffer from heart complications
If you are in a hot and humid environment
For the best results, we also recommend that you use the Hip Trainer in conjunction with a balanced diet and exercise. You can also benefit from having minimal contact with the gel pads and keeping them covered when not in use, as continued exposure to hands and air can cause the pads to lose their adhesive properties.
Customer Reviews
At WeightWorld we strive to offer the best possible customer service and we take great pride in the feedback we have received from our customers. All testimonials and reviews below are the experiences and opinions of WeightWorld customers. They should not be considered as health, medical or medicinal claims. They are no substitute for taking medical advice.
Outstanding

4.5
89.29% based on 27 Verified reviews

* Results may vary from one person to another.