Our price match promise
We will beat or match other retailers
Free UK delivery on orders over £35
Save on postage today
Customer Data Protection
Your data is safe and secure with us
Skinception Intensive Stretch Mark Therapy
100 ml Cream | Soothing & Nourishing Cream
Overview
Skinception Intensive Stretch Mark Therapy is a gentle and fast acting formula designed to tackle embarrassing stretch marks. These can appear during pregnancy, puberty, growth spurts and sudden weight gains and can be a real confidence boost for many men and women. Skinceptions intensive Stretch Mark Therapy can help to tackle this with its unique blend of ingredients to help fade unsightly red lines on the skin and restore confidence.
Helps reduce the appearance of stretch marks
Contains a variety of natural ingredients
Helps repair and tighten skin
Improves the texture of the skin
Easy and quick to apply
Can be used on any part of the body with stretch marks
This Stretch Mark therapy is a luxurious, gentle and very effective cream that has been uniquely created to combat embarrassing elements of stretch marks. Its formula contains a ground breaking variety of powerful and all natural ingredients that act as protein repair enzymes to improve skin imperfections and boost the production of collagen that is essential for tightening and hydrating the skin. Try the Intensive Stretch Mark Therapy today and see how great your skin can look and feel!
Gluten-free
Halal-friendly
Kosher-friendly
Notify me when this product is back in stock
Great! We'll notify you when this product comes back in stock.
You have already subscribed for this Email Address.
What are stretch marks?
When the skin has been forced to stretch suddenly, this generally results in stretch marks appearing. Stretch marks will commonly appear as a result of pregnancy and childbirth, at this point your body expands in order to accommodate a growing baby. Other occasions where stretch marks appear also include experiencing rapid weight gain or loss and growth spurts during puberty where your body starts to develop into its adult form in a short period of time. Natural stretch mark removal creams such as Skinception Intensive Stretch Mark Therapy are perfect for overcoming the effects of such occasions.
How does Skinception Intensive Stretch Mark Therapy work?
Helps to tackle stretch marks as well as tighten and repair skin
Comprises of protein-repair enzymes
Contains unique properties to repair and tighten skin
Did you know that 90% of women suffer from stretch marks? Despite being incredibly common, these skin blemishes can give your body confidence a real hit. Skinception Intensive Stretch Mark Therapy has been uniquely formulated to help restore affected areas of skin, lessening the appearance of stretch marks to bring your beautiful body back to its former glory!
Active ingredient Regestril is included in Skinception Intensive Stretch Mark Therapy. This is because it has been clinically proven to reduce indentation, colour and width of post pregnancy stretch marks by around 21.7%. Various tests have indicated that a reduction of 72.5% of the depth of stretch marks is possible, supporting the skin to gain a smoother, thicker and healthier appearance. Using Skinception Intensive Stretch Mark Therapy really is not only great for the health of your skin but also the appearance of it.
Safe to use
Skinception Intensive Stretch Mark Therapy consists of completely natural ingredients, which come with no known side effects.
Special Ingredients
The complete Skinception Intensive Stretch Mark Therapy formula, as a whole, works harmoniously together, combining hand picked ingredients with unique properties and properties that have been used for years for their skin smoothing and repairing qualities.
Lotus flower (nelumbo nucifera leaf extract): this is believed to heal, regenerate, purify and rebalance the skin, while also tightening up pores. Its properties may also have the ability to redefine skin texture.
Siegesbeckia orientalis extract: supports wound healing and encourages tissue renewal by the stimulation of collagen production.
Ingredients in Skinception Intensive Stretch Mark Therapy
This Skinception Intensive Stretch Mark Therapy is a completely natural stretch mark removal cream and contains the following ingredients: water, caprylic capric triglycerides, isopropyl palmitate, pentylene glycol, ethoxydiglycol, beta glucan, butylene glycol, nelumbo nucifera leaf extract, cetyl hydroxyethycellulose, rutin, palmitoyl oligopeptide, palmitoyl tetrapeptide-7, phaseolus lunatus (green bean) extract, siegesbeckia Orientalis extract, hydrolyzed soybean fiber, stearyl alcohol, magnesium aluminum silicate, glyceryl stearate, sodium stearoyl lactylate, panthenol, allantoin, citrus grandis (grapefruit) peel oil, citrus aurantium dulcis (orange) peel oil, cymbopogon schoenanthus oil, sodium lactate, steareth-21, xanthan gum, DMDM hydantoin.
Easy Application
Skinception Intensive Stretch Mark Therapy is incredibly easy to use and its gentle formula feels great on your skin. Simply apply the natural stretch mark removal cream on to your skin twice a day, once in the morning and again in the evening. Skinception Intensive Stretch Mark Therapy's unique ingredients will start to get to work fast to start showing you the amazing benefits you could gain.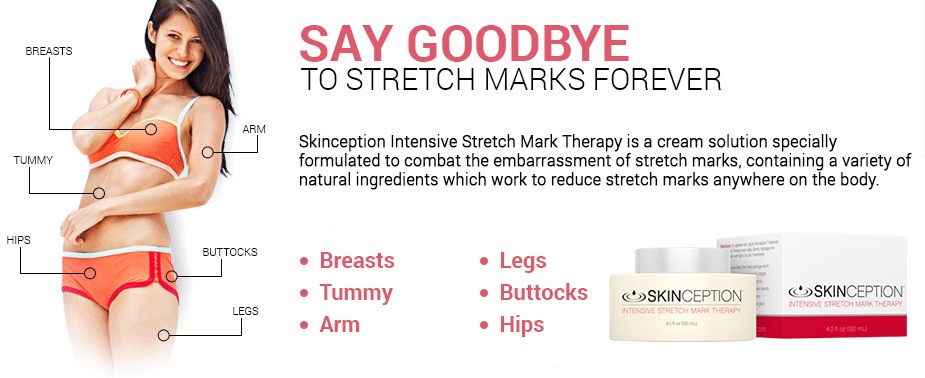 Frequently bought together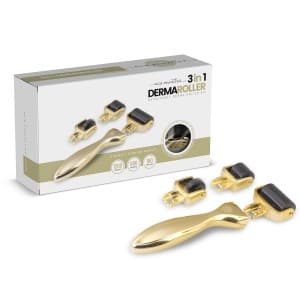 +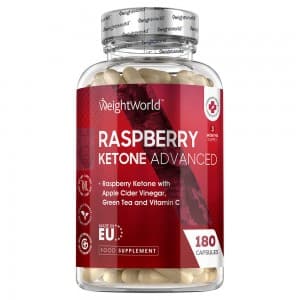 Customer Reviews
At WeightWorld we strive to offer the best possible customer service and we take great pride in the feedback we have received from our customers. All testimonials and reviews below are the experiences and opinions of WeightWorld customers. They should not be considered as health, medical or medicinal claims. They are no substitute for taking medical advice.
Very good

4
75.00% based on 15 Verified reviews

* Results may vary from one person to another.