All-Natural Supplements
GMP-certified and GMO-Free
Free UK delivery on orders over £40
Save on postage today
100% Customer Satisfaction
We offer a full 90-day money back guarantee
Iron Complex with Vitamin C
180 Tablets | Ideal for fatigue and natural defences
Overview
Vitamin C-fortified iron supplement
Enriched with vitamin B1, B2, B3, B6 and B12
Perfect to fight fatigue and re-energise
180 tablets - 6 months supply
Vegan and gluten-free
WeightWorld's Iron Complex is a one-of-a-kind iron supplement. Packed with vitamin B12 and Vitamin C, it is perfect to fight fatigue and reinforce natural defences. Iron complex utilises minerals and vitamins that were carefully chosen to complement one another. Take only 1 tablet every day to reap the multitude of benefits of a comprehensive iron supplement. Re-energise today.
Vegan
Gluten-free
GMO Free
GMP
Buy 1

£17.99

£0.10 / Tablet

Buy 2

£32.38

£35.98 You Save 10%

£0.09 / Tablet

Buy 3

£43.17

£53.97 You Save 20%

£0.08 / Tablet

Buy now and earn 2 Comfort Points ?
Why do we need Iron
Iron is vital because your body requires it to maintain and reinforce your natural defences. If your iron levels are low, you are at risk of iron deficiency (anaemia), which can cause:
Tiredness
Dizziness
decreased physical performance
Palpitations
shortness of breath
migraines
With this in mind, WeightWorld has created a comprehensive dietary supplement for you, allowing you to achieve your daily iron requirements with just one tablet per day. You'll also get numerous other essential nutrients, such as vitamins B12 and C which are all required vitamins for many of the body's most crucial processes.
Why WeightWorld's Iron Complex?
Our Iron complex combines the benefits of a multitude of ingredients. Not only does it contain iron but it also utilises Vitamin C and Vitamin B12. With these ingredients, it provides other benefits such as contributing to:
the normal function of the immune system
normal energy-yielding metabolism
normal psychological function
normal functioning of the nervous system
reduction of tiredness and fatigue
the maintenance of normal hair & nail
to the protection of cells from oxidative stress
Key Ingredients:

Vitamin B12
WeightWorld Iron Complex is enriched with vitamin B12 as it contributes to normal energy metabolism, maintenance of the nervous system contributes to normal red blood cell formation and contributes to normal immune system function as well as reducing fatigue.

Vitamin C
The supplement is enriched with the essential vitamin C, as it contributes to the normal functioning of the nervous system, normal immune response, protecting cells from oxidative stress as well as reducing fatigue and exhaustion. Vitamin C also helps to optimise iron absorption.
Who is our Iron Complex for?
Our Iron complex has been developed for anyone who wants to give their body the support it needs on a daily basis. Although anyone can benefit from taking our Iron complex, women going through pregnancy need iron supplements to support their bodies through such dramatic changes. Women tend to be more prone to iron deficiency due to menstruation, women's iron needs increase dramatically during pregnancy, as your body needs plenty of iron to give the uterus and foetus the best conditions for growth and development.
Full List of Ingredients
Vitamin C (as L-Ascorbic Acid), Iron (as Ferrous Fumurate), Vitamin B3 (as Nicotinamide), Vitamin B1 (as Thiamine Hydrochloride), Vitamin B2 (as Riboflavin), Vitamin B6 (as Pyridoxine Hydrochloride), Vitamin B12 (as Methylcobalamin), Bulking Agents: Microcrystalline cellulose and Dicalcium Phosphate, Anti-Caking Agents: Magnesium Stearate and Silicon dioxide.
How to Use
Take 1 tablet daily with a full glass of water, preferably with a meal.
Advice
Do not exceed the recommended daily dose. Food supplements must not be used as a substitute for a varied and balanced diet and a healthy lifestyle. If you are pregnant, breastfeeding, taking any medications or are under medical supervision, please consult a doctor or healthcare professional before use. Discontinue use and consult a doctor if any adverse reactions occur. Not intended for use by persons under the age of 18 years.
Storage
Store in a cool and dry place away from direct sunlight and away from children.
Frequently bought together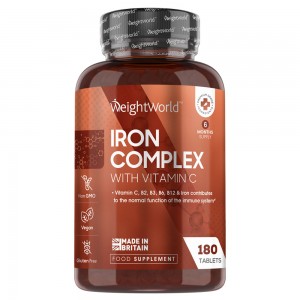 +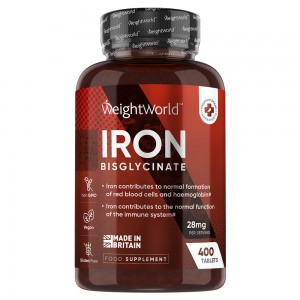 Iron Tablets
28 mg 400 Tablets | 28 mg, 400 Tablets |Natural Food Supplement
£9.99 £11.99
+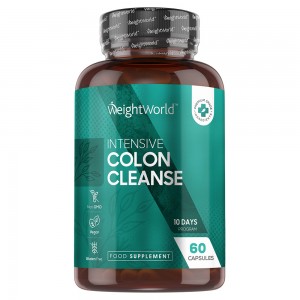 Customer Reviews
At WeightWorld we strive to offer the best possible customer service and we take great pride in the feedback we have received from our customers. All testimonials and reviews below are the experiences and opinions of WeightWorld customers. They should not be considered as health, medical or medicinal claims. They are no substitute for taking medical advice.
Outstanding

4.5
93.16% based on 78 Verified reviews

* Results may vary from one person to another.