Our price match promise
We will beat or match other retailers
Free UK delivery on orders over £35
Save on postage today
Customer Data Protection
Your data is safe and secure with us
WeightWorld Marine Collagen Powder
5 g Powder | Peach flavoured Anti-ageing Supplement
Overview
Are you ready for a delicious and easy to mix collagen supplement? WeightWorld's Marine Collagen Powder is an exciting way to boost collagen levels in the body to take on the signs of ageing including fine lines and wrinkles. As a unique peachy flavoured powder, it is enjoyable to drink and super versatile for you to make the most of. Plus, you get a massive 2,600mg serving strength of the highest-quality NatiCol® marine collagen at just 10 calories!
Natural anti-ageing formula for skin
Supports bones and joints
Powerful 2,600mg serving strength
Delicious fruity peach flavour
Only 10 calories per sachet
Buy 1

£22.99

Buy 2

£41.38

£45.98 You Save 10%
Buy 3

£55.17

£68.97 You Save 20%

Buy now and earn 2 Comfort Points ?
What is WeightWorld's Marine Collagen Powder?
This maximum strength Marine Collagen Powder is designed to be a highly versatile way for you to boost collagen levels in the body for a natural anti-ageing effect on the skin. In the form of a simple to use powder with a delicious peachy flavour, it makes for the perfect way to care for your body and receive the full benefits of marine collagen. Plus, with only 10 calories in every serving, it is completely guilt-free!
How does it work?
The secret to this supplement's rejuvenating powers comes from the superior quality of the NatiCol® marine collagen used, as it is super bioavailable so far more easily absorbed and used by the body than other forms. As we age and through daily wear and tear, the naturally-occurring levels of collagen with the body begin to drop, resulting in wrinkles and fine lines as well as stiff joints and creaky bones. By taking WeightWorld's Marine Collagen Powder on a regular basis, it helps to boost collagen levels to leave the skin feeling smooth, firm and youthful and the bones and joints working at their best.
Who is it for?
WeightWorld's Marine Collagen Powder is ideal for those that want to receive the full benefits of a collagen supplement but with convenience in mind. Thanks to its powder form, this supplement is super versatile and perfect for adding to hot water or your favourite shakes, smoothies and drinks. It is also highly bioavailable so allows you to get the most out of every drop without any extra effort or money spent so is ideal for those looking for the best value for money.
Directions for use
To use, simply mix 1 sachet of the Marine Collagen Powder with 120ml of hot (not boiling) water and stir until it is fully dissolved. Enjoy either in the morning or evening as preferred for the full 28-day programme. If you want to be more adventurous you can also try adding it to your favourite smoothies or shakes!
This supplement is made from high-quality natural ingredients so is safe to use with no known side-effects. Please check the full list of ingredients before first use for any personal allergens and do not use if you are allergic to fish. Consult a doctor before use if you are pregnant, breastfeeding or on any medications.
Full list of ingredients
Ingredients: Hydrolysed Collagen Fish Powder, Peach Fruit Powder, Steviol Glycosides Leaf Extract 1:10.
Frequently bought together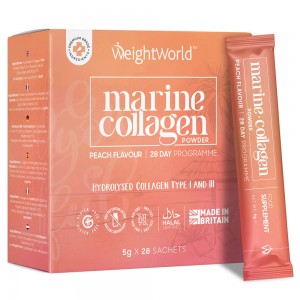 +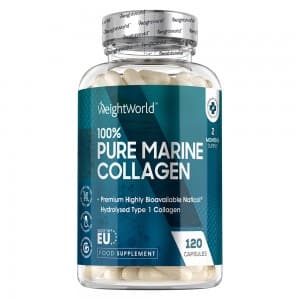 +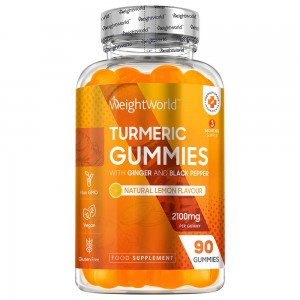 Customer Reviews
At WeightWorld we strive to offer the best possible customer service and we take great pride in the feedback we have received from our customers. All testimonials and reviews below are the experiences and opinions of WeightWorld customers. They should not be considered as health, medical or medicinal claims. They are no substitute for taking medical advice.
Outstanding

5
89.09% based on 10 Verified reviews

* Results may vary from one person to another.