All-Natural Supplements
GMP-certified and GMO-Free
Free UK delivery on orders over £40
Save on postage today
100% Customer Satisfaction
We offer a full 90-day money back guarantee
Matcha Tea
100 g Powder | Organic, Ceremonial Grade Japanese Matcha Powder
Overview
Organic, ceremonial grade matcha tea powder
Perfect for teas, smoothies and baking
ideal to cleanse and purify the body
Naturally supports the immune system
Ideal for to boost metabolism and energy levels
Vegan & Soil Association certified
Created over 800 years ago by monks, matcha tea has been used for centuries due to its many health benefits including to support energy levels and overall well being. Pure Matcha Tea Powder by WeightWorld is a great option for those who are looking for a more powerful energy boost but without the sugary calories of energy drinks.
This fragrant Matcha Tea Powder is a vitamin and mineral powerhouse and due to its premium grade, perfect for use in both traditional teas as well as modern and delicious baking.
Vegan
Organic
GMO Free
Gluten-free
Buy 1

£9.95

£0.10 / g

Buy 2

£17.90

£19.90 You Save 10%

£0.09 / g

Buy 3

£23.88

£29.85 You Save 20%

£0.08 / g

Buy now and earn 1 Comfort Point ?
Why Choose Matcha?
Characterised by its vibrant green colour, rich flavour and fragrant aroma, matcha has begun to establish itself as a firm favourite amongst tea lovers. While other green teas are grown throughout the world, matcha has its roots in Japan where it has been celebrated in a traditional Japanese tea ceremony for hundreds of years.
The way it differs from regular green tea is in its farming and processing methods; matcha uses green tea plants that are grown in the shade for the 3 weeks before harvest in order to produce more theanine (also known as L-glutamine) and caffeine. When processed it also does not use the stems and veins in order to get the highest quality and the nutrient value.
WeightWorld Matcha Tea
The Matcha Tea Powder by WeightWorld is made using pure and premium grade Japanese matcha green tea in order to offer only the best. Premium grade is the most versatile of all the matcha tea types, meaning it is perfect for use for the traditional hot drink as well as modern beverages including lattes and smoothies. It is also ideal for baking and adding a zingy and bright twist to any dish. With 100g in each pack, there is plenty to go around and with its handy pouch design it can easily fit into any kitchen cupboard and also looks great put on display. Whatever you do with your Matcha Tea Powder, you're sure to enjoy its unique taste, colour and aroma and make the most of its amazing range of health-giving benefits.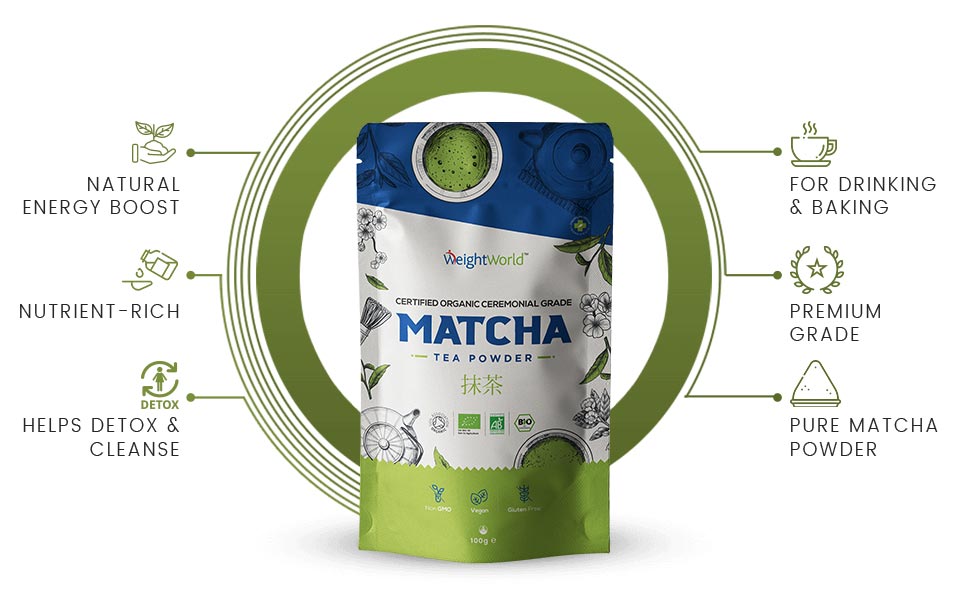 How To Enjoy
Drink Hot
Take a scoop (1/2 tsp) of Matcha Tea, place in your drinking bowl or large cup. The bigger the scoop, the stronger the brew. Start at ¼ teaspoon then adjust according to your taste. Fill your drinking bowl or cup with hot water 80°C / 176°F. Whisk matcha and hot water in zigzag motion until you start to see the froth. It is now ready to drink.
Drink Cold
Add Matcha Tea to smoothies and juices for an antioxidant-rich energy boost. Blend with almond or cashew milk, and a little honey for a delicious iced Matcha latte. Shake Matcha powder with Wheatgrass Juice, freshly juiced cucumber, lime and apple. Add Matcha to freshly made kombucha and sweeten with a little honey.
Add To Recipes
Add Matcha Tea to your protein power balls for an added energy boost. Combine Matcha with almond milk and chia seeds to make the most delicious matcha chia pudding. Blend Matcha with coconut water, avocado, and frozen banana. Add a little honey for a delicious beauty-boosting smoothie.
Useful Tips
Use your choice of milk in place of water to make a delicious matcha latte. Sweeten to taste with a little honey.
Advice
This Matcha Tea Powder is made using only one ingredient - 100% pure Japanese organic green tea powder. It contains no fillers, preservatives or chemicals making it safe to use with no known side effects. Please make sure you do not have a personal allergy to matcha before taking. Make sure when not using your matcha you ensure the seal is tight and store in a cool and dark place in order to maintain its quality and flavour.
Frequently bought together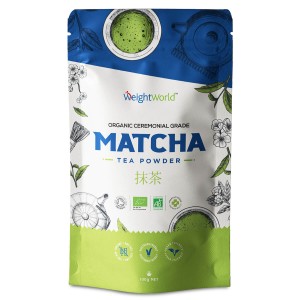 Matcha Tea
100 g Powder | Organic, Ceremonial Grade Japanese Matcha Powder
£9.95
+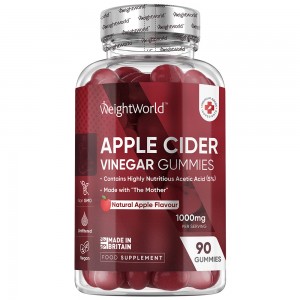 +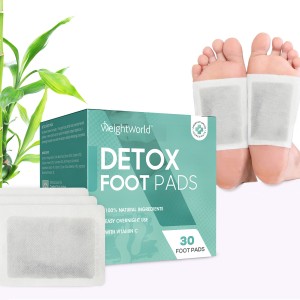 Customer Reviews
At WeightWorld we strive to offer the best possible customer service and we take great pride in the feedback we have received from our customers. All testimonials and reviews below are the experiences and opinions of WeightWorld customers. They should not be considered as health, medical or medicinal claims. They are no substitute for taking medical advice.
Outstanding

5
95.06% based on 242 Verified reviews

* Results may vary from one person to another.