Our price match promise
We will beat or match other retailers
Free UK delivery on orders over £35
Save on postage today
Customer Data Protection
Your data is safe and secure with us
Multivitamins and Minerals 365 Tablets
365 Tablets | Natural Wellbeing Supplement
Overview
Brimming with 27 vitamins and minerals, WeightWorld's Multivitamins and Minerals 365 is an all-natural premium supplement to support your diet. Containing Vitamin A, Vitamins B6 and B12, Vitamin C and many more, Multivitamins and Minerals 365 can help every part of your body, all year round!
365 tablets - a year's supply
Vitamin D for the maintenance of normal skin, bones and teeth
Vitamin C to help manage fatigue and tiredness
Reinforces your body's natural defences
Effective, efficient and affordable
Non-GMO, gluten-free and suitable for vegetarians
GMP
Vegetarian
Expert Formula
GMO Free
Buy 1

£17.99

Buy 2

£32.38

£35.98 You Save 10%
Buy 3

£43.17

£53.97 You Save 20%

Buy now and earn 2 Comfort Points ?
What Are The Multivitamins & Minerals Tablets?
Multivitamins and Minerals 365 is a premium supplement you should take alongside a balanced diet. Containing 27 vital vitamins and minerals, each tablet can provide numerous benefits, including a reduction of tiredness & fatigue; maintenance of normal immunity; maintenance of normal bones, teeth, hair and skin; and maintenance of normal muscle function.
What Are The Main Benefits & Ingredients?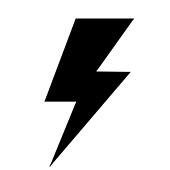 Energy levels
When you do not get enough vitamins through your diet, your body has to work harder to perform simple tasks, which can lead to fatigue and other health problems. Taking multivitamins and maintaining a healthy lifestyle is an ideal way to feel energetic and stay fit.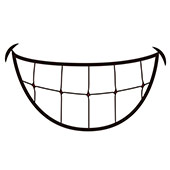 Mood
Several studies have linked daily multivitamin consumption with positive effects on a person's mood and emotional well-being. Getting enough vitamins and minerals can positively influence the brain functions responsible for your mood.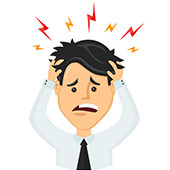 Stress and Anxiety
The vitamins and minerals in your daily multivitamin can also help you cope with stress and anxiety. The body uses B vitamins to convert food into energy, keep the nervous system functioning properly, and to produce stress hormones. Taking multivitamins every day can replenish your body's supply.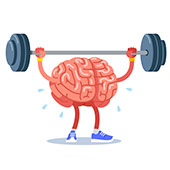 Short-term memory
Recent studies have shown that B vitamins have a vital role to play in supporting short-term memory function. In the research, older participants who supplemented with vitamin B12 did better in memory tests compared to those who did not take supplements.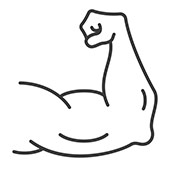 Muscle strength
Free radicals are mainly responsible for ageing-related problems in the muscles. Taking multivitamins every day can help keep your body at its best.
Who Are The Multivitamins & Minerals Tablets For?
Everyone should strive to eat fruit and vegetables daily to help fuel your body with the right food. However, modern life and busy schedules can sometimes make it difficult to get all vitamins and minerals your body needs to be at its best. Multivitamins and Minerals 365 may provide extra nutritional support, especially if your diet is lacking or unbalanced.
How To Use
Take 1 tablet every day, preferably with a meal or as directed by your healthcare practitioner. For best results, take at the same time every day.
Full List Of Ingredients
Vitamin A (Retinyl Acetate), Vitamin D3 (Cholecalciferol), Vitamin E (Dl-Alpha Tocopherol Acetate), Vitamin K (Menaquinone), Vitamin B1 (Thiamin), Vitamin B2 (Riboflavin), Vitamin B3 (Niacin), Vitamin B5 (Pantothenic Acid), Vitamin B6 (Pyridoxine Hydrochloride), Vitamin B9 (Folic Acid), Vitamin B12 (Cyanocobalamin), Vitamin B7 (Biotin), Vitamin C (Ascorbic Acid), Calcium, Magnesium, Iron, Copper, Iodine, Zinc, Manganese, Sodium, Potassium, Selenium, Chromium, Molybdenum, Potassium, Chloride, Sodium Chloride, Dicalcium Phosphate
Frequently bought together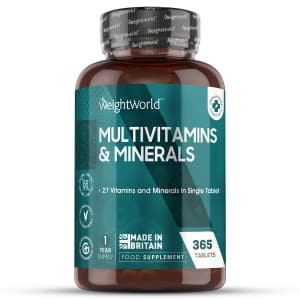 +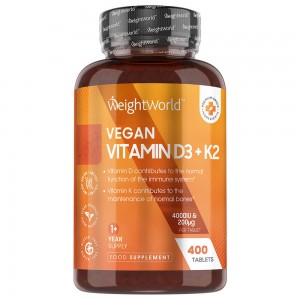 Customer Reviews
At WeightWorld we strive to offer the best possible customer service and we take great pride in the feedback we have received from our customers. All testimonials and reviews below are the experiences and opinions of WeightWorld customers. They should not be considered as health, medical or medicinal claims. They are no substitute for taking medical advice.
Outstanding

5
83.33% based on 5 Verified reviews

* Results may vary from one person to another.