Our price match promise
We will beat or match other retailers
Free UK delivery on orders over £40
Save on postage today
Customer Data Protection
Your data is safe and secure with us
Potassium Citrate
1000mg 180 Tablets | Contributes to Normal Muscle Functioning
Buy 1

£11.99

£14.99

£0.07 / Tablet

Buy 2

£22.78

£23.98 You Save 5%

£0.06 / Tablet

Buy 3

£32.37

£35.97 You Save 10%

£0.06 / Tablet

Buy now and earn 1 Comfort Point ?
Key Features
Potent 1000mg of Potassium Citrate - 50% of the daily recommended dosage
contributes to the maintenance of normal muscles function & blood pressure
Provides natural Electrolytes Support
Superior bioavailability & max absorption
Easy to swallow 180 tablets - 3 months supply
Comes with 90 days money back guarantee
Vegan
Gluten-free
GMP
GMO Free
Have you been experiencing muscle cramps and pains? Potassium is an essential mineral found in the body and is ideal for our nerves, muscles and multiple bodily functions. Potassium citrate is a natural supplement that can boost your body's potassium levels, contributing to overall well-being. If you're experiencing muscle aches, numbness, constipation, frequent bloating or fatigue, these are tell-tale signs you may have a deficiency. Our two-a-day tablets are the perfect grab-and-go solution for anyone who wants to give their body the support it needs to strive.
Potassium - An Essential Mineral and Electrolyte
Potassium plays a key role in your body's overall well-being, aiding in the stimulation of muscle contractions, while supporting nerve impulse conduction and kidney function. This electrolyte also regulates your body's fluid balance, helping you maintain nerve cell function and a healthy heartbeat. A potassium deficiency, also known as hypokalemia, can reveal itself in various discomforting symptoms, which include muscle cramps and spasms, muscle damage, general fatigue, shortness of breath, drowsiness, numbness, frequent bloating and constipation.
The majority of your body's potassium is contained within your numerous cells, with 80% found in your muscle cells and the remaining 20% spread across your bones, liver, and blood cells. Because of its involvement in overall body function, potassium is classified as an essential mineral and should be maintained at normal levels for good health.
Who is Potassium Citrate Intended For?
Potassium Citrate is helpful for men and women to aid with the normal maintenance of muscle function. This high-strength formula also comes in tablet form, making it an easy addition to your daily routine. With 180 tablets per bottle for a 3-month supply, it is suitable for vegans. WW's Potassium Citrate comes in the form of easy-to-take tablets, which are meticulously formulated to work hand-in hand with your daily diet and workout regime. Additionally, potassium contributes to normal functioning of the nervous system and maintenance of normal blood pressure.
Dosage
For Weightworld's potassium citrate supplements, take a dose of 2 tablets daily with a large glass of water and a meal.
Warning: There are no known side effects to potassium citrate, but you should always consult your doctor if you have allergies related to the components inside. Do not supplement potassium citrate if you have severe kidney disease or heart damage, Addison's disease, high potassium or sodium levels, or are severely dehydrated.
You should not take citric acid, potassium citrate, and sodium citrate tablets if you have problems with your oesophagus, stomach, or intestines, making it difficult for you to swallow or digest pills. Not intended for use by persons under the age of 18.
Storage: Store in a cool, dry place out of reach of children.
What is Potassium Citrate really good for?
Potassium Citrate is essential for your body to function at its best. It is especially great for Muscles, nerves and kidneys. It is perfect for muscle cramping and is an ideal supplement that works perfectly alongside your workout routine.
When should Potassium Citrate be taken?
It is best to take potassium citrate with a meal and preferably at a similar time of day!
Who should not take potassium citrate?
On a general note, anyone can take potassium citrate, but if you are taking prescription medication for a condition, please consult your general practitioner or medical professional before using it.
Are there any side effects?
We pride ourselves on using all-natural ingredients in our products which means there are no known negative side effects and you can have peace of mind when using them.
What if it doesn't work for me?
We are confident that you will love our products, but we also understand that everybody is slightly different and may not feel the effects in the same way. We value our customers and want to make sure that they are 100% happy with their purchase which is why we offer our full money-back guarantee! If it doesn't work for you, we will refund you for your order!
Frequently bought together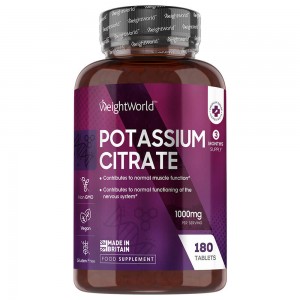 Potassium Citrate
1000 mg 180 Tablets | For muscles, nervous system and blood pressure
£11.99 £14.99
+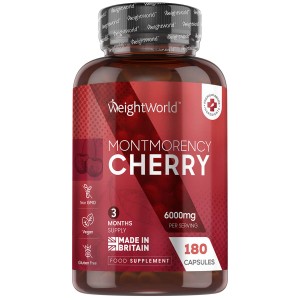 +
Customer Reviews
At WeightWorld we strive to offer the best possible customer service and we take great pride in the feedback we have received from our customers. All testimonials and reviews below are the experiences and opinions of WeightWorld customers. They should not be considered as health, medical or medicinal claims. They are no substitute for taking medical advice.
Outstanding

5
95.63% based on 118 Verified reviews

* Results may vary from one person to another.