All-Natural Supplements
GMP-certified and GMO-Free
Free UK delivery on orders over £40
Save on postage today
100% Customer Satisfaction
We offer a full 90-day money back guarantee
Quercetin Complex
610 mg 180 Capsules | Ideal for Natural Defences
Buy 1

£19.99

£27.99

£0.11 / Capsule

Buy 2

£35.98

£39.98 You Save 10%

£0.10 / Capsule

Buy 3

£47.97

£59.97 You Save 20%

£0.09 / Capsule

Buy now and earn 2 Comfort Points ?
Key Features
Ultimate blend to provide optimal year-round support
contributes to the protection of cells from oxidative stress
Ideal to bolster natural defences
With Vit C, Bromelain, Rosehip and Acerola
180 capsules - 6 months supply
Rich source of bioflavonoids
Vegan
Gluten-free
GMP
GMO Free
Introduction
Quercetin is the most highly researched flavonoid for its use as an antioxidant and its ability to reinforce natural defences. Our Quercetin Complex has been formulated with Vitamin C, Bromelain, Rosehip and Acerola which are all antioxidants.
Combined, this is the ultimate supplement for optimal support all year round. Just take one capsule a day to give your body the support it needs to take on the day with confidence.
What is Quercetin?
Quercetin is a flavonoid found naturally in many fruits, vegetables and berries. Although you can get Quercetin from your diet, the flavonoid content drops very quickly when you peel and cut fruits, vegetables and berries.
That's exactly why WeightWorld has formulated a unique Quercetin Complex dietary supplement, so you can enjoy the many health benefits of Quercetin, which is known to have antioxidant and resistance-building properties, in just one capsule. Plus, we've fortified Quercetin Complex with Bromelain, vitamin C, Rosehip and Acerola so you can give your body the boost it needs to tackle those hectic and stressful days.
What are the benefits of Quercetin complex?
Quercitin Complex is a complete superfood supplement that bolsters natural defences and is also enriched with bromelain, vitamin C, Rosehip and Acerola extract, so you get a supplement packed with antioxidants, flavonoids and enzymes.
Antioxidants are important for the body's ability to fight free radicals. Free radicals are substances that, if they accumulate, are harmful to the body. Each of these ingredients contributes to supporting your body for optimal performance.
Key Ingredients

Vitamin C
Vitamin C has been proven to have many benefits such as contributing to:
Normal functioning of the nervous system
The normal function of the immune system
The protection of cells from oxidative stress
Reduction of tiredness and fatigue
Iron absorption

Bromelain
Bromelain is an enzyme derived from pineapple stem and it has anti inflammatory as well as digestive properties. Bromelain has been used to support the body in a plethora of ways from reducing inflammation and swelling of the nasal passage, to assisting in sore muscle

Rosehip
Rosehip are packed with vitamin C, E and B and are also powerful antioxidants and contain a substance that fights inflammation. This makes it the perfect combo with Bromelain and Quercetin.

Acerola
Acerola is a small shrub with fruits are very similar to that of a cherry. Acerola is a rich source of vitamin C as well as a number of minerals such as folic acid, thiamine, riboflavin, niacin and pantothenic acid.
Who should take Quercetin Complex?
Anyone! Young or old, tall or short, female or male, can benefit from taking a daily dose of quercetin complex high in antioxidants, especially if you want a dietary supplement that can give your inner defences a natural boost.
It is particularly helpful to help keep you comfortable all year round, no matter if it is a cold winter, or an allergy-filled summer, Quercetin Complex is here to help.
Full Ingredients List
Quercetin (from Sophora Japonica), Rosehip Extract (20:1), Vitamin C (as L-Ascorbic Acid), Bromelain, Acerola Extract (4:1), Citrus Bioflavonoids (from Bitter Orange), Rutin, Bulking Agent: Dicalcium Phosphate, Anti-Caking Agent: Silicon Dioxide, Vege Capsule Shell: Hypromellose (HPMC).
What is Quercetin used for?
Quercetin is used in many dietary supplements as it contributes to bolstering your natural defences.
Can you take Quercetin supplements every day?
Yes, usually it is safe to consume Quercetin supplements every day. Having said that, make sure you don't exceed the daily recommended dosage.
Are there any side effects of WeightWorld Quercetin Complex?
We pride ourselves on using all-natural ingredients in our products, which means there are usually no known negative side effects and you can have peace of mind when using them.
When should I take the Quercetin capsule morning or night?
You can take our Quercetin capsule any time of the day as it is not a stimulant. You can prioritise having it during times when you want to give a natural boost to your inner defences.
What if they don't work for me?
Although we are confident that you will love our product, we understand that every body works differently and you may not feel the effects in the same way. We value our customers and prioritise customer satisfaction first, that's why we offer you a full money-back guarantee! If it doesn't work for you, we will refund you for your order!
How To Use
We recommend that you take 1 capsule daily with a large glass of water, preferably with a main meal. The supplement should be taken daily for a minimum period of 3 months to get the most out of it.
Recommendations
The supplement is made from natural ingredients, and has no known side effects. However, we recommend that you review the ingredients list to check for any personal allergies. If you are pregnant, breastfeeding, taking medication or under medical investigation, you should consult your doctor before use. Not suitable for children and young people under 18.
Frequently bought together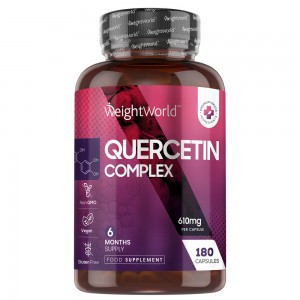 +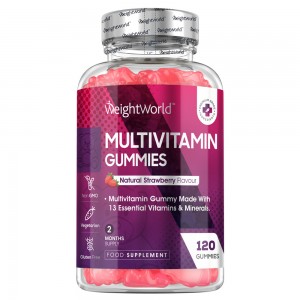 +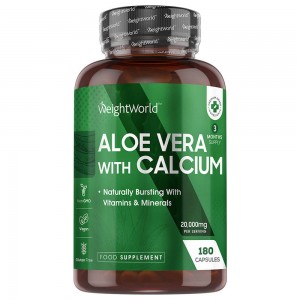 Customer Reviews
At WeightWorld we strive to offer the best possible customer service and we take great pride in the feedback we have received from our customers. All testimonials and reviews below are the experiences and opinions of WeightWorld customers. They should not be considered as health, medical or medicinal claims. They are no substitute for taking medical advice.
Outstanding

5
97.03% based on 174 Verified reviews

* Results may vary from one person to another.