All-Natural Supplements
GMP-certified and GMO-Free
Free UK delivery on orders over £40
Save on postage today
100% Customer Satisfaction
We offer a full 90-day money back guarantee
Banana Sushi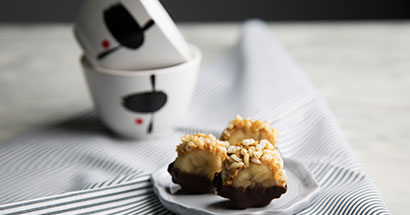 Ingredients:
1 firm banana
Smooth peanut butter
Puffed rice
30g dark chocolate
Preparation:
Cover the full banana with a layer of peanut butter and then puffed rice until it is completely covered.
Put it in the freezer for 20 minutes, then cut it into slices.
Meanwhile, melt the chocolate.
Dip the banana slices in dark chocolate to cover the remaining half of each slice and put them back in the freezer for 15 minutes.
When the chocolate has solidified, they're ready to serve!