Our price match promise
We will beat or match other retailers
Free UK delivery on orders over £35
Save on postage today
Customer Data Protection
Your data is safe and secure with us

Shapewear
Whether you're looking to enhance your figure or want some extra support during or after pregnancy, we have a wide range of high quality and durable body
shapewear
, girdles, bodysuits, body shapers and waist trainers to help you appear slimmer. All of our shapewear products are kind on the skin and comfortable to wear so you can forget it's even on and focus on your day as normal. Our shapewear have provided customers with an instant slimming effect, that compliments a weight loss diet and fitness plan in the long term. Products like the waist trainer,
slimming vest
and
sweat belt
have all been shown to support posture, whilst giving you a slimmer appearance and a more idealised body shape!
Click here
to find out how shapewear and
waist trainers
can aid your slimming efforts.
Read More
All Products In This Category
What Is Shapewear?
Also known as body shapers, the basic idea behind any shapewear is to give an illusion of a slimmer look. It helps in flattening the target areas like thighs, butt, stomach, or multiple areas, giving you the most instant yet temporary solution.
Few years back, you might have found body shapers too tight which pushed in the fat in a wrong way and that made you feel and look uncomfortable. But these days they have been improvised to fit different body sizes as long as you choose the right shape and size of Shapewear based on your height and weight. With skin friendly and breathable material, you can move freely with this piece of garment underneath without letting anyone know about your bulges.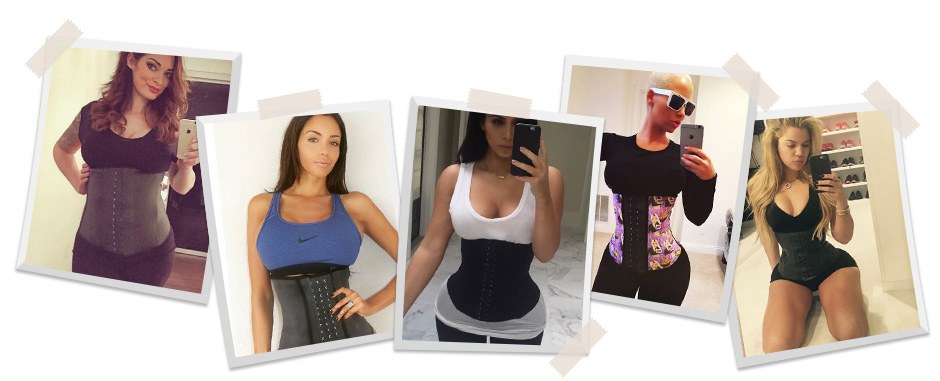 The Benefits Of Shapewear For Women
The great thing about our body shapewear for women is that it is designed using biodegradable and antibacterial materials, allowing your body to breath for maximum comfort. The very best items are seamless to offer you a discreet way to shape your body. In fact, it's sometimes so discreet and so comfortable, that you forget you're even wearing it! It can also help to target all of the common problem areas such as the legs, thighs, hips, waist, bottom and chest so you can re-shape a number of different areas all at the same time. Perfect for busy women who want to look their best.
Instant slimmer effect
Easy to achieve a better appearance
Inexpensive
Invisible underneath clothing
Compliments a weight loss diet and fitness plan
What Are Different Types Of Shapewear?
There are various shapewear found these days which provide different levels of support. Some might look for a slight slimming effect while others would need greater. While there are shapers for the whole body, you can find shapewears targeting only specific parts of your body which need a toned appearance.

Camisoles
Simple styling product for everyday wear

Sucks in back and midsection

Shaping Leggings
Worn under jeans or midi dress for a perfect smooth silhouette

Targets mainly hips, thighs and calves

Shaping Panties
Works for rear and midsection with smoothened effect

Choose light to Firm-Control

Thigh Slimmers
Used to give shape to the rear and thighs

Worn all day to provide support and comfort

Slips
Overall smoothing properties enhance your feminine figure

Layer underneath a dress or skirt for a flawless finish

Light to firm control

Torsettes
Allows you to wear above your bra

Offers firm control for the midsection and bust
What Do Customers Want From Their Shapewear?
Shapewear isn't just limited to uncomfortable corsets anymore and now there are a number of different types and a variety of shapewear and body shapers that all have different specifications and suit different needs. However, generally there are five points that customers normally look at when buying their shapewear:
1. How it makes them look – Those looking to buy shapewear are always going to consider how they look in it and this is often a high factor in deciding what they want. Those looking to shape their waists are going to buy something different to those looking to create the appearance of a toned bottom so make sure you buy the right product for the right area your targeting and the correct desired slimming effect.
2. Comfort – Shapewear and body shapers have had a bad reputation ever since the days of the corset for being extremely uncomfortable and difficult to wear. Because of this, many people are wary about trying any kind of body shapers but thanks to modern advancements, techniques and materials this is no longer a problem! Our shapewear is made using high quality materials and are designed to give you results whilst being as comfortable as possible
3. Fit – Another common worry that is related to comfort is the fit of the shapewear or body shaper. Many cheaper or older body shapers tend to be one-size-fits-all but with such variances in body shapes and sizes we've made sure our shapewear is more friendly to more sizes.
4. Fabric – Nobody wants to buy a body shaper that is either uncomfortable to wear or doesn't last after a few washes so for these reasons we use high quality materials that are natural, comfortable, breathable, long-lasting and antibacterial.
5. Price – Whilst all these other factors are important, nobody is going to buy a product they don't think is worth the price. This is why we make sure our prices for our shapewear for women are not only competitive but also offer great value for money.
How To Choose Your Shapewear?
These hidden wear to be worn under your garments range from light to ultra-firm to give you the best slimming effects. You can choose the one as per the occasion and need.
Light – Ideal for everyday

Moderate – Ideal for a little more than light control

Firm – Ideal for special occasions

Ultra-Firm – the most intense form

Our exclusive range can help women who feel like they have unsightly bumps or fat bulges anywhere on their bodies. There is no substitute for a healthy diet and exercise plan in helping you to tone your body, but our body shapewear for women could help to offer a quick alternative if you haven't got the time to get to the gym every day or if you are just beginning your weight management journey. Just had a baby? Our exclusive range of maternity girdles and vests is also very popular amongst new mothers, as it can help to provide new mums with the support they need to look good and feel great again.
At WeightWorld, we stock some of the very best body shapewear brands on the market. You may be asking yourself, what should I choose? Shapewear for women comes in plenty of different types and sizes. Before you choose an item you should first consider which parts of your body you would like to shape and which clothes you can wear underneath. This will give you a better idea about which item will suit your needs the most.

*It is important to note that the results of our products may vary with each individual user. You should always use these products alongside a nutritionally balanced diet and a regular exercise regime. All customer reviews found on this website are genuine.