Our price match promise
We will beat or match other retailers
Free UK delivery on orders over £35
Save on postage today
Customer Data Protection
Your data is safe and secure with us
Silk'n Silhouette
Device | Home Reduction Device
Overview
Looking for a way to help reduce the appearance of your unwanted cellulite? Silk'n Silhouettes patented technology provides the perfect opportunity for you to transform your skin and reduce cellulite and imperfections. Gliding effortlessly over your skin, the HT 'Home Tightening' technology comes with three key modes to strengthen, re-balance and improve your skins structure and is completely safe and easy to use.
Uses revolutionary HT technology
Helps reduce the appearance of cellulite
Three treatment modes for flexible and effective use
Includes a free bottle of slider gel
Easy to use and suitable for all body parts
Free UK delivery & WeightWorld Fruit Infuser Bottle
One-off purchase that is cheaper than ongoing spa treatments
The Silk'n Silhouette is an innovative home cellulite reduction device that uses revolutionary HT technology to help you reduce the appearance of cellulite and streamline your bodies appearance. With its powerful triple action of bi polar energy, LED light based energy and IR thermal, the Silk'n Silhouette is a unique way to achieve the skin your desire.
$273.51
$341.84
You Save $68.33
Free Delivery on all UK orders over £35.
How does it work?
Silk'n Silhouette tackles cellulite by targeting the fat layer that lies beneath the epidermis. These particular types of fat cells are known as adipocytes, they occur since they store surplus nutrients in the form of fat. Often they increase in volume and star to form a 'clump' effect. This is what creates that undesirable orange peel, bumpy effect we commonly known as cellulite.
Recommended by dermatologists and physicians, Silk'n Silhouette is the ultimate device to conquer cellulite density effectively and safely. The beauty of this product is its ability to reach all skin layers and warm them up. This allows the fibres in the skin to contract and gradually tighten. Silk'n Silhouette is suitable for thighs, upper arms, buttocks and the hip area. With regular use many men and women have been able to enjoy a reduced body circumference and tighter and more attractive body contours
To provide the benefits that it is able to Silk'n Silhouette make use of HT technology, which acts as a triple action method to enhance your body contours. There are three key aspects, these include:

Bi polar energy: Where skin is effectively tightened up to a depth of 10mm, leading to a reduction in cellulite.
LED light based energy: An element that helps rebalance skin structure and restore it effectively.
IR thermal energy: dramatically improves skin structure as a result of heat form the Silk'n Silhouette.
Different treatment modes
To gain the best results out of your Silk'n Silhouette device there are three different types of treatments to suit your individual needs. Each one is easily recognisable, thanks to the unique lights placed at the front of the unit. The different modes are completely complementary with each other and produce optimum results when used together. To change to a different mode, simply press the 'Select' button for different mode settings until you come across the correct one you desire.
Which energy level is for me?
During initial treatments of your skin, it is advised that you use level one to gain optimum and effective results. Once you have become accustomed to reducing the appearance of cellulite in this manner, it is then advised to try out the next energy level to gain results. The following stages highlight the most effective methods you can use to gain the most out of your treatment and your device.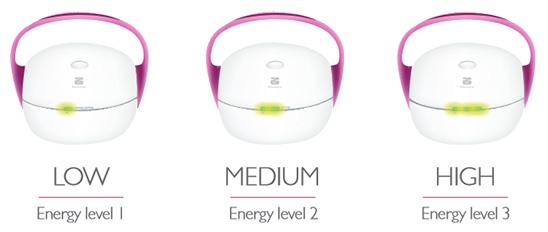 How to carry out a treatment
Always ensure your skin is clean and dry before you commence any treatment, this will enable you to enjoy the rest results. Read the following stages below, which highlight the best method to use in order to gain the most out of your device and the different treatments.
Apply a thin layer of the slider gel (provided with your device) across the area of your body you wish to treat
Select your mode of preference for the device, the LED light will turn out to indicate which one you have chosen
Glide the Silk'n Silhouette device slowly over your skin, you should be able to feel the gentle warming sensation from it as you do so
When sliding the device over the desired area, do so in a light and linear motion in order to cover the complete cellulite problem area. Take care not to rush this process and move the device slowly, this will help you avoid missing out any areas of skin.
Examples of how to use the Silk'n Silhouette properly
Discover the optimum techniques of how to benefit from your Silk'n Silhouette device. Check out the diagrams below to see exactly how.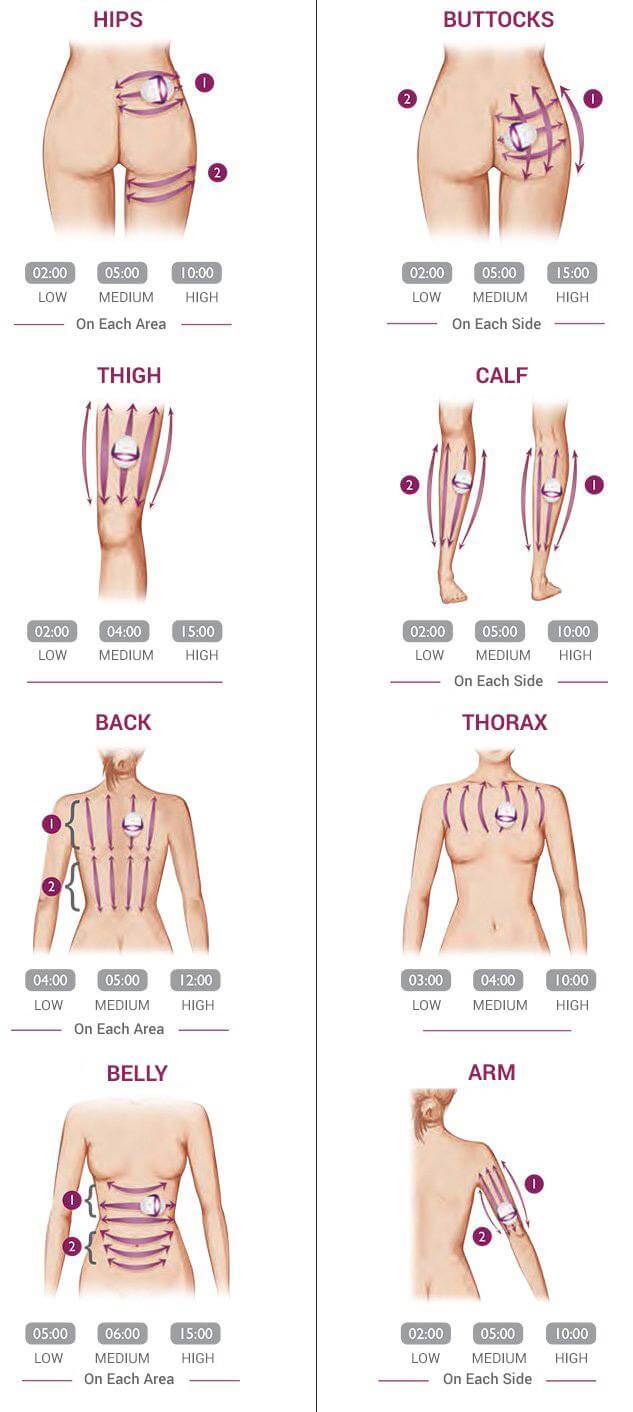 How often should I use the device for?
To enjoy the best treatments possible with noticeable results, we recommend that you use the device twice a week for a minimum of 10 weeks. It has been widely reported that it is at this time where you are able to see changes in the contour of your body. You are able to maintain such results by simply continuing to use this revolutionary device consistently every two weeks.
Safe to use
Recommended by physicians and doctors worldwide, you can feel in safe hands with the Silk'n Silhouette since many medical authorities have also approved it.
In addition to this aspect of the treatments, the device has also taken part in clinical trails with positive reports of satisfaction:
80% of participants in clinical testing confirmed a marked improvement in the appearance of cellulite.
80% of participants in clinical testing confirmed a marked improvement in skin texture.
Includes a thermal sensor for optimal safety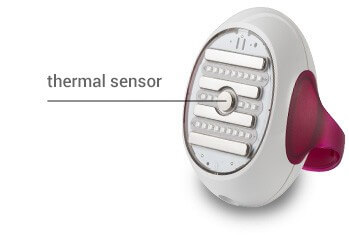 To take the safety of the Silk'n Silhouette even further, it has incorporated a thermal sensor that measures the temperature of the skin you are treating. If the temperature of your skin exceeds 41°c it will automatically stop transmitting heat. So, you can be rests assured that the use of this product poses minimal risk to your body at all times during treatments.
What will you get in your box?
You will find the following parts in your Silk'n Silhouette box.
Silk'n Silhouette™ Body Contouring Device
A bottle of Slider gel
An AD/DC wall mount adaptor
Instructions for use booklet
How to buy yours
Buying from WeightWorld is simple, fast and secure. Simply click 'Add to Basket' and you can begin! Plus, if you place your order before 4pm on a working day you can be eligible for our next day delivery service. At WeightWorld we offer a number of payment and delivery options to find the one that suits you. At WeightWorld we offer FREE delivery for all UK orders over £50 as well as a FREE WeightWorld Fruit Infuser Bottle with all orders over £100 so by buying the Silk'n Silhouette today you can qualify for both! If you have any questions, feel free to contact our customer service team via Live Chat, email or phone from 8am-6pm Monday to Friday.

Silk'n Silhouette
Device | Home Reduction Device
Customer Reviews
At WeightWorld we strive to offer the best possible customer service and we take great pride in the feedback we have received from our customers. All testimonials and reviews below are the experiences and opinions of WeightWorld customers. They should not be considered as health, medical or medicinal claims. They are no substitute for taking medical advice.
Outstanding

4.5
88.48% based on 32 Verified reviews

* Results may vary from one person to another.