Our price match promise
We will beat or match other retailers
Free UK delivery on orders over £40
Save on postage today
Customer Data Protection
Your data is safe and secure with us
Smoothie Bundle
Smoothie Blending Set
Overview
Discover all your smoothie needs whilst naturally boosting your wellbeing with the Smoothie Bundle! This set includes the Go Blend Pro blender along with natural powders Hemp Protein and Bio Neem Powder. This bundle includes all you need to make delicious smoothies to complement your workout routine and boost your body's natural defences and heart health. Feel the benefits of these natural powders with this convenient Smoothie Bundle and enjoy nutritious drinks on the go!
Go Blend Pro, Hemp Protein & Bio Neem Powder
Natural general wellbeing boost
Supports body's natural defences
Ideal for taking care of your heart
Delicious smoothies on the go
Complements your daily workout routine
Product that you are looking for is no longer available.
What Is The Smoothie Bundle?
Including a portable blending device and 2 key powdered supplements, this bundle is all you need to naturally boost your general wellbeing. Consisting of a variety of natural ingredients, these supplements are a convenient and ideal way to top up your body's natural defences and help you get the most out of your workout routine. All 3 products complement each other perfectly to make delicious, nutritional smoothies, with each one providing their own benefits.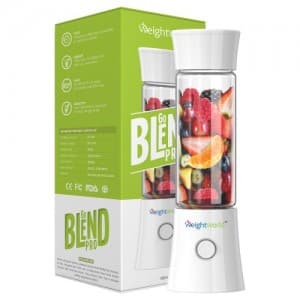 Go Blend Pro
Go Blend Pro is a portable blender designed for instant blending on the go. This device is ideal for travelling and whenever you visit the gym. The blender is also USB rechargeable as well as durable and easy to carry. This makes the blender very convenient and perfect for making refreshing smoothies and shakes when you need them most after a tough workout!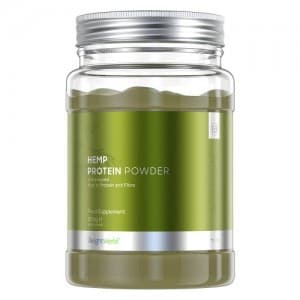 Hemp Protein
You can add the Hemp Protein powder to your Go Blend Pro to make a great smoothie that's ideal for your muscle toning efforts. Packed with all 9 essential Amino Acids and enriched with Omega 3 for brain & heart health, this powdered supplement is perfect for vegans and vegetarians as it packs in all of the same all-important amino acids without the inclusion of any meat sources. Offering 14g of protein per serving, Hemp Protein provides you with a natural source of fibre for your wellbeing that's great for taking after your workout!
Active Ingredients: 100% Hemp Protein Powder.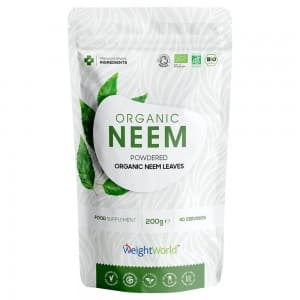 Bio Neem Powder
Alternatively, Bio Neem Powder is ideal for naturally boosting your body's defences and heart health. This easy to use powder supplement provides you with a natural immunity boost and acts as a natural detoxifier to take care of your body. Sourced from premium Neem leaf, this supplement can be made into a nutritious shake with the Go Blend Pro and is also suitable for vegans and vegetarians!
Active Ingredient: Organic Neem Leaves Powder
How To Use The Smoothie Bundle
Here's what you need to do to get the most out of your Smoothie Bundle:
To use the Go Blend Pro, first ensure that it's fully charged. Charge your portable blender by plugging it into the convenient USB port and connecting to your desired power outlet. After charging, ensure the cup body is firmly tightened against the engine base. Then all you need to do is choose what to put in it...
Choose and cut your desired fruit or vegetables into small pieces (1.5-2cm chunks) and then gently place them into the cup.
Pour over your chosen liquid such as juice, milk or water. Do not fill over 80% of the cup's capacity. Securely place the lid on the device.
Lean the device to separate the blade and fruit. Place the blender upright and begin blending by pressing 'ON' for 2 seconds.
Blend for as long as you feel necessary. You can also shake the body of the cup to help with the juicing. Then open the lid and it's ready to go!
If you're looking for a natural boost in your muscle toning efforts, Hemp Protein is for you. Take the scoop within the pack and mix 1 scoop (around 30g for 1 serving) of the powder with approximately 200ml water or sprinkle it over your food. We recommend a maximum of 3 servings per day or as your doctor advises. Ensure the Hemp Protein Powder is consumed alongside a balanced diet and with exercise to get the most out of it.
Alternatively, if you're looking to boost your body's natural defences and heart health, Bio Neem Powder is ideal for you. To take Bio Neem Powder, simply mix one 5g tea-spoonful with your favourite milk, smoothie, yoghurt or juice, or add to cereals, desserts and salads. Each tub contains 200g so will last you 40 servings. This all-natural powder is intended to be consumed with a balanced diet and exercise and should not be used as a meal replacement supplement.
Advice
All 3 products within the Smoothie Bundle are made to a high quality using natural ingredients and therefore have no known side effects. If you have not used any of these products before, we suggest reading through the full list of ingredients to check for any personal allergens. If you are pregnant, breastfeeding or on any medication we recommend that you consult with your doctor before use. These supplements are not intended for those under the age of 18.
Customer Reviews
At WeightWorld we strive to offer the best possible customer service and we take great pride in the feedback we have received from our customers. All testimonials and reviews below are the experiences and opinions of WeightWorld customers. They should not be considered as health, medical or medicinal claims. They are no substitute for taking medical advice.
Be the first to review this product

* Results may vary from one person to another.