Our price match promise
We will beat or match other retailers
Free UK delivery on orders over £40
Save on postage today
Customer Data Protection
Your data is safe and secure with us
Spirulina Super Pack
Pure Superfood Powder & Tablets
Overview
Spirulina is a Superfood truly worthy of the name - it's so powerful that both NASA and the UN have approved its use. Now you can enjoy it in the comfort of your own home! In the Spirulina Super Pack, both powder and tablet forms are perfectly suited to everyday use, so that you can enjoy this algae's rich complex of invigorating vitamins and minerals, up to 70% protein content, and all the essential amino acids. Brought to you with the aim of helping you become even more physically active, these twin products could be the perfect way to energise your body on a daily basis.
Two pure, organic, forms of Spirulina
Up to 70% premium vegan protein
Contains every essential amino acid
Layered multivitamin & mineral complex
Convenient, premeasured tablets
Highly recipe-adaptable powder
You can enjoy all the incredible benefits of amazing Spirulina algae that in two forms you can flex it perfectly to your lifestyle and routine. With the Bio Spirulina Algae Tablets, you can reap the rewards easily and conveniently, without having to concern yourself with measurements or blending; with Super Spirulina Powder you can expertly mix it into your daily diet, to make your favourite food or drink. With the Spirulina Super Pack, you don't need to decide which is the best way for you - you can discover for yourself!
Product that you are looking for is no longer available.
Spirulina's Power
In a matter of mere years, Spirulina has gone from an Aztec ingredient to a world-renowned foodstuff, advocated by both the United Nations and NASA. Detailed study, executed by the National Aeronautics and Space Administration, known around the world as NASA, concluded that 1000kg of other fruits and vegetables is nutritionally equivalent to just 1kg of Spirulina. It cannot be denied that it's an incredibly potent Superfood, whether you're a resident of Earth or jetting off to the stars! It's also being grown in poverty-struck African regions, developed with the aim of supplementing the diets of malnourished children. The UN regularly collaborates with humanitarian groups to bring the benefits of this amazing Superfood to people in need, and recommends it being used globally to help tackle world hunger. With quantities of protein that have to be seen to be believed, and two prestigious establishments endorsing it, it's hard to find a more significant Superfood.
Amazing Algae
Performance
Blood
Cholesterol
Fatigue
Heart
Muscles
Brain
Hair
An increasingly interested scientific community is finding that Spirulina's inclusion in the diet can help to revitalise, energise and strengthen the body, with the significantly broad selection of nutritious compounds combining to improve your body's inner workings. Scientists have connected its consumption with elevated exercise performance, with an extended time before feeling fatigued. Associations have also been found with a better resilience of muscles. Cholesterol has been suggested to be positively impacted, in addition to the control of blood, in both pressure and glucose levels. It's even been linked to boosting memory and brain function! You can now use a superfood considered by experts to have both intensely nutritious qualities, and to potentially help you enhance your body's reaction to exercise.
Super-Strong Superfood!
Spectacular quantities of protein found within Spirulina definitively contributed to its growing fame. With up to 70% protein content, Spirulina is truly a wonderful source, especially when you remember it's 100% organic and totally vegan friendly! Even when you weigh it up against other vegan proteins, it easily beats them all. For example, dry roasted soybean is 43% protein, with 26% of peanuts and 24% of lentils composed of this physical essential. It's a complete source of all the amino acids your body requires, so that protein can be synthesised properly. Giving you the feeling of greater strength, supported and sustained from within, all these compounds work in perfect harmony!
Spirulina's Hidden Qualities
You can find remarkable quantities of vital compounds in Spirulina, that'll imbue energy and vitality directly into your system. Vitamins A, B, C, D, E, F and K each assist the body in various ways, so that you can reap rewards across the physical spectrum! From gums and vision, to energy-yielding metabolism, blood, nervous system and bones, there are too many benefits to name. In terms of minerals, there's Iron, understood to contribute to healthy blood cells and the immune system; Magnesium, for protein synthesis, and psychological function; and, for bones and muscles, plenty of Calcium. Chlorophyll, which is responsible for plants' energy-sourcing process, can help to detox the body. The entire body can feel stronger and invigorated with the help of Spirulina!
Spirulina Tablets & Powder - A Dream Team!
It's might be found naturally growing in the tropical heat of Central America, but both the Spirulina powder and tablets found in the Super Pack are produced with attentive, conscientious nurturing. After it's been harvested, it's dried and crushed, then either pressed into tablets or sealed in a foil package. Although you cannot overdose on Spirulina, the body can only absorb so much. Therefore, we suggest balancing your intake between tablets and powder, depending on your needs everyday. We recommend take the products in combination for a minimum of three months, as well as investing in long term to use, to maximally enjoy them.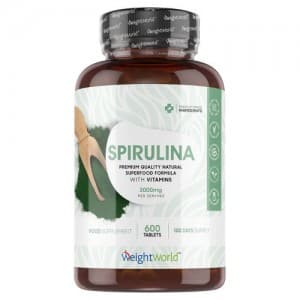 Bio Spirulina Algae Tablets
These small yet potent tablets can give you 4000mg of Spirulina everyday! They are perfectly complementary to any existing regime, and you're sure to find them easy to slot into your day. Twice daily, swallow five tablets, before a meal with a full glass of water.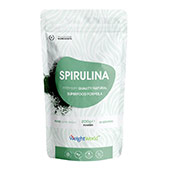 Super Spirulina Powder
Spirulina algae powder is incredibly adaptable. As it can be blended into any number of recipes, including green smoothies and other savoury dishes, it's perfect for health enthusiasts who love to share with others.. The recommended usage is three spoons a day, taken one per serving.
Advice
As Bio Spirulina Algae Tablets and Super Spirulina Powder are composed of just one, pure ingredient, they have no known side effects. They're ideally suited to vegan and vegetarian lifestyles, and are completely free from lactose and gluten. However, please consult your doctor before taking any supplement if you're pregnant, breastfeeding, or on any medication, before commencing. The tablets are not intended for under-eighteens.
Frequently bought together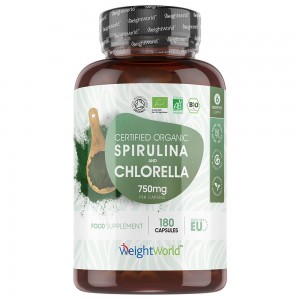 +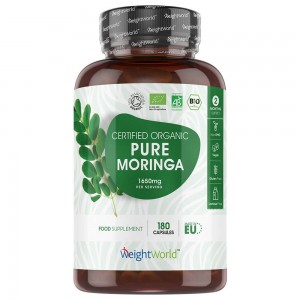 Customer Reviews
At WeightWorld we strive to offer the best possible customer service and we take great pride in the feedback we have received from our customers. All testimonials and reviews below are the experiences and opinions of WeightWorld customers. They should not be considered as health, medical or medicinal claims. They are no substitute for taking medical advice.
Outstanding

4.5
87.38% based on 64 Verified reviews

* Results may vary from one person to another.