What Is Coconut Oil?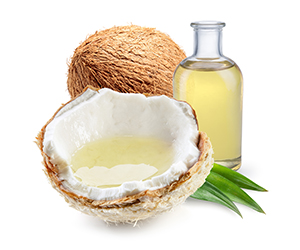 The coconut is the fruit of the coconut palm, also known as Cocos nucifera in Latin. It is grown across the world in tropical regions and is usually associated with the Carribean. The coconut itself is the drupe of the tree and is not actually a nut, despite the name. The fruit can be used for its flesh (or meat), water, milk and oil. Coconut oil, also known as copra oil, is extracted from the kernel or meat of the coconut through either wet or dry processing for different quality standards.
Benefits
Coconut oil is widely used from cooking keto lunch recipes to cosmetics, and as a result, has a wide range of great benefits for health, beauty and wellbeing. Here are our top 10 benefits of coconut oil:
Overview
There are many amazing benefits of coconut oil from anti cellulite treatment to weight loss to heart health to beauty, so there is no reason not to add this superfood to your diet! Plus, it's so easy to use on a day to day basis and a simple jar of coconut oil can be used in so many ways. You can eat it directly if preferred, or you can easily add it into your frying or cooking as a replacement for other vegetable oils for a clean gut.
You can even try adding it into your favourite recipes to make them that bit healthier. Why not give our vegan chocolate cupcakes a try? Alternatively, you don't even have to eat the oil to get some of its benefits, so try rubbing it on the skin as a moisturiser or swishing it around your mouth for oral hygiene. However you use it, coconut oil is an amazing ingredient and is one that should definitely be a part of your daily routine.