Our price match promise
We will beat or match other retailers
Free UK delivery on orders over £40
Save on postage today
Customer Data Protection
Your data is safe and secure with us
Iodine
400 mcg 365 Tablets | For the metabolism and thyroid
Overview
Ideal for the Thyroid and Energy
High bioavailability - easily absorbed
High-strength 400 mcg tablets
Ideal for skin and cognitive function
365 tablets - enough for 1 year's consumption
100% satisfaction guarantee
Are you feeling fatigued and down in the dumps? Our Iodine Tablets have been developed to give your body the support it needs to take on the day with energy and confidence. With a high strength 400mcg dose and a whole years supply in every bottle, our Iodine tablets are the perfect solution for you.
Vegan
Gluten-free
Lactose Free
GMO Free
Buy 1

£17.99

Buy 2

£32.38

£35.98 You Save 10%
Buy 3

£43.17

£53.97 You Save 20%

Buy now and earn 2 Comfort Points ?
What is iodine?
Iodine occurs naturally in certain foods, such as seaweed, fish, dairy and eggs. The body needs iodine to maintain normal thyroid function, and iodine deficiency can lead to fatigue, hair loss and poor memory.
This is because, without iodine, the thyroid gland will not be able to produce the two hormones that regulate the body's metabolism. Iodine is also important for the proper functioning of the nervous system, cognitive functions of the brain, learning and concentration.
Why take iodine tablets?
Although you can often get your daily intake of iodine if you regularly eat fish, seafood and dairy products, you can benefit from taking an iodine supplement to give your metabolism, thyroid and cognitive function the best possible conditions to function properly. Benefits of iodine include:
Iodine contributes to normal thyroid hormone production
Iodine contributes to normal thyroid function
Iodine contributes to cognitive function
Iodine contributes to the maintenance of the nervous system
Iodine contributes to the maintenance of normal skin
This is why WeightWorld has formulated iodine tablets with a high dose of 400 mcg of easily absorbable iodine (potassium iodide) per tablet, so you can easily and conveniently meet your daily iodine needs.
Who are IodineTablets for?
Iodine tablets can be taken by anyone and are brilliant to help you give your body the extra support it needs to strive. Although they are great for everybody, they are particularly important for:
Adults who have metabolic problems
Pregnant women (iodine deficiency can lead to damage to the foetus and infant)
Vegetarians and vegans due to the lack of Iodine in their diets.
Full Ingredients
Iodine (as Potassium Iodide), Bulking Agents: Dicalcium Phosphate, Acetylated Distarch Adipate and Talc, Anti-Caking Agents: Silicon Doxide and Magnesium Stearate, Glazing Agents: Hypromellose (HPMC), Carnauba Wax and Iron Oxide.
Suggested Use
Take 1 tablet daily with a full glass of water, preferably with a meal
Advice
Do not exceed the recommended daily dose. Food supplements must not be used as a substitute for a varied and balanced diet and a healthy lifestyle. If you are pregnant, breastfeeding, taking any medications or are under medical supervision, please consult a doctor or healthcare professional before use. Discontinue use and consult a doctor if any adverse reactions occur. Not intended for use by persons under the age of 18.
Frequently bought together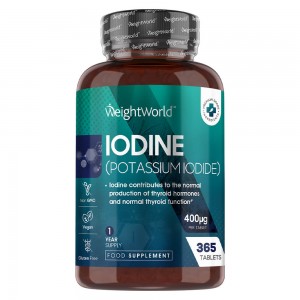 Iodine
400 mcg 365 Tablets | For the metabolism and thyroid
£17.99
+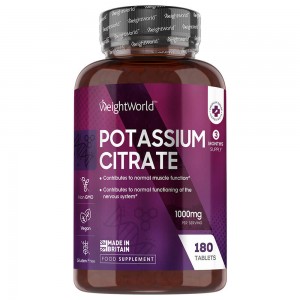 Potassium Citrate
1000 mg 180 Tablets | For muscles, nervous system and blood pressure
£14.99
Customer Reviews
At WeightWorld we strive to offer the best possible customer service and we take great pride in the feedback we have received from our customers. All testimonials and reviews below are the experiences and opinions of WeightWorld customers. They should not be considered as health, medical or medicinal claims. They are no substitute for taking medical advice.
Outstanding

5
94.79% based on 72 Verified reviews

* Results may vary from one person to another.