All-Natural Supplements
GMP-certified and GMO-Free
Free UK delivery on orders over £40
Save on postage today
100% Customer Satisfaction
We offer a full 90-day money back guarantee
Activated Charcoal Capsules
2000 mg 180 Capsules | For Gas, Bloating and Detoxing
Buy 1

£14.99

£0.08 / Capsule

Buy 2

£26.98

£29.98 You Save 10%

£0.07 / Capsule

Buy 3

£35.97

£44.97 You Save 20%

£0.07 / Capsule

Buy now and earn 1 WeightWorld Points ?
Key Features
Activated Charcoal contributes to reducing excessive flatulence
Ideal for discomfort, gas and bloating
These capsules are Vegan, Vegetarian and Keto diet friendly
Potent 2000mg activated charcoal per serving
Derive from natural coconut shells for maximum absorption
Our product is tested by AgroLab
Comes with 90 day money back guarantee
GMP
Vegan
Gluten-free
GMO Free
What Is WeightWorld Activated Charcoal?
For fast relief down below, you can turn to WeightWorld Activated Charcoal, a charcoal tablet for wind that uses the purest and best-activated charcoal. This supplement works to deeply cleanse your body and fight back against feelings of digestive discomfort and imbalance. Our detoxifying formula is among the best ways to help target stomach problems such as bloating and gas. Bring this supplement into your home today, and discover the nutritional health benefits you could feel.
What Does This Supplement Do?
Our formula takes the power of mother earth and condenses it into effortlessly easy to consume capsules. Activated Charcoal works to bring you a greater standard of day to day internal comfort. It helps clean your body and relieve you of the feeling of nasty gas build-ups for health benefits you can feel. Our charcoal tablets for wind are the perfect addition to your diet and keeps you ready to fight back against digestive discomfort. What's more, this supplement features no artificial colours, flavours or preservatives.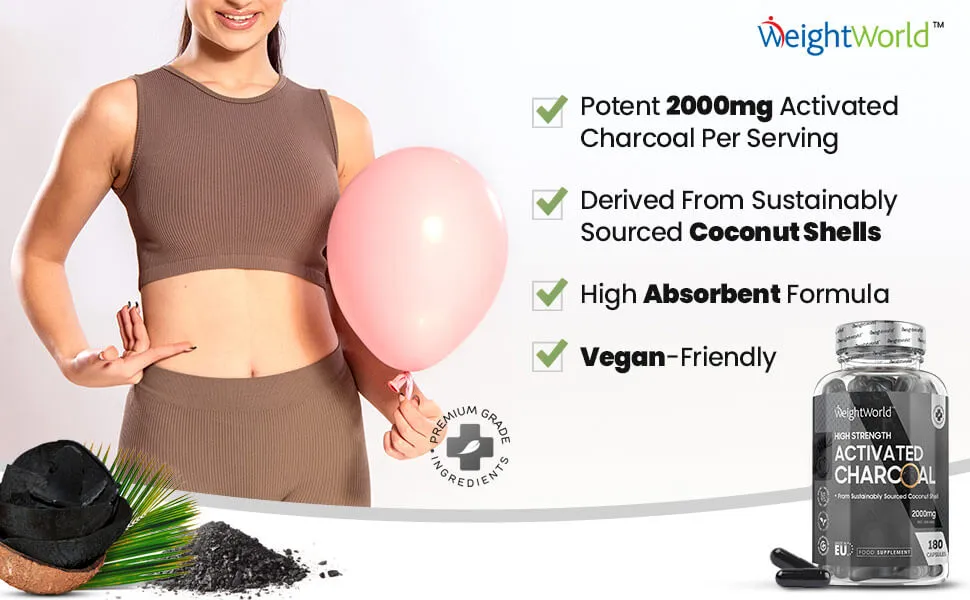 Activated Charcoal Benefits
At WeightWorld we have taken only the best form of charcoal to produce a supplement that possesses potency that outmatches other food supplements. It is also sustainably sourced and strikes at your internal wellbeing to provide you untold comfort and balance.
Why Choose our Activated Charcoal Capsules?
Helps against gas and bloating
Ideal for Discomfort
100% Natural & Vegan Supplement
Gluten, Allergen & GMO-Free
Third Party Tested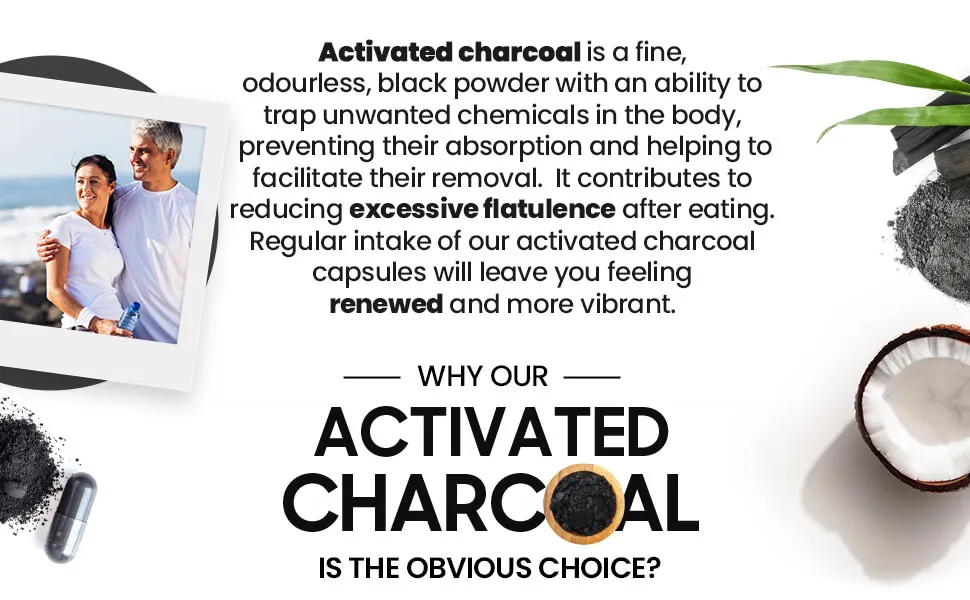 How To Use Activated Charcoal Capsules?
For flatulence, intestinal gas and feelings of heaviness, take 3 detoxing activated charcoal capsules per day half an hour before a meal. Repeat an hour after for the most effective results. Depending on your dietary needs you can effectively take both of the 3 before and after or just the 3 before. Make sure to also drink plenty of water. Every 3 capsules of this food supplement typically provide a powerful 1000mg serving.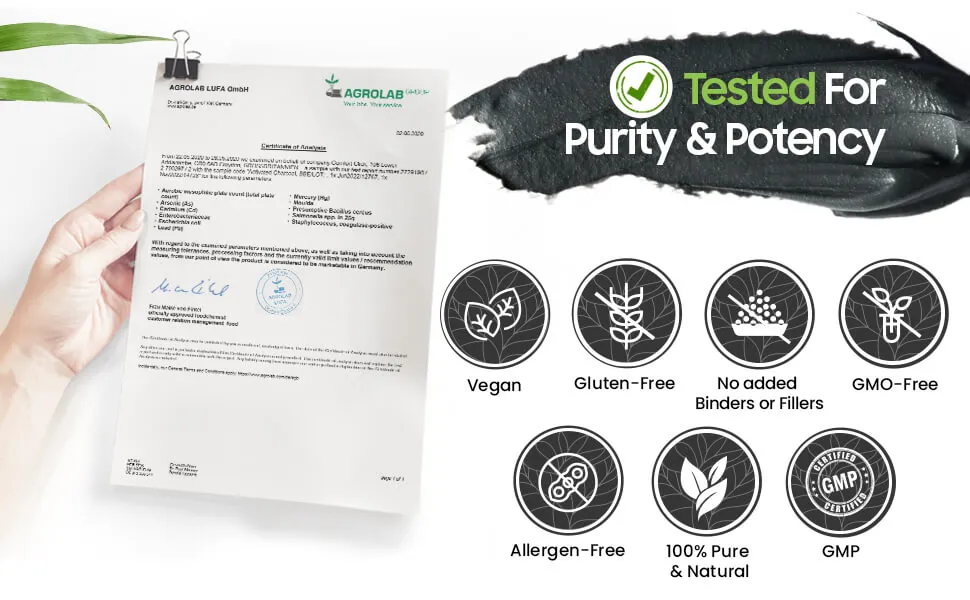 Things To Remember When Taking Activated Charcoal
This product is designed to be consumed as a daily food supplement like other vitamin supplements to ensure continued effectiveness. However, we advise that you do not exceed the max serving. If you wonder if this product safe and if there are any health risks, it is a perfectly balanced natural ingredient. This means that side effects are incredibly rare and activated charcoal reviews are a testament to this. Our capsules, like many of our supplements, are also entirely plant-based making them suitable for vegans and vegetarians. If you have any specific allergies, please consult the nutritional information on the pack.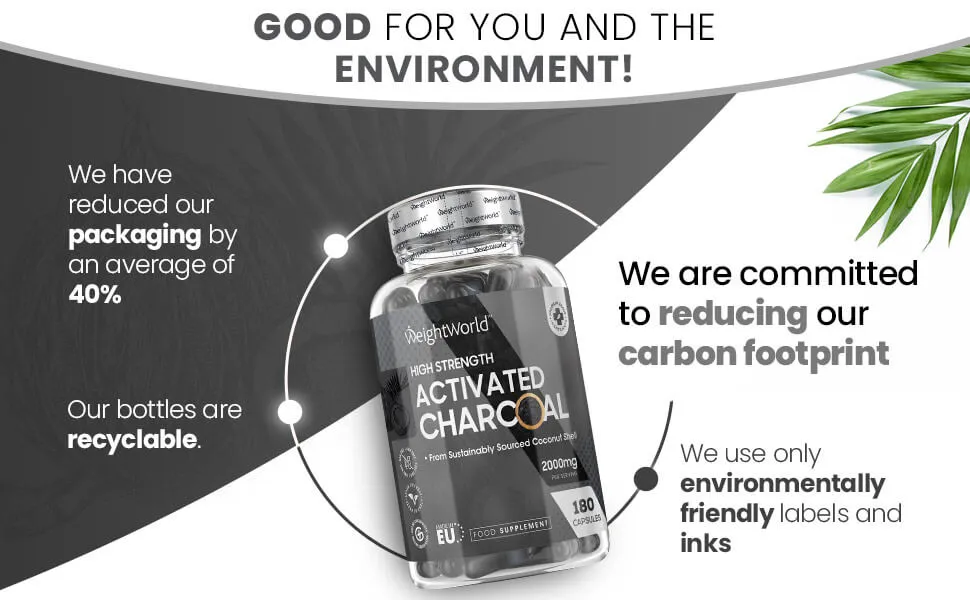 Frequently bought together

+

+

Customer Reviews
At WeightWorld we strive to offer the best possible customer service and we take great pride in the feedback we have received from our customers. All testimonials and reviews below are the experiences and opinions of WeightWorld customers. They should not be considered as health, medical or medicinal claims. They are no substitute for taking medical advice.
Outstanding

4.5
90.55% based on 198 Verified reviews

* Results may vary from one person to another.