Our price match promise
We will beat or match other retailers
Free UK delivery on orders over £40
Save on postage today
Customer Data Protection
Your data is safe and secure with us
Ashwagandha Gummies
600 mg 120 Gummies | Natural Raspberry Flavour
Overview
Looking for a tasty way to take on your day with focus and energy, without all the stress? WeightWorld's one-a-day gummies have been developed with a tasty natural raspberry flavour that provides you with all of the calming and rejuvenating benefits of Ashwagandha! Although it has only recently gained traction in the west, Ashwagandha has been used in Ayurvedic medicine (ancient Indian medicine) for thousands of years! Reap the benefits of Ashwagandha and give your body and mind the care it deserves today!
Tasty natural raspberry flavour gummy
Ideal for energy and a clear mind.
Naturally sourced from Withania somnifera
120 gummies - 4 months supply
Optimal high-strength 600mg dose
Vegan and gluten-free
Vegan
Dairy-free
Gluten-free
GMO Free
Buy 1

£14.99

Buy 2

£28.48

£29.98 You Save 5%
Buy 3

£40.47

£44.97 You Save 10%

Buy now and earn 1 Comfort Point ?
What is Ashwagandha?
Ashwagandha is considered a Rasayana in Ayurvedic medicine. Rasayanas are considered to help maintain youth in both appearance and mind. Ashwagandha, also known as Withania somnifera, Indian ginseng or winter cherry, is a small plant with yellow flowers commonly found in India and North Africa. Locally, the leaves and roots of Ashwagandha have been used to treat a multitude of conditions for over 3000 years! Over the years, practitioners have used Ashwagandha for general well-being, including boosting energy, promoting relaxation and providing calming effects both physically and mentally.
Why use WeighWorld's Ashwagandha Gummies?
Do you hate taking tablets in the morning? We have created our Ashwagandha gummies so that you can experience all of the calming and energising benefits of Ashwagandha while being able to enjoy a tasty sweet treat! We at WeightWorld believe that giving your body the support it needs should be easy and enjoyable! We aim to provide you with well-being supplements that you want to take and not just need to take. Our one-a-day gummies pack a strong 600mg dose of Ashwagandha and 120 gummies per bottle, meaning you get a whole 4 months supply. Give your body the support it needs with the flavour it wants!
Key Ingredients:
Ashwagandha:
Ashwagandha is the main active ingredient in our gummies. With its extensive history and reputation, Ashwagandha has become a staple ingredient in Ayurvedic medicine and is making its mark in the western market! Due to Ashwagandha containing a high concentration of withanolides, it has been found to provide a large array of benefits to your body.
Magnesium:
Magnesium is a mineral that is naturally found in the human body, the earth, the sea and animals! With it being one of the body's most abundant minerals, it is essential for over 600 roles within your body! Although we can naturally produce magnesium and can get it from our diet, many of us may not be able to get enough. Considering the importance of magnesium within the body, it is vital we maintain enough in our bodies. Magnesium assists in boosting energy and assisting in your daily fitness routines!
Who is this for?
Are you feeling drained and tired during the day? Are you finding it hard to unwind after work? We at WeightWorld know how difficult it can be to relax and focus when our minds are cluttered. Our Ashwagandha Gummies have been created for people that want to be able to relax and clear their minds in the evening. Whether you are:
In the office every day
Working from home
Busy with assignments for university
Looking after the kids
give your mind the peace and serenity it deserves today with WeightWorld's Ashwagandha Gummies!
Advice
Do not exceed the recommended daily dose. Food supplements must not be used as a substitute for a varied and balanced diet and a healthy lifestyle. If you are pregnant, breastfeeding, taking any medications or are under medical supervision, please consult a doctor or healthcare professional before use. Discontinue use and consult a doctor if any adverse reactions occur. Not intended for use by persons under the age of 18.
Full List of Ingredients
Ashwagandha (Withania Somnifera) Root Extract 30:1, Magnesium (as Magnesium Sulphate), Gelling Agent (Pectin), Sugar, Glucose Syrup, Glucose, Purple Carrot Juice Concentrate, Acidity Regulator (Citric Acid and Sodium Citrate), Glazing Agent (Vegetable Oil [Contains Carnauba Wax]), Natural Raspberry Flavour.
How to Use
Simply chew and enjoy one gummy daily.
Storage
Close bottle lid properly. Colour may fade over time. For best results, store in a cool dry place. Keep out of reach of children.
Frequently bought together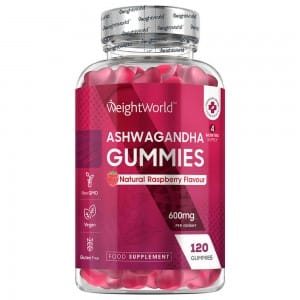 +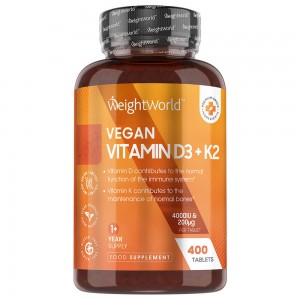 +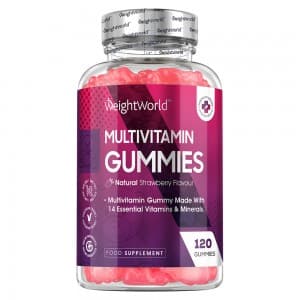 Customer Reviews
At WeightWorld we strive to offer the best possible customer service and we take great pride in the feedback we have received from our customers. All testimonials and reviews below are the experiences and opinions of WeightWorld customers. They should not be considered as health, medical or medicinal claims. They are no substitute for taking medical advice.
Outstanding

5
87.27% based on 10 Verified reviews

* Results may vary from one person to another.