Our price match promise
We will beat or match other retailers
Free UK delivery on orders over £40
Save on postage today
Customer Data Protection
Your data is safe and secure with us
Bovine Collagen Complex
Natural Collagen Supplement
Overview
Collagen for skin, hair, joints and bones
100% Pure hydrolysed collagen peptides
Collagen peptide capsules with collagen type 1 & 3
Vitamin B7 contributes to the maintenance of normal skin and hair
180 Capsules for 6 Months
Gluten Free and Non-GMO
Experiencing thinning hair or prematurely ageing skin is tough, and many accept these natural occurrences as a part of life. However, we're here to tell you that you can do something about them! WeightWorld's Bovine Collagen Complex is a supplement developed from grass-fed happy cows raised in pastures. These easy-to-take capsules are stacked with multivitamins such as Vitamin B7 and Vitamin B12, along with other premium natural extracts like Biotin, Green Tea and Ginkgo Biloba.This unique blend is intended to pack a powerful punch, contributing to normal immune system function and boosting natural levels of collagen to support the maintenance of normal skin, hair, nails, bones and joints.
Gluten-free
GMP
GMO Free
Expert Formula
Product that you are looking for is no longer available, please select from an alternative below.
The Importance of Collagen
Collagen is a protein that makes up about one-third of the total protein in our bodies and is crucial for overall wellbeing and health. It's found everywhere, from bones and skin to joints, ligaments, heart valves, eyes and even teeth. However, our body's natural collagen levels generally decline as we grow older, causing many to opt for collagen supplementation. Aside from ageing, other variables can lower collagen levels, such as your hormones, diet, exposure to the sun, stress and more.
What is Bovine Collagen?
Bovine collagen is a protein naturally sourced from cows which closely resembles collagen produced in the human body. Our composition of collagen exists in three forms: Type I, Type II, and Type III. Supplementing Bovine collagen can help top up two of these three, as it usually contains Type I and Type III.
WeightWorld's Bovine Collagen Complex - What to Expect
Bovine Collagen Complex offers many benefits, coming in capsule form for quick and easy consumption. It's specially formulated to contain essential vitamins like Biotin and B12, along with plant extracts to help boost natural collagen levels. These vitamins are crucial, as biotin plays a key role in normal psychological function, while B12 contributes to normal energy-yielding metabolism and reduction of tiredness and fatigue. This supplement is suited for anyone looking to maintain their nails, hair, skin, and nails in the best shape possible.
Who Can Use Bovine Collagen Complex?
Thinning skin and sparse hair can have noticeable effects, making you look older than your chronological age. For anyone looking to address these ageing signs, Weightworld's natural solution is an excellent choice for the wellbeing of your skin, bones, joints, nails and hair. However, its remarkable benefits go far beyond your body's appearance, as it also contributes to normal functioning of the immune system and nervous system.
Hydrolysed Collagen Versus Gelatin: Is One Better Than The Other?
The two Bovine collagen products you will typically see in a supplement store are hydrolysed collagen and gelatin. While both have identical amino acid profiles, their differences reside in their structures and how they react to liquids. Hydrolysed bovine collagen is generally recommended because of its convenience. As the name suggests, 'hydrolysed' indicates the collagen has already been broken down into peptides, allowing for more efficient absorption in the body. Additionally, its easy application means you can add them to your daily routine hassle-free. Simply swallow a capsule with water and a meal, and you're good to go.
Weightworld's Bovine Collagen Complex is sourced from grass-fed and pasture-raised cows. Like our customers, here at WeightWorld, we don't compromise on quality and ensure products delivered to your doorstep are of the highest standard.
Key ingredients
Multivitamins
Bovine Collagen Complex has been formulated with a unique blend of multivitamins that work synergistically to help maintain chief systems and your appearance. Vitamin B12 contributes to normal psychological function and immunity to manage fatigue and tiredness, while vitamin B7, also known as biotin, helps maintain normal skin and hair.
Amino acids
Capsules are enriched with essential amino acids, supporting the maintenance of normal skin, hair, skin, nails and bones for a younger, more radiant appearance. L-Theanine is also present and works to complement the active ingredients for optimal wellbeing.
Green Tea Extract
Green tea extract is an excellent addition that can assist you in your weight management efforts. Each capsule has the same number of active ingredients as a cup of green tea, providing unique benefits that can help achieve your fitness goals
How to Use
Take one capsule daily with a full glass of water, either with a meal or light snack.
Warning
Not intended for children under 18 years of age. Bovine Collagen Complex is a dietary supplement and should be treated to replace a balanced diet or healthy lifestyle. If you are pregnant, breastfeeding, or on medication under a doctor's supervision, check with your health care professional before taking this product. If you are prone to allergies, please check the ingredient list before consumption. Consult a doctor if you experience any side effects.
Frequently bought together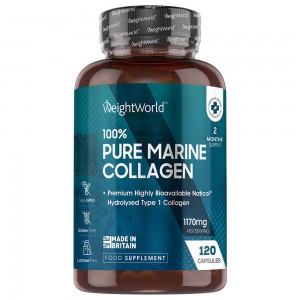 +
Customer Reviews
At WeightWorld we strive to offer the best possible customer service and we take great pride in the feedback we have received from our customers. All testimonials and reviews below are the experiences and opinions of WeightWorld customers. They should not be considered as health, medical or medicinal claims. They are no substitute for taking medical advice.
Outstanding

5
50.00% based on 1 Verified reviews

* Results may vary from one person to another.