All-Natural Supplements
GMP-certified and GMO-Free
Free UK delivery on orders over £40
Save on postage today
100% Customer Satisfaction
We offer a full 90-day money back guarantee
Marine Collagen Advanced
90 Capsules | Marine Collagen With Hyaluronic acid & CO-Q10
Buy 1

£17.99

£0.20 / Capsule

Buy 2

£32.38

£35.98 You Save 10%

£0.18 / Capsule

Buy 3

£43.17

£53.97 You Save 20%

£0.16 / Capsule

Buy now and earn 2 WeightWorld Points ?
Key Features
Perfect for skin, bones and joints
Ideal to manage signs of ageing
Enriched with Hyaluronic acid and Coenzyme Q10
Premium Patented NatiCol® Marine Collagen
90 Capsules per bottle
Gluten-free
Dairy-free
GMO Free
Lactose Free
Introduction
Utilising 1200mg NatiCol® Marine Collagen, our hydrolysed marine collagen advanced supplement is the perfect way to look after your skin, nails, bones and joints.
Formulated with hyaluronic acid and Coenzyme Q10, our marine collagen supplement offers all-in-one support for your body to boost natural collagen levels and rejuvenate and manage the appearance of premature ageing!
What is Marine Collagen Advanced?
Our hydrolysed Marine Collagen Advanced is the perfect dietary supplement if you want to care for your skin, bones and joints. What makes it so unique is that it's one of the most versatile collagen supplements available as it is odourless, flavourless and easily soluble. Plus, its advanced marine collagen formula has been made using a proprietary blend of 1200 mg of NatiCol® Marine Collagen, Hyaluronic acid, Vitamin C, Coenzyme Q10, Zinc and other beneficial ingredients which work to rejuvenate the skin while supporting bone and joint health.
Benefits Of Marine Collagen Advanced
Collagen is one of the most abundant proteins found in the body and it serves as a key structural molecule in our skin, joints and tissues. As we age, the natural production of collagen reduces which results in skin wrinkles, brittle bones, weak joints and more. As a result, regular intake of our Marine Collagen With Hyaluronic Acid & Co-Q10 helps:
Promote skin radiance
Combat the appearance of ageing
Support joint, bone and muscle health
Stimulate hair and nails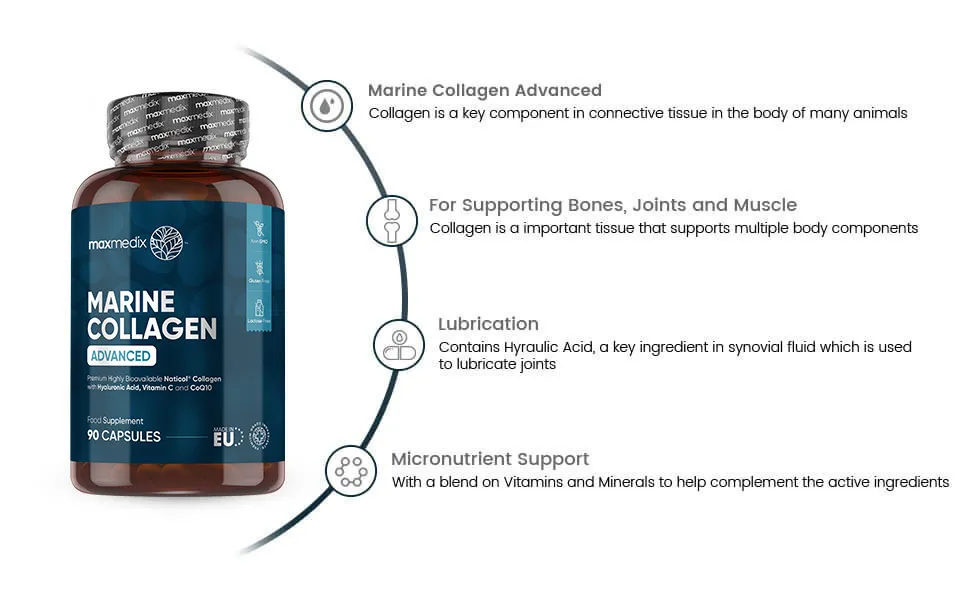 Who should use Marine Collagen Advanced?
By our 30s, natural collagen levels in the body start declining. This is where you'll start experiencing sagging skin and creaking joints. For this reason, our hydrolysed Marine Collagen Advanced is ideal if you are looking for help with multiple bodily functions, from the appearance of skin to food regulation to joint health. These convenient and easy-to-swallow marine collagen with hyaluronic acid capsules are also perfect for those with time constraints and looking to fit it into a busy schedule.
How To Use Marine Collagen Advanced
Simply take 3 marine collagen with hyaluronic acid capsules daily with a glass of water, preferably 1 hour after dinner. For the best results, try to take it at the same time, every night. This marine collagen hyaluronic acid supplement is made using premium quality natural ingredients, is completely safe to use and has no known side effects. Plus, it contains no artificial colours, sweeteners, flavours or preservatives and is GMP-certified and Halal-certified.
Advice On Using Marine Collagen Advanced
Always read the list of ingredients thoroughly, to avoid any personal allergens. This supplement marine collagen complex with hyaluronic acid is not recommended for those below 18.
What is marine collagen good for?
Marine collagen is the perfect supplement to help you rejuvenate your body and give your skin a youthful glow! We have packed all the goodness of natural marine collagen in our collagen and hyaluronic acid supplements.
Does Marine Collagen Advanced really work?
A quick look at our reviews will show you how much our customers have benefited from the regular intake of our marine collagen supplement. We have developed this supplement marine collagen complex with hyaluronic acid with industry-leading natural ingredients to provide you with optimal results.
Are there any side effects of this supplement marine collagen with hyaluronic acid?
We pride ourselves on using all-natural ingredients in our products which means there are no known negative side effects and you can have peace of mind when using them.
Is it safe to take these marine collagen with hyaluronic acid capsules every day?
Yes, it is considered safe to take our Marine Collagen Advanced capsules every day. Having said that, we strongly suggest you not exceed the recommended daily dosage.
Is this marine collagen hyaluronic acid capsule suitable for all?
Our supplement marine collagen complex with hyaluronic acid is suitable for both men and women above the age of 18 years. That being said, if you're or pregnant or on medication, we suggest you consult your doctor before use.
What if these marine collagen and hyaluronic acid supplements don't work for me?
We are confident that you will love our products, but we also understand that everybody is slightly different and may not feel the effects in the same way. We value our customers and want to make sure that they are 100% happy with their purchase which is why we offer our full money-back guarantee! If it doesn't work for you, we will refund you for your order!
Frequently bought together

+

+

Customer Reviews
At WeightWorld we strive to offer the best possible customer service and we take great pride in the feedback we have received from our customers. All testimonials and reviews below are the experiences and opinions of WeightWorld customers. They should not be considered as health, medical or medicinal claims. They are no substitute for taking medical advice.
Outstanding

4.5
92.17% based on 395 Verified reviews

* Results may vary from one person to another.