Our price match promise
We will beat or match other retailers
Free UK delivery on orders over £40
Save on postage today
Customer Data Protection
Your data is safe and secure with us
Guarana Super Pack
Energising Fruit Capsules & Powder
Overview
With the Guarana Super Pack, you can naturally reinvigorate your levels of energy, drive, and power, banishing feelings of fatigue and tiredness. In an increasingly busy, demanding world, many of us are reaching for caffeinated energy and sports drinks, which are often packed with undesirable sugars and additives. Offering you two healthy, pure alternatives, in the form of both powder and capsules, now you can enjoy the benefits of guarana fruit seeds, which are understood to have 4 times more caffeine than coffee beans.
Guarana in two premium energising forms
More caffeine at source than coffee beans
Ideal for busy lifestyles, sport & fitness
Powerful 1200mg strength per capsule
Powder highly adaptable for recipes
Vegan and vegetarian suitable
Empowering Guarana can give you a holistic new approach to your body's energy needs - it's already a cult favourite in South America, so how can you resist trying it in two perfectly convenient forms? With Super Guarana Powder, you can blend it into delicious recipes such as smoothies and juices and enjoy throughout the day. And by taking the capsules, you can conveniently enjoy a steady, regular boost. With both products you can enjoy a continual, slow-release of energy that will sustain you all day. You'll never need to reach for an artificial substitute again!
Product that you are looking for is no longer available, please select from an alternative below.
The Treasure of the Amazon
Guaranà fruit grows deep within the Amazon rainforest, one of the world's richest climates, and home to half the world's living animal and plant species. There you can also find hundreds of thousands of indigenous people, after one group of whom, the Guarani, the Guaranà fruit is named. The fruit was traditionally, it's said, consumed as a hot drink, often during periods of fasting to supplement declines in energy. The Guarani people's love for this precious seed made its transference into popular culture inevitable, and it's now made its way into innumerable carbonated energy drinks across Brazil and the rest of the continent, as well as sweets and dietary supplements.
The Gift that Is Guaranà
Scientific interest has recently become focussed on Guaranà fruit, due to one factor - its incredible caffeine levels, which can measure up to four times higher than that of coffee beans. In recent times, caffeine has become an essential aspect of many people's lives. It's frequently cited in anecdote as brilliant at boosting digestion, mental sharpness and physical power. Fitness enthusiasts often enjoy its benefits when they're looking to enhance their performance during workouts, in addition to its thermogenic properties, and ability to reinvigorate the metabolism of lipids.
In case that wasn't enough, there's an increasing awareness that the other compounds found within, xanthines like catechins, tannins, and procyanidins, can enhance and extend the fruit's energising effects. What's more, research into indigenous Amazonian people who regularly consume Guaranà in their diet found links to lower levels of cholesterol and a smaller waist circumference.
Mental sharpness
Physical power
Metabolism of lipids
Increased motivation
Managing weight
Cholesterol levels
Super Guarana: Extra Strengths
Additionally, Super Guarana is enriched with vitamins and minerals. Potassium is known to help support, a healthy nervous system; calcium is understood to contribute to normal muscle function and bone maintenance; phosphorus aids normal cell membranes. Vitamin B1 is included; B-group vitamins are known to help energy-yielding metabolism, as well as reducing fatigue and tiredness.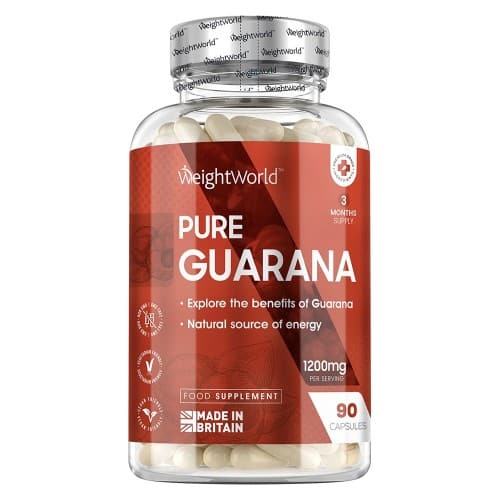 Pure Guarana Capsules
With a powerful 1200mg in every capsule, you can enjoy a precisely measured, market-leading strength. This quick, convenient form is ideal for those with a busy lifestyle, who are just looking for a regular, steady boost. Take one capsule up to three times a day with a glass of water.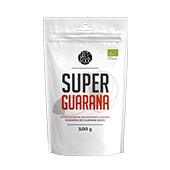 Super Guarana Powder
In powder form, Guarana is super versatile and flexible. It's perfect for those that love to experiment with recipes and share their healthy lifestyle. You can adapt Guarana Powder into your favourite juices, smoothies and dishes. We suggest using one spoon per serving, with up to three a day.
Full Capsule Ingredients
Active Ingredient: Guarana Extract, Capsule Shell: Hydroxypropyl Methyl Cellulose, Bulking Agent: Maltodextrin, Anti-Caking Agent, Magnesium Stearate.
Guidance
Both powder and capsules contain just one active ingredient, natural Guarana extract, and no harmful chemicals. They're ideal for vegetarians and vegans alike. However, please carefully read the capsules' full ingredients, just in case of any personal allergens. If you're on any medication, please check with your healthcare professional before taking. Guarana is not recommended for those who are pregnant or breastfeeding, anyone under the age of eighteen, or anyone with a caffeine intolerance or sensitivity.
Customer Reviews
At WeightWorld we strive to offer the best possible customer service and we take great pride in the feedback we have received from our customers. All testimonials and reviews below are the experiences and opinions of WeightWorld customers. They should not be considered as health, medical or medicinal claims. They are no substitute for taking medical advice.
Outstanding

4.5
87.37% based on 18 Verified reviews

* Results may vary from one person to another.