All-Natural Supplements
GMP-certified and GMO-Free
Free UK delivery on orders over £40
Save on postage today
100% Customer Satisfaction
We offer a full 90-day money back guarantee
Hyaluronic Acid 300mg 180 Capsules
High Strength Supplement For Skin, Bones & Joints
Buy 1

£17.99

£22.99

£0.10 / Capsule

Buy 2

£32.38

£35.98 You Save 10%

£0.09 / Capsule

Buy 3

£43.17

£53.97 You Save 20%

£0.08 / Capsule

Buy now and earn 2 WeightWorld Points ?
Key Features
Essential skin, hair, & joint care supplement for men & women
Ideal for bones, joints and eyes
With Superior Bioavailability & Absorption
High potent 300mg Hyaluronic Acid per capsule
Two capsules a day are enough to get the benefits of Hyaluronic Acid
Complete 3 month supply to help you get back the lost levels of Hyaluronic Acid
Comes with 100% money-back guarantee
Vegan
GMP
GMO Free
Gluten-free
What Is Hyaluronic Acid?
Also known as the 'fountain of youth', Hyaluronic acid is a lubricating substance that's naturally produced by our body and is mostly found in our skin, eyes, joints and other connective tissues. As we age and due to regular wear and tear, our natural Hyaluronic acid levels decrease, resulting in stiff joints, weak bones, signs of skin ageing and dry eyes. That's when Hyaluronic acid supplements can come to your rescue!
What Are WeightWorld Hyaluronic Acid Capsules?
Offering 300 mg of Hyaluronic acid (HLA), our triple-strength Hyaluronic Acid Capsules are designed to replenish the levels of this natural lubricant in your body. Although foods such as tofu, kale, oranges, etc. are rich sources of HLA, they might not always be a part of your daily meal. With just 2 easy-to-swallow capsules a day, you can conveniently meet your daily requirement of HLA to support your skin, bones and joints without compromising your diet. So bring back your youth from the inside out with our Hyaluronic Acid Capsules today!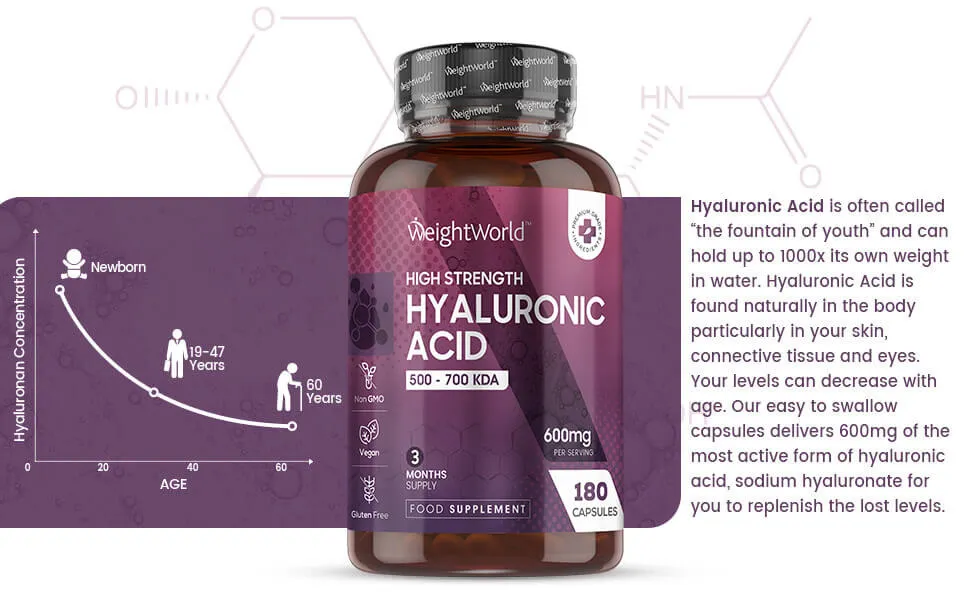 Benefits of Hyaluronic Acid
Hyaluronic acid is a water-retaining molecule that can bind up to 1,000 times its weight in water*, offering effective lubrication and moisturization. Our high-strength Hyaluronic acid supplements help you rejuvenate and re-energise your overall body by:
Lubricating joints for pain relief and easy mobility
Supporting your bone strength
Moisturising your skin for suppleness
Managing the appearance of ageing
Helping manage wounds and swelling
Supporting your hair and scalp
Soothing your dry eyes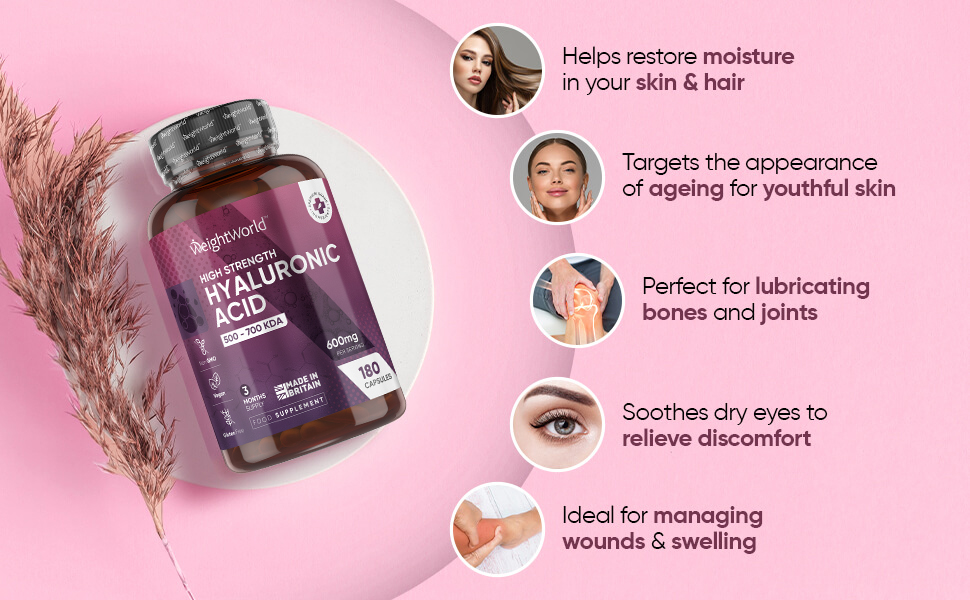 Why choose WeightWorld Hyaluronic Acid Capsules?
Here's why we stand out from the rest!
Highly bioavailable and active form of Hyaluronic acid, Sodium Hyaluronate, with a low molecular weight of 500-700 KDA for deeper lubrication and penetration
300 mg strength per capsule, three times more HLA than most other Hyaluronic acid supplements
100% natural and free from GMOs and nasty additives to ensure no known side effects
Vegan, gluten-free and dairy-free to be suitable for all
GMP-certified and packed in recyclable bottles for the safety of you and the environment
Contains 180 capsules per bottle, offering 3 months' supply without reordering
Comes with a 90-day money-back guarantee so you can try them risk-free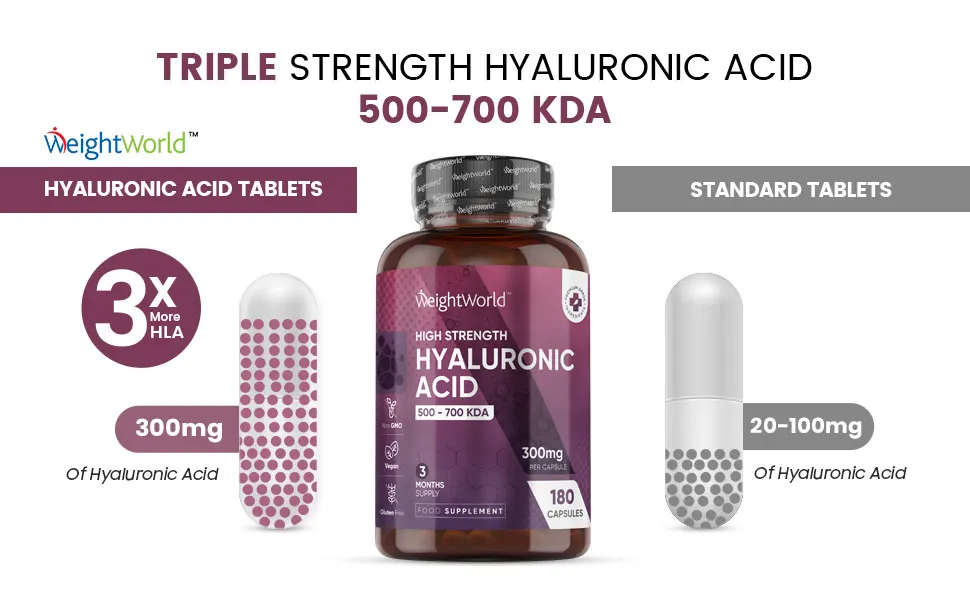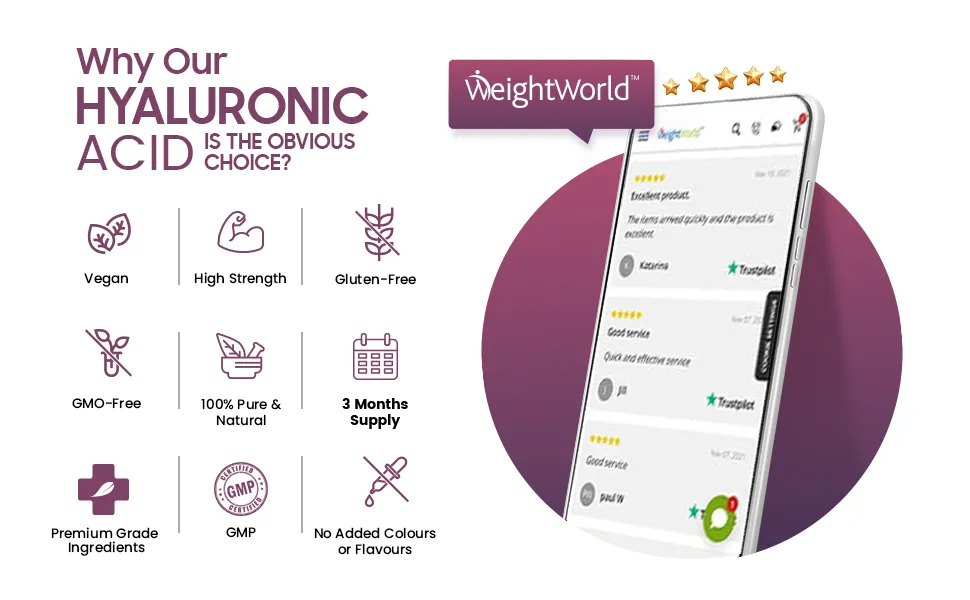 Is taking Hyaluronic acid orally effective?
Yes, taking Hyaluronic acid orally in the form of a supplement is known to be effective as it boosts the natural levels of Hyaluronic acid in the body, providing all the amazing benefits of it.
Is it safe to take Hyaluronic acid capsules every day?
Yes, it is usually considered safe to take Hyaluronic acid capsules on a daily basis. Having said that, we suggest not exceeding the recommended daily dosage.
Does Hyaluronic acid help joints?
Hyaluronic acid helps to keep your joints lubricated to make them flexible and alleviate bone and joint pain.
Does Hyaluronic acid tighten skin?
Hyaluronic acid is known to bind water to collagen in your skin, which helps to lock in your skin's moisture and give a firmer appearance to your skin.
Are there any side effects of these Hyaluronic acid supplements?
We pride ourselves on using all-natural ingredients in our products, which means there are no known negative side effects and you can have peace of mind while having them.
Are Hyaluronic Acid Capsules safe for pregnant and breastfeeding women?
We suggest you consult your doctor or a medical professional before taking Hyaluronic Acid capsules if you are pregnant or breastfeeding.
What if they don't work for me?
We are confident that you will love our products, but we also understand that everybody is slightly different and may not feel the effects in the same way. We value our customers and want to make sure that they are 100% happy with their purchase which is why we offer our full money-back guarantee! If it doesn't work for you, we will refund you for your order!
Frequently bought together

+

Customer Reviews
At WeightWorld we strive to offer the best possible customer service and we take great pride in the feedback we have received from our customers. All testimonials and reviews below are the experiences and opinions of WeightWorld customers. They should not be considered as health, medical or medicinal claims. They are no substitute for taking medical advice.
Outstanding

4.5
94.21% based on 327 Verified reviews

* Results may vary from one person to another.