Our price match promise
We will beat or match other retailers
Free UK delivery on orders over £40
Save on postage today
Customer Data Protection
Your data is safe and secure with us
Hyaluronic Acid Capsules
300 mg 180 Capsules | Natural Bone & Joints Supplement
Overview
WeightWorld's Hyaluronic Acid Capsules are the perfect way to care for the health of your bones and joints with ease. Made using 90% pure Hyaluronic Acid and 300 times the average serving strength, it gives your body exactly what it needs in the best possible way. It helps support your bones and joints for an active lifestyle and also helps with ageing skin, letting you feel youthful on the inside and out!
Natural bone & joint health supplement
For the signs of ageing & wrinkles
Strongest 300mg serving strength
With 90% pure Hyaluronic Acid
180 capsules for a complete 6 month supply
Buy 1

£24.99

Buy 2

£44.98

£49.98 You Save 10%
Buy 3

£59.97

£74.97 You Save 20%

Buy now and earn 2 Comfort Points ?
What Are WeightWorld Hyaluronic Acid Capsules?
These premium capsules are one of the best Hyaluronic Acid supplements available on the market to support your bones, joints and skin. With a potent strength of 300mg per daily serving, 300 times the average, you can be assured that you are getting the best for you and your body. Each capsule contains 90% pure Hyaluronic Acid and can be conveniently added to your daily routine, as they are easy to swallow capsules.
What Do They Do?
WeightWorld's Hyaluronic Acid Capsules are designed to support your joints, bones and skin from within. As we age and through wear and tear, the natural levels of Hyaluronic Acid in our bodies begin to decrease, resulting in stiff joints, brittle bones and dry, ageing skin. To help combat this, these capsules work to boost natural levels in the body, helping to keep you moving with ease and your skin feeling fresh, smooth and youthful.
The Fountain Of Youth
Also known as the 'fountain of youth', Hyaluronic acid capsules aim to support movement and physical structure. Hyaluronic acid works by acting as a cushion and lubricant in the joints and other surrounding tissues. Here are some of the medical conditions that hyaluronic acid capsules may help: osteoarthritis (for joint lubrication) & fibromyalgia. It is linked to these because when joints are lubricated, the bones are less likely to grind against one another and cause pain.
Who Are They For?
WeightWorld's Hyaluronic Acid Capsules are ideal for those wanting to care for their bone and joint health, as well as for their skin. This product is perfect for those who are looking for anti-ageing benefits, natural skin hydration and skin-repairing, especially for healing wounds.
What's more, these Hyaluronic Acid Capsules can be well-suited for those taking other supplements such as Glucosamine or Collagen, as it complements their unique benefits.
Directions For Use
Simply take 1 capsule daily, preferably with a meal or as directed by a healthcare professional. For best results, take them at the same time each day. This supplement is naturally produced by the body and has no known side effects, but always read the ingredients for any personal allergens. It is free from Salt, Starch, Wheat, Maize, Gluten, Lactose, Yeast, Dairy products, Artificial Preservatives and Artificial Colours plus is vegan-friendly. It is not suitable for those under 18.
Full Ingredient List
Active Ingredients: Hyaluronic Acid, Maltodextrin
Other ingredients: (Bulking Agent), Magnesium Stearate (Flow Agent), Silicon Dioxide (Anti-Caking Agent), Microcrystalline Cellulose (Bulking Agent), HPMC Capsule Shell.
Frequently bought together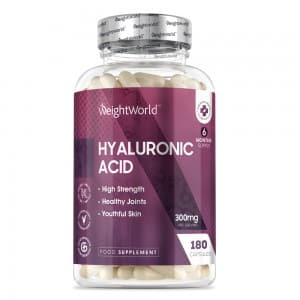 +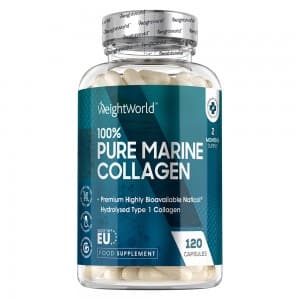 Customer Reviews
At WeightWorld we strive to offer the best possible customer service and we take great pride in the feedback we have received from our customers. All testimonials and reviews below are the experiences and opinions of WeightWorld customers. They should not be considered as health, medical or medicinal claims. They are no substitute for taking medical advice.
Outstanding

4.5
90.00% based on 19 Verified reviews

* Results may vary from one person to another.