All-Natural Supplements
GMP-certified and GMO-Free
Free UK delivery on orders over £30
Save on postage today
100% Customer Satisfaction
We offer a full 90-day money back guarantee
Iron Tablets
28 mg 400 Tablets | Natural Food Supplement
Buy 1

£9.99

£11.99

£0.02 / Tablet

Buy 2

£17.98

£19.98 You Save 10%

£0.02 / Tablet

Buy 3

£23.97

£29.97 You Save 20%

£0.02 / Tablet

Buy now and earn 1 WeightWorld Points ?
Key Features
Ideal for Energy and Focus
Bolsters your natural defences
Each pack contains a 6+ months supply
Iron contributes to the formation of red blood cells and haemoglobin
Each serving contains 28mg of high-quality iron
Suitable for vegetarians and vegans
Money Back Guarantee
Vegan
Gluten-free
GMP
Iron is a crucial part of your bodily function as it helps you to maintain a healthy level and formation of red blood cells and haemoglobin. The Iron Tablets are a great way to easily help this natural bodily function out. Packed with 28mg of high-quality iron in each serving, WeightWorld's Iron Tablets provide you with a key natural boost to you and your body keeping you covered all year round!
What Are Iron Tablets?
Our Iron Tablets offer a premium 28mg of Iron per serving. Iron is known to contribute to the normal formation of red blood cells & haemoglobin as well as the normal functioning of your immune system. Coming in tablet form, they're easy to use and seamlessly fit into your daily routine to give you the natural boost in iron you need.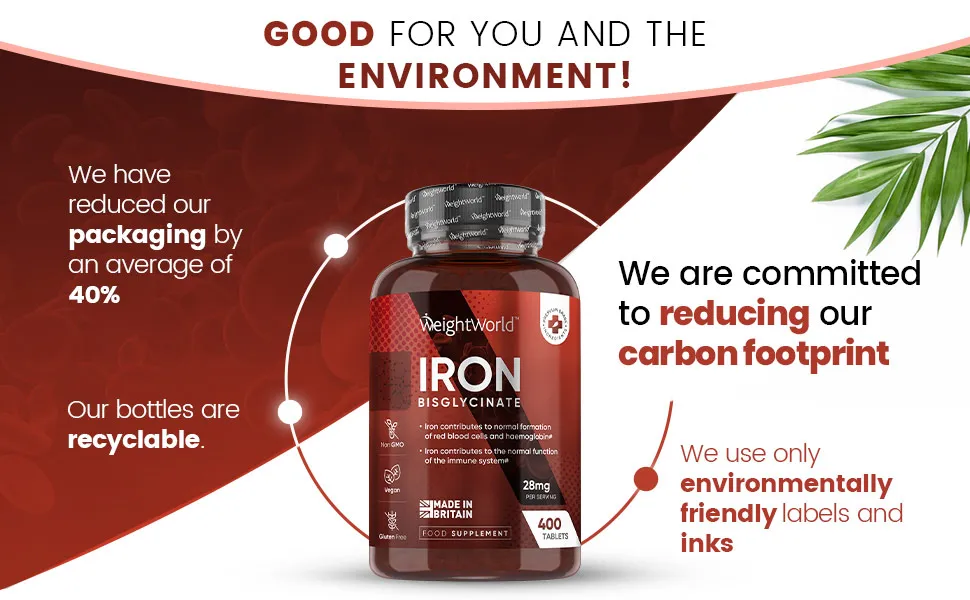 How Do Our Iron Tablets Benefit Your Body?
If you're someone who's looking for a natural iron boost to their diet and system or find that you can feel a bit dizzy or fatigued at times, then these tablets are ideal for you. Ensuring you get enough iron into your diet is important for the normal functioning of your immune as well as the normal formation of red blood cells & haemoglobin. These premium tablets provide you with a natural boost in iron when you need it most and keep you feeling sharp all year round.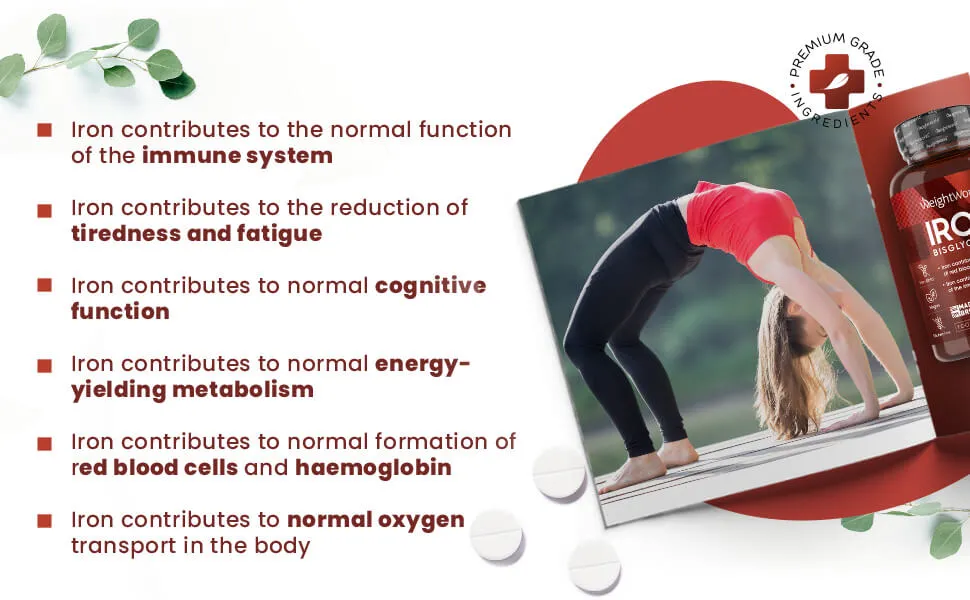 Who Are Iron Tablets For?
Iron food supplements are recommended to be taken by anyone to give you natural iron when you need it most. However, iron supplements have been known to be recommended to those with an iron deficiency in their diet. Natural sources of iron can be found in foods such as chicken, beef and liver. If you're vegetarian, then fear not. WeightWorld's vegan iron supplement are suitable for both vegans and vegetarians, meaning you'll never be short of iron again..
Why Choose WeightWorld's Iron Tablets?
While there are quite a few iron capsules and tablets on the market, here's why our Iron Tablets is the right choice for your daily iron needs!
Formulated with 18+ years of experience by WeightWorld experts
14mg iron per tablet, one of the highest potencies offered by iron pills on the market
Made with 100% natural and non-GMO ingredients causing no known harmful side effects
Vegan iron supplement, perfect alternative to non-veg iron sources for vegans and vegetarians
Gluten-free formula so you can have it safely even if you have gluten intolerance
GMP-certified to ensure reliable use
Each bottle comes with 400 tablets, offering over 6 months' supply of iron without reordering
Comes with a 90-day money-back guarantee so that you can try the tablets risk-free
Dosage
Simply take 2 Iron Tablets a day to conveniently fit into your daily routine, preferably with a meal and with a glass of water. Made with natural premium ingredients, there are no known side effects from taking this supplement..
Advice
Please check the full list of ingredients before consuming or consult with your healthcare practitioner to avoid any personal allergens. If you are pregnant, breastfeeding, taking any medications or are under medical supervision, please consult a doctor before use. These iron deficiency tablets are not intended for use by those under the age of 18.
Does this iron supplement really work?
A quick look at our reviews will show you how much our customers have benefitted from these vegan iron supplements. We have formulated these Iron Tablets with 100% natural ingredients to provide you with optimal results.
What are the symptoms of iron deficiency?
There are a number of possible symptoms, but the key symptoms are fatigue, lack of energy, shortness of breath, noticeable heartbeats (heart palpitations) and paler skin. Our iron deficiency tablets are packed with 28mg of iron to help you maintain optimal iron levels.
Are there any side effects to taking iron capsules?
We pride ourselves on using all-natural ingredients in our products which means there are no known negative side effects and you can have peace of mind when using them.
Should I take the Iron Tablets in the morning or at night?
You can take our Iron Tablets at any time of the day, in the morning, at noon or at night, whenever you prefer. However, we recommend you take them at the same time every day to get optimal results.
Are these Iron Tablets suitable for people of all ages?
Our Iron Tablets are suitable for both men and women above the age of 18.
Is it safe to take iron daily?
Yes, it is considered safe to take our Iron Tablets on a daily basis. However, we suggest not exceeding the recommended daily dosage of these iron pills.
Can vegans take these iron deficiency tablets?
Our vegan iron supplement is formulated with plant-based ingredients and is suitable for both vegans and vegetarians.
What if these iron pills don't work for me?
We are confident that you will love our products, but we also understand that everybody is slightly different and may not feel the effects in the same way. We value our customers and want to make sure that they are 100% happy with their purchase which is why we offer our full money-back guarantee! If it doesn't work for you, we will refund you for your order!
Frequently bought together
Iron Tablets
28 mg 400 Tablets | 28 mg, 400 Tablets |Natural Food Supplement
£9.99 £11.99
+

+

Customer Reviews
At WeightWorld we strive to offer the best possible customer service and we take great pride in the feedback we have received from our customers. All testimonials and reviews below are the experiences and opinions of WeightWorld customers. They should not be considered as health, medical or medicinal claims. They are no substitute for taking medical advice.
Outstanding

4.5
92.84% based on 80 Verified reviews

* Results may vary from one person to another.