Our price match promise
We will beat or match other retailers
Free UK delivery on orders over £40
Save on postage today
Customer Data Protection
Your data is safe and secure with us
Liposomal Vitamin C with Vegan D3
250 ml Liquid | Natural Immunity Supplement
Overview
Top up your natural immunity levels with WeightWorld's Liposomal Vitamin C with Vegan D3! This liquid supplement provides you with double the benefits by combining Vitamins C and D3 that work in perfect harmony to naturally boost your immunity as well as maintaining your bone, joint, and muscle functions. With just 5ml of this potent 1000mg strength liquid solution a day, this premium supplement is all you need to naturally boost your immunity, bones and joints!
Vitamin C for the normal function of the immune system
Premium concentrated liquid combo
With Vitamin D3 for the maintenance of bones and joints
High-strength 1000mg per serving
250ml per bottle for 50 servings
Vegan-friendly
Vegan
GMP
High Strength
GMO Free
Buy 1

£17.99

Buy 2

£32.38

£35.98 You Save 10%
Buy 3

£43.17

£53.97 You Save 20%

Buy now and earn 2 Comfort Points ?
What Is Liposomal Vitamin C With Vegan D3?
This natural liquid supplement consists of the finest vitamin C and vegan D3 to provide you with a multipurpose vitamin supplement. Vitamins C and D3 combine together to naturally boost your immunity whilst also maintaining normal bones and joints. Save yourself the hassle of finding multiple supplements and feel double the benefits of this unique vitamin combo within this premium liquid formula!
Vitamin C Benefits
The Liposomal Vitamin C with Vegan D3 liquid supplement consists of a high-strength 1000mg per serving. Vitamin C can't be stored in the body, so you need it in your diet every day with a good source of Vitamin C being found in fruit and vegetables. However, if you're unable to fit enough of these in, this supplement is an ideal alternative to provide your body with the required levels of Vitamin C vital for the normal functioning of your immune system. Vitamin C is also ideal for:
Normal collagen formation
Protecting cells from free radical damage
Reduces tiredness and fatigue
Boosting energy-yielding metabolism
Normal functioning of bones, blood vessels and cartilage
Vitamin D Benefits
Vitamin D is needed for the normal functioning of your immune system, bones, joints and muscles. Typically, sun exposure is needed to produce adequate amounts of vitamin D, but this can be difficult during the darker and colder winter months. Another good source of vitamin D is from foods such as eggs and fish but this isn't ideal if you're a vegan or vegetarian. But we're here to help overcome these hurdles! This liquid supplement is a convenient, vegan alternative that provides you with a potent source of vitamin D3 for all your wellbeing needs.
Who Is It For?
If you need to top up your Vitamin C and D3 levels or looking for a natural immunity boost, then look no further! This supplement provides you with double the benefits of both of these vitamins in just 1 serving and is so easy to take - simply drink directly or add it to water or your favourite juice! This supplement is easy to fit into whatever dietary needs you may have thanks to it being vegan-friendly, non-GMO and free from gluten.
Directions For Use
Simply take 5ml of this liquid dietary supplement once a day. You can either drink the solution directly or add to it a glass of water or your favourite juice. Made with natural premium ingredients, there are no known side effects of this supplement. Please check the full list of ingredients before consuming or consult with your doctor to avoid any personal allergens.
Full Ingredient List
Purified Water, Organic Glycerine, Vitamin C (Ascorbic Acid), Acerola Extract (20% Vitamin C), Superoxide Dismutase (SOD Melon Seed Extract), Rutin, Sucrose (Raw Sugar Cane), Fructose (Natural Fruit Sugars), Sorbitol, Fat Free Soybean Lecithin (non-GMO) with 45 % phosphatidylcholine, Potassium Sorbate, Niacin, mixed Tocopherols, Ascorbyl Palmitate Vitamin C Ester, Sunflower Oil, Tocopheryl Acetate, α-Lipoic Acid, Natural Orange Flavour, Vitamin D3 (Cholecalciferol) Vegan.
Frequently bought together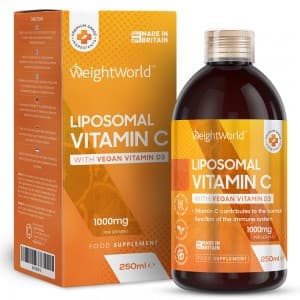 +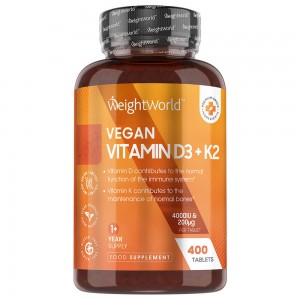 +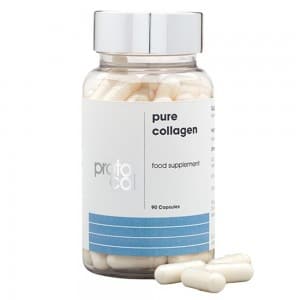 Pure Collagen
1200 mg 90 Capsules | Natural Skincare Supplement
£19.95
Customer Reviews
At WeightWorld we strive to offer the best possible customer service and we take great pride in the feedback we have received from our customers. All testimonials and reviews below are the experiences and opinions of WeightWorld customers. They should not be considered as health, medical or medicinal claims. They are no substitute for taking medical advice.
Outstanding

5
92.73% based on 21 Verified reviews

* Results may vary from one person to another.