Our price match promise
We will beat or match other retailers
Free UK delivery on orders over £40
Save on postage today
Customer Data Protection
Your data is safe and secure with us
Liposomal Vitamin C Capsules
1000 mg 180 Capsules | High-dose Immune System Supplement
Overview
Looking for a high dose of Vitamin C that will fire up your energy levels and boost your inner defences? Our Liposomal Vitamin C capsules are a high-absorption, natural defence boosting supplement designed to shield your body. With a powerful combination of potassium, L-ascorbic acid, Lecithin, and Ascorbyl Palmitate, its unique liposomal delivery method ensures maximum efficacy and optimal absorption to give your body the support to fight back.
Perfect to bolster natural defences
Enriched with Rosehip extract
1000mg Liposomal vitamin C for max bioavailability
180 capsules - full 90 day supply
Vegan and gluten-free
Vegan
Gluten-free
Lactose Free
GMO Free
Buy 1

£19.99

£24.99
Buy 2

£35.98

£39.98 You Save 10%
Buy 3

£47.97

£59.97 You Save 20%

Buy now and earn 2 Comfort Points ?
Why Do You Need Liposomal Vitamin C for Optimal Immunity?
Several bodily functions in your immune system need Vitamin C to run at peak efficiency. This water-soluble antioxidant supports the white blood cells, antibodies and your body's natural defence system against harmful bacteria and pathogens. However, the human body cannot synthesise Vitamin C on its own. Therefore, regular supplementation of Liposomal Vitamin C empowers you to fortify your body's first line of defence and protect it against unwanted infections and illnesses.
Why Choose WeightWorld Liposomal Vitamin C Supplement?
When it comes to choosing the most effective inner support supplement, two factors can make a big difference to overall well-being - potency and bioavailability. While most brands on the market offer 1000 mg per serving, WeightWorld's Liposomal Vitamin C supplement contains 1000 mg of premium-quality Liposomal Vitamin C in every serving and lasts you for a full 90 days. Utilising a scientifically proven liposomal delivery method, this supplement ensures that your body absorbs Vitamin C as quickly as possible for maximum effectiveness against oxidative stress, infections and allergens.
Benefits of Liposomal Vitamin C Capsules
Standard Vitamin C supplements are not effectively processed and fully absorbed by the body. WeightWorld's Liposomal Vitamin C capsules are ideal for giving your body a high dose of Vitamin C for supporting the immune system and boosting your body's natural defences. Apart from being a quick, cost-effective and easy way to maintain overall wellness, Liposomal Vitamin C 1000 mg also contributes to:
Normal collagen formation
Protecting the cells from free radical damage
Reducing tiredness and fatigue
Boosting energy-yielding metabolism
Normal functioning of bones, blood vessels and cartilage
Who Should Take WeightWorld Liposomal Vitamin C Capsules?
This advanced Liposomal Vitamin C supplement is gluten-free and sugar-free which makes it perfect for people who want to live a healthy and active lifestyle. It contains nano-sized liposomes that safeguard and supply nutrients directly to the cells to ensure you get maximum Vitamin C with faster and more efficient delivery - helping your body reap more benefits, quickly.
What's more, these easy-to-swallow capsules are an effortless way for people with a super busy schedule to look after their immune system and also keep up with the demands of their daily life, without compromising on their health.
How To Use?
Take two capsules daily with main meals for the best results. Read the complete list of ingredients to avoid any allergies or complications. WeightWorld Liposomal Vitamin C capsules are Non-GMO and do not contain corn, gluten, sugar, shellfish, peanuts, soy, and eggs. It is suitable for vegetarians, has no fillers and artificial colours and there are no known or reported side effects.
List of Ingredients
Vitamin C (Ascorbic Acid), Sunflower Phospholipid Complex, Rosehip Extract, Ascorbyl Palmitate, Magnesium Stearate, Capsule Shell: Hypromellose (HPMC)
Frequently bought together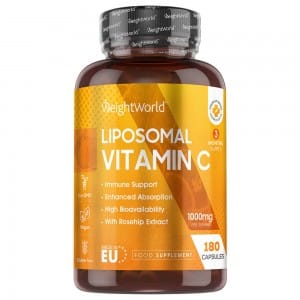 +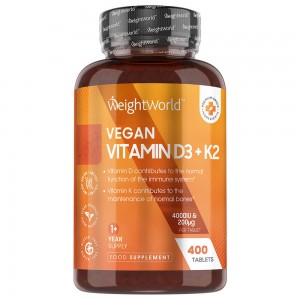 Customer Reviews
At WeightWorld we strive to offer the best possible customer service and we take great pride in the feedback we have received from our customers. All testimonials and reviews below are the experiences and opinions of WeightWorld customers. They should not be considered as health, medical or medicinal claims. They are no substitute for taking medical advice.
Outstanding

5
95.47% based on 52 Verified reviews

* Results may vary from one person to another.