Our price match promise
We will beat or match other retailers
Free UK delivery on orders over £35
Save on postage today
Customer Data Protection
Your data is safe and secure with us
Carb No More
60 Capsules | Natural Carb Blocker Supplement
Overview
Are you looking to manage your weight, but don't want to completely give up your much loved bread, pasta and potatoes? By acting as a natural carb blocker, Carb No More can help reduce the amount of carbs you eat from being digested, therefore helping to promote healthy weight management, but without having to completely give up the food you love.
Supports healthy weight management
With white kidney bean, apple cider & green tea
Helps reduce amount of carbs the body digests
Gluten-free and suitable for vegetarians
Contains 7 natural active ingredients
Vegan
Gluten-free
Dairy-free
Lactose Free
Buy 1

£13.99

Buy 2

£25.18

£27.98 You Save 10%
Buy 3

£33.57

£41.97 You Save 20%
How Do Carb Blockers Work?
Carbohydrate blockers work by inhibiting the enzyme alpha-amylase that breaks down and digests complex carbohydrates. These are molecularly made up of many simple carbs linked together in a chain. These complex carbs have to be broken down into glucose by enzymes before they are then able to be absorbed and used, or the excess stored as fat.
When you take a carb blocker though, the enzyme is temporarily blocked, allowing the complex carbohydrates to pass through your system undigested. This means that they are not converted into glucose and therefore not stored as fat. They also do not contribute any calories or raise blood sugar levels. It still allows however, for the 'good' simple carbohydrates to be digested properly. As a result, you still receive the benefit and nutrition of the 'good' carbs, but not the 'bad' ones - a win-win situation!
Some may think though that if they begin taking a carb blocker supplement that they can eat as many complex carbs as they like. Taking one of these supplements doesn't allow you to overindulge on your favourite pastas and breads, but it does allow you to manage and control your carbohydrate intake as well as allow you to have the occasional treat without the guilt.
What Is The difference Between Simple And Complex Carbohydrates?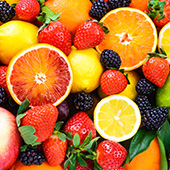 Simple Carbohydrates
Can be easily broken down and are found naturally in foods such as fruit, jam, brown sugar, milk & honey.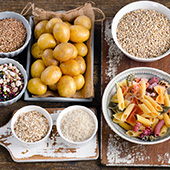 Complex Carbohydrates
Take longer to break down and are found in starchy foods such as bread, pasta, potatoes, rice & beans.
Carb No More
As a natural carb blocker supplement, Carb No More is designed to help promote healthy weight management by helping you to control your carbohydrate intake and the amount of carbs your body digests. This makes it a perfect supplement for those wanting to look after their weight but don't want to give up their favourite foods or go on a strict no-carb diet. Carb No More could also be a useful option for diabetics to help control what they eat in a natural and safe way.
Natural Formula
What makes Carb No More unique from other carb blocker tablets and products is that it is made from natural ingredients that have been carefully selected in their exact quantities to provide a unique formula. The main ingredient in Carb No More is white Kidney Bean Extract which is hailed one of the best natural carbohydrate blocking ingredients around. The other ingredients selected in this superior formula are designed to perfectly compliment the White Kidney Bean, to help with other health benefits including supporting energy levels, to give a rounded supplement that you can really make the most of.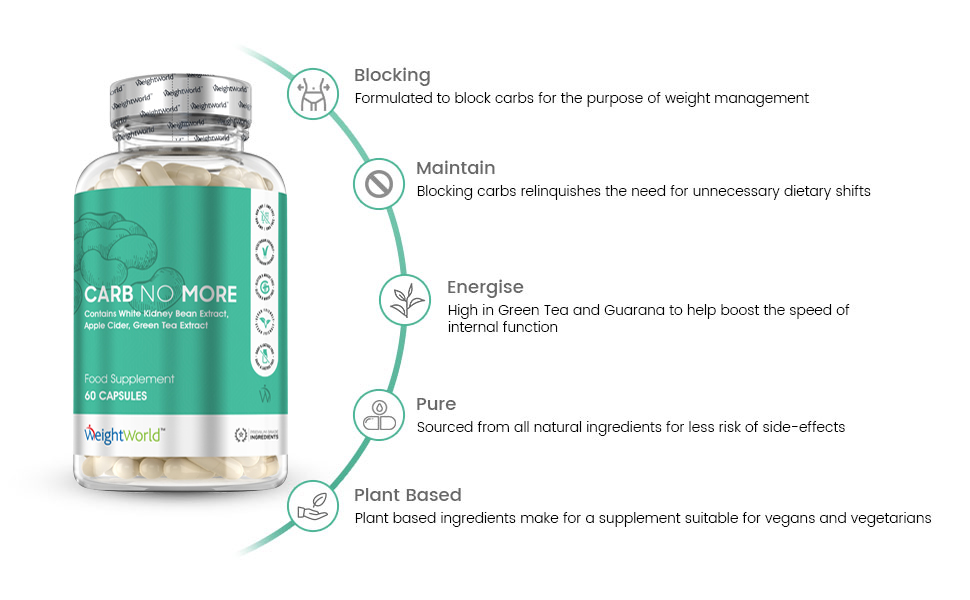 Active Ingredients

White Kidney Bean Extract
Also commonly known as Cannellini beans, White Kidney Beans are named for their kidney-like shape. They are often called a natural carb blocker as they can help to inhibit the digestion of starches to help reduce the amount of carbohydrates that are digested. They are also rich in fibre, minerals, vitamins and proteins.

Green Tea Extract
Made from the leaves of the Camellia Sinensis plant, Green Tea differs from other forms as the leaves do not go through the same withering and oxidation process. Green Tea is a rich source of catechins, and studies have linked these to having a protective effect on the body. It is also a good source of caffeine, a well-known stimulant that can help other ingredients in a formula.

Apple Cider
As the name suggests this is made from apples and is great for supporting the body. Apples are known to contain high amounts of dietary fibre, meaning they can be ideal for digestion and helping to smoothly clear out the digestive system. It has also been thought of by many to be helpful with weight management.

Cinnamon Extract
Not just a delicious sprinkling over cookies and hot chocolate, Cinnamon is amazing for the health and wellbeing of the body. This aromatic sweet spice is said to be beneficial for weight management by many, and a study has even linked it with glucose (sugar) levels. It is also considered useful for helping to protect the body from within.

Chromium
Found in trace amounts in foods such as meat, shellfish and eggs, Chromium is an essential mineral for the body. Not only is it considered good for our overall health, it is though to be advantageous for weight management and digestion. It also contributes to the maintenance of normal blood glucose levels and normal macronutrient metabolism.

Dandelion Root Extract
With a bright yellow flower, Dandelions can be hard to miss. But did you know their benefits for the health of the body? This amazing flowers are said to be highly nutritious as they are rich in fibre as well as vitamins B6 and C. They are also full of minerals including calcium, iron, potassium and manganese.
Directions
The Carb No More capsules have been created to be a simple step before eating carbs as well as easy to swallow. To use, simply take two capsules with a glass of water five to ten minutes before eating a main meal that contains carbohydrates. Do not take more than three times a day. Each bottle contains 60 capsules so will last 30 servings. For optimum results use alongside a controlled and balanced diet.
Advice
Carb No More contains only natural ingredients and so therefore has no known side effects and is safe to take. We do always recommend checking the ingredients first though to see if you have any personal allergies to avoid. This natural carb blocker is gluten-free and suitable for vegetarians. Consult your doctor first if you are pregnant, breastfeeding or on medication.
Customer Reviews
At WeightWorld we strive to offer the best possible customer service and we take great pride in the feedback we have received from our customers. All testimonials and reviews below are the experiences and opinions of WeightWorld customers. They should not be considered as health, medical or medicinal claims. They are no substitute for taking medical advice.
Outstanding

4.5
86.96% based on 22 Verified reviews

* Results may vary from one person to another.