Our price match promise
We will beat or match other retailers
Free UK delivery on orders over £35
Save on postage today
Customer Data Protection
Your data is safe and secure with us
Omega 3 Fish Oil Softgel
2000 mg 240 Softgels | Natural Wellbeing Supplement
Overview
Want to get all the benefits of adding omega-rich healthy fats to your diet without having to eat at least 2 portions of oily fish every week? WeightWorld's Omega 3 Fish Oil softgels is an ideal and convenient source of premium-quality Omega 3 that is highly absorbent. Formulated by experts for an active lifestyle, our high-strength formula manages your normal heart, brain, and eye function. Packed with a powerful 660mg of EPA and 440 mg of DHA in every serving, live life to the fullest today!
Supports normal brain function and heart function
2,000mg strength with no nasty additives
Daily source of omega 3 fatty acids EPA & DHA
Premium blend maintains normal vision
Infused with tocopherols & sunflower oil
240 easy to swallow softgels
Gluten-free
GMP
Lactose Free
GMO Free
Buy 1

£19.99

Buy 2

£35.98

£39.98 You Save 10%
Buy 3

£47.97

£59.97 You Save 20%
Why Is The Omega 3 Fish Oil Supplement Important?
Omega-3 is naturally rich in eicosapentaenoic acid (EPA) and docosahexaenoic acid (DPA). Both EPA and DHA play a vital role in maintaining normal brain and heart function meaning these softgels work to support your health goals, along with your overall physical health and mental wellbeing. Our Omega 3 Fish Oil softgels are a quick and easy way to achieve your daily requirements, without having to go through the hassles of meal prep!
What Are The Benefits Of Omega 3?
Omega 3 is an essential part of a healthy diet as it manages normal brain, eye and heart function. Because of this, it also makes for an excellent way to give your active lifestyle a natural boost and bolster your fitness efforts. With regular supplementation, Omega 3 fish oil can help your body take care of:
Cognitive function
Heart health
Eyes and vision
Skin health
Hair and nails
Teeth & gums
Bone and joint health
Fatigue
Who Are They For?
The Omega 3 Fish Oil Softgels are great for health-conscious individuals who want to make sure that they're hitting their daily requirements of essential nutrients, even with a demanding life and a busy schedule. Being pure and potent, these softgels can help you maintain your omega 3 levels for overall health and wellbeing. What's more, these softgels are made from naturally sourced ingredients and created to the highest quality and safety standards in the UK, ensuring you receive the finest possible bioavailability to help you get the most out of the natural softgels.
How To Use The Omega 3 Fish Oil Softgels
Take 2 capsules daily with a meal and a glass of water, either all together or with a meal. The exact time you take the softgels is up to you, but we recommend that you take them around the same time each day for consistency. We also suggest reading the full list of ingredients before using to check for any personal allergens. Consult your doctor before use if you are pregnant, breastfeeding or on medications. This product is not suitable for vegans or vegetarians
Full List Of Ingredients
Fish Oil, Capsule Shell (Gelatine (Fish), Glycerine), Antioxidant (Mixed Tocopherols), Sunflower Oil
Frequently bought together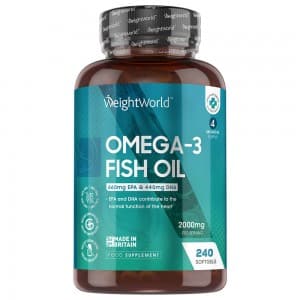 +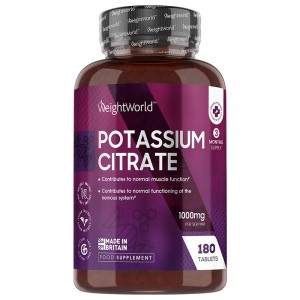 Potassium Citrate
1000 mg 180 Tablets | For muscles, nervous system and blood pressure
£14.99
+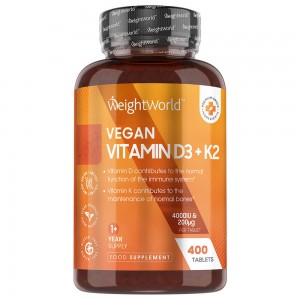 Customer Reviews
At WeightWorld we strive to offer the best possible customer service and we take great pride in the feedback we have received from our customers. All testimonials and reviews below are the experiences and opinions of WeightWorld customers. They should not be considered as health, medical or medicinal claims. They are no substitute for taking medical advice.
Outstanding

5
92.17% based on 22 Verified reviews

* Results may vary from one person to another.