All-Natural Supplements
GMP-certified and GMO-Free
Free UK delivery on orders over £40
Save on postage today
100% Customer Satisfaction
We offer a full 90-day money back guarantee
Chia, Flaxseed and Banana Oat Muffins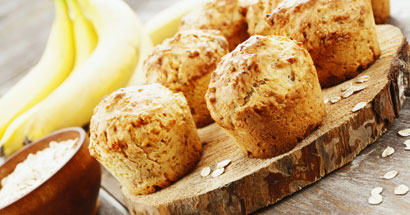 Ingredients:
1 tbsp flaxseed
3 very ripe bananas, mashed
1 tsp vanilla extract
30ml sunflower oil
130ml almond or soya milk
2 tsp apple cider vinegar
2 tbsp maple syrup
3 tbsp chia seeds
1 tsp sea salt
1¼ tsp bicarbonate of soda
100g self-raising flour
145g wholemeal self-raising flour
75g oats
75g soft brown sugar
A pinch of cinnamon
A pinch of ginger
Preparation:
Preheat the oven to 200°C.
Line a muffin tin with 12 paper cases.
Mix the flaxseed with 3 tbsp water.
Add to a blender along with the bananas, vanilla extract, oil, almond milk, vinegar and maple syrup, then blitz until smooth. You could also do this by hand, but a blender gives the best results.
In another bowl, put the remaining ingredients, keeping ½ tbsp oats and 1 tsp sugar to the side.
Pour the smooth banana mixture into the bowl and mix using a large metal spoon.
Divide the mixture between the cases.
Before baking, sprinkle the reserved oats and sugar on the muffins.
Bake for 25 mins, until risen and golden.