All-Natural Supplements
GMP-certified and GMO-Free
Free UK delivery on orders over £40
Save on postage today
100% Customer Satisfaction
We offer a full 90-day money back guarantee
Chia Seed, Vanilla and Raspberry Pudding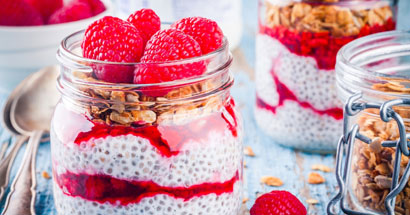 Ingredients:
400ml almond milk (you could use cow's milk or coconut - it's up to you)
100ml natural or Greek yoghurt
3 tsp honey, maple syrup or rice malt syrup
3 tsp pure vanilla extract
100g chia seeds
250g fresh or frozen raspberries
You will also need 4 jars/pots to serve.
Preparation:
Using a fork, mash the raspberries into a purée.
In a separate bowl, mix together the rest of the ingredients, leaving 40ml of the yoghurt.
Pour half of the puréed raspberries into the mixture.
Chill for 30 minutes in the fridge.
Into 4 jars, divide part of the chia seed mixture.
Add the remaining raspberry purée on top, and then the rest of the chia seed mixture. You will have a layer of white, a layer of red and then another layer of white.
Divide the remaining 40ml yoghurt between each jar.
Serving Suggestion: Sprinkle some mint leaves or raspberries for decoration. You can also top the yoghurt with some oats, as seen in the picture.