Our price match promise
We will beat or match other retailers
Free UK delivery on orders over £40
Save on postage today
Customer Data Protection
Your data is safe and secure with us
Chocolate Mousse With Fresh Fruit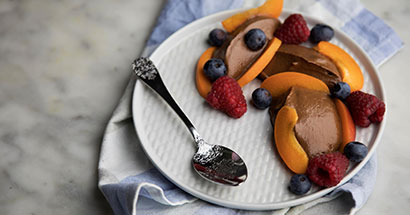 We know how difficult it can be to keep up a diet when all you can think about is the temptations of chocolate. With this in mind, we designed a chocolate mousse recipe which you can enjoy without feeling too much guilt! Enjoy the refreshing combination of fruit and chocolate today.
Chocolate Mousse With Fresh Fruit
Ingredients
150g of dark chocolate 75% chopped
½ Cup of water
Fresh Fruit Mix
Preparation:
In a heat resistant bowl, melt the chocolate over a bowl of hot water
Remove the chocolate from the heat, add the water and mix well.
Place the bowl over water and, with an electric beater, beat the chocolate mixture until the foam is formed (it will only take a few minutes).
Serve the chocolate mousse with fresh fruit cut into pieces.
The mousse can be left in the refrigerator for a few days in an enclosed container.
Why not try our
Fruit Infuser Bottle.