All-Natural Supplements
GMP-certified and GMO-Free
Free UK delivery on orders over £40
Save on postage today
100% Customer Satisfaction
We offer a full 90-day money back guarantee
Overnight Oats With Blueberries & Cocoa (No Scales)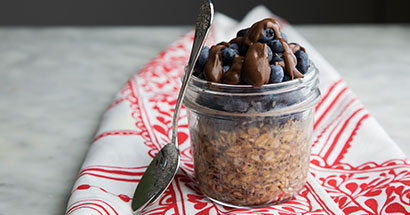 Ingredients for 2 :
For the oats:
2 cups oats
2 cups vegetable milk (of your choice)
2 tablespoons chia seeds
1 tablespoon bitter cocoa
1 tablespoon maple syrup (or honey)
For the topping:
A handful of fresh blueberries
1 cup of water
2 tablespoons bitter cocoa
Preparation :
In a bowl, mix the oats with the milk, chia seeds, the spoon of bitter cocoa and the maple syrup.
Cover the mixture (or transfer it to an airtight jar) and keep it in the fridge overnight.
Before serving in the morning, create a cocoa cream by mixing a cup of water with 2 tablespoons of bitter cocoa. Alter the measurements depending on desired consistency.
Divide the oat mixture into 2 small bowls, then add the fresh blueberries and cocoa cream.
Serve and enjoy!