Our price match promise
We will beat or match other retailers
Free UK delivery on orders over £35
Save on postage today
Customer Data Protection
Your data is safe and secure with us
Soft Matcha Cake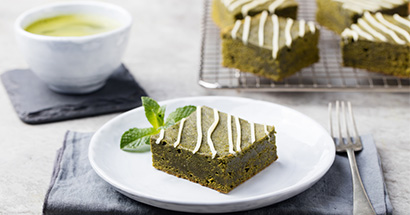 Ingredients :
200g White Chocolate
200g Butter
200ml of Sugar
300ml Wheat Flour
½ tsp. Baking Soda
2 tsp. Vanilla Sugar
30g of Powdered Matcha Tea
3 eggs
Preparation:
Preheat the oven to 175 degrees and cover the roasting pan with baking paper.
Chop the white chocolate into small pieces and melt it together with the butter in a glass bowl over boiling water (keep a little chocolate for decoration).
Beat the eggs and sugar to the foam and add the melted chocolate mixture.
Mix the dry ingredients in another bowl, then add them to the dough and stir together.
Pour the finished dough into a roasting pan and then place it in the oven for approx. 35 minutes. Use a stick to see if the cake is finished.
Let the cake cool and then decorate it with melted white chocolate.