Our price match promise
We will beat or match other retailers
Free UK delivery on orders over £35
Save on postage today
Customer Data Protection
Your data is safe and secure with us
Vegan Collagen Advanced
500 mg 60 Capsules | Collagen-Boosting Formula
Overview
Looking for a plant-based supplement to boost your collagen levels? Try Vegan Collagen Advanced, a premium collagen-builder with Vitamin C, Hyaluronic Acid and MSM! Thanks to these amazing ingredients, this advanced collagen formula can help to support natural collagen levels in the body and prevent the appearance of ageing, such as fine lines and wrinkles, as well as looking after bone and joint maintenance.
Vegan plant-based collagen supplement
Vitamin C contributes to normal collagen formation
Collagen-boosting formula
For skin and to prevent the appearance of ageing
Ideal for bones & joints
With Zinc, Hyaluronic Acid & Resveratrol
Buy 1

$23.36

$36.29
Buy 2

$42.04

$46.72 You Save 10%
Buy 3

$56.07

$70.08 You Save 20%
What is Vegan Collagen Advanced?
Vegan Collagen Advanced is a premium collagen-boosting formula that is completely plant-based. This advanced collagen skincare formula makes use of natural ingredients known for their collagen-building properties, such as Vitamin C, E and Zinc and then combines those with complementary elements such as anti-ageing Hyaluronic Acid and joint-supporting MSM. Together, they make the ideal supplement for vegans and vegetarians to help boost the natural collagen levels in the body. This can aid the appearance of ageing such as fine lines, wrinkles and sagging skin as well as support the care and maintenance of the bones and joints for the ultimate advanced collagen formula!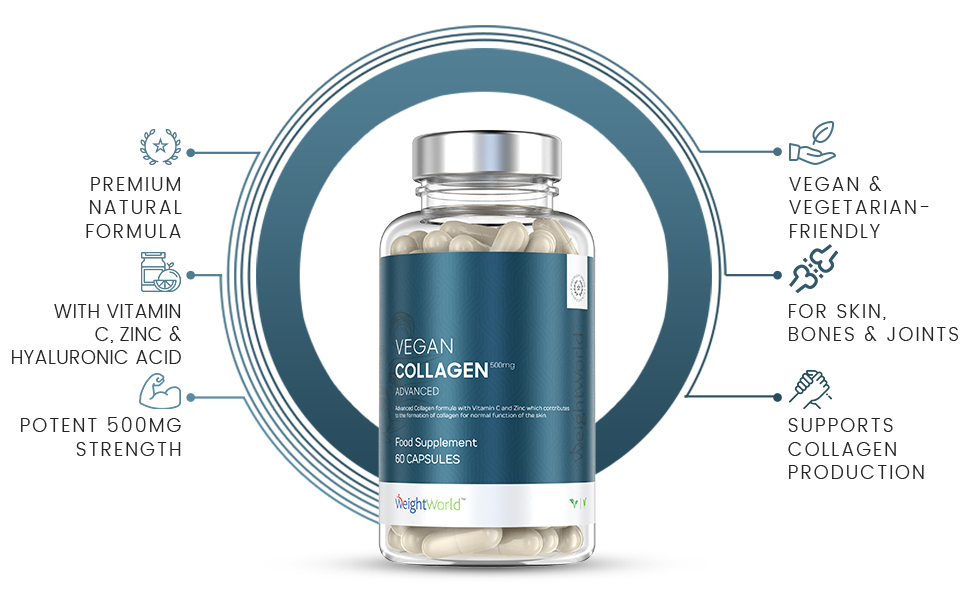 What is the difference between vegan collagen boosters and collagen pills?
Collagen is an excellent ingredient for the body as it is one of the main structural proteins found in skin and connective tissues. As a result, there are many bovine and marine collagen capsules benefits, but what if you are vegan or vegetarian? This is where a vegan collagen booster comes in! Unlike collagen supplements for skin and joints, boosters include ingredients, such as Vitamin C, that are known to support collagen formation. As a result, a vegan collagen supplement like this can support levels in the body, whilst still being meat-free!
Vegan Collagen Advanced ingredients
Active Ingredients: Vitamin C (as Calcium Ascorbate and Acerola Cherryl), Zinc (as Zinc Gluconate), Vitamin E (as d-Alpha Succinate), Orange Powder, Kale Powder, Broccoli Powder, Rosehip Powder, Methyl Sulphonyl Methane (MSM), Rutin, Resveratrol, Protease, Lactobacillus Acidophilus, Hyaluronic Acid.
Other Ingredients: Hydroxyl PropylMethyl Cellulose and Titanium Dioxide (Capsule), Maltodextrin, Silicon Dioxide and Magnesium Stearate as anti-caking agents.
GMP Certification
The biggest benefit from our Vegan collagen, is that no animals are harmed during the process. This is amazing news for those who suffer from allergies easily. This is because there's always some concerns of the risk of transmitting an illness from an animal to human. In vegan collagen production settings, you can control the safety more because any type of bacteria is easy to trace, making it more safe for you as a consumer. WeightWorld ensures safety whilst mixing up a blend of proteins, hyaluronic acid and vitamins to fight the signs of ageing, keeping you looking beautiful. We go that extra mile, and proudly display our Good Manufacturing Process certification to put your mind at ease.
Directions
To use Vegan Collagen Advanced, simply take 2 vegan collagen capsules daily, ideally with a meal. These vegan collagen pills are made using plant-based ingredients, so, therefore, have no known or reported side effects. Consult a doctor before use if you are pregnant, breastfeeding or under medical supervision. Collagen supplements are not intended for those under the age of 18.
Read More

Vegan Collagen Advanced
500 mg 60 Capsules | Collagen-Boosting Formula
Customer Reviews
At WeightWorld we strive to offer the best possible customer service and we take great pride in the feedback we have received from our customers. All testimonials and reviews below are the experiences and opinions of WeightWorld customers. They should not be considered as health, medical or medicinal claims. They are no substitute for taking medical advice.
Outstanding

5
90.00% based on 15 Verified reviews

* Results may vary from one person to another.