Our price match promise
We will beat or match other retailers
Free UK delivery on orders over £40
Save on postage today
Customer Data Protection
Your data is safe and secure with us
Vitamin E
400 IU 180 Softgels | Vitamins & Minerals
Overview
Vitamin E is important for our bodies to function healthily. But do you get enough from your daily diet? Give your body the extra boost of protection and support it deserves with WeightWorld's Vitamin E 400 IU. Our Vitamin E supplements are designed with you in mind. They come in an easy-to-use softgel form to support the absorption of this fat-soluble nutrient.
Essential for the normal function of your immune system
Protects cells from oxidative stress and cell damage
Comes in an easy-to-use softgel form
GMO free and GMP certified supplement
Dairy, lactose and gluten free
6 months' supply
Gluten-free
GMP
GMO Free
Lactose Free
Buy 1

£14.99

Buy 2

£28.48

£29.98 You Save 5%
Buy 3

£40.47

£44.97 You Save 10%

Buy now and earn 1 Comfort Point ?
What is Vitamin E?
Vitamin E is essential for the normal functioning of your body and to maintain a strong immune system. In recent years, this supplement has been popularised as an effective way to protect your cells from oxidative stress caused by free radicals. High levels of free radicals can be detrimental to your body as they are linked with illnesses such as diabetes, heart disease and cancer.
Vitamin E is naturally found in foods such as nuts, vegetable oils and leafy green vegetables. To ensure that you are reaping the rewards of this supplement, use WeightWorld's Vitamin E Softgels to increase your daily vitamin E intake and protect your cells from oxidative stress and cell damage!
What are the benefits of Vitamin E?
Weightworld's Vitamin E 400 IU Softgels are jam-packed with the essential elements needed to protect your cells from oxidative stress. This helps to strengthen your natural immune system and defend against cell damage.
Vitamin E is also believed to be beneficial in combating certain age-related disorders such as heart disease, diabetes and Alzheimer's disease.
Who is Vitamin E for?
The benefits of vitamin E are so far-reaching that it's the perfect supplement for just about anyone.
Whether you are looking to strengthen your body's natural immune system or to enhance your vitamin intake, WeightWorld's Vitamin E Softgels is designed with you in mind.
Vitamin E supplements are also known to be beneficial in the later stages of pregnancy to reduce the likelihood of preeclampsia.
Full List of Ingredients
Vitamin E (DL-α-Tocopheryl Acetate), Softgel: Glycerin, Water, Soybean Oil and Gelatin.
How to Use
Take 1 softgel daily with a full glass of water, preferably with a meal.
No known side effects; please take into consideration any known allergies that you may have before using this product.
If you are pregnant, breastfeeding, taking any medication or are under medical supervision, please consult a doctor if any adverse reactions occur. This product is not intended for use by persons below the age of 18.
Allergen information: contains soy.
Storage
Keep in a cool dry place away from the reach of children.
Vitamin E 400 IU softgels have a shelf life of 24 months.
Frequently bought together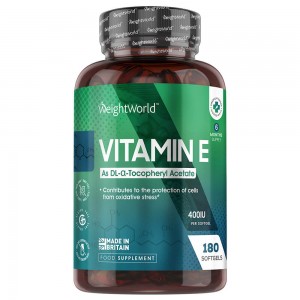 Vitamin E
400 IU 180 Softgels | Vitamins & Minerals
£14.99
+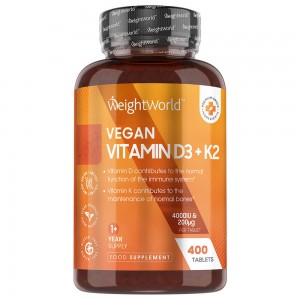 Customer Reviews
At WeightWorld we strive to offer the best possible customer service and we take great pride in the feedback we have received from our customers. All testimonials and reviews below are the experiences and opinions of WeightWorld customers. They should not be considered as health, medical or medicinal claims. They are no substitute for taking medical advice.
Outstanding

4.5
85.45% based on 10 Verified reviews

* Results may vary from one person to another.