An ergonomically designed ab stimulator comes with different modes for tailored use. However, if you want to get positive results, it's vital to choose the right ab stimulator. This means figuring out the features, benefits and caveats. Read on to learn everything about ab stimulators - pros, cons, efficacy, safety, and factors to look for, in the best device.
What Ab Stimulators Can and Can't Do for You
| Ab Stimulators Can | Ab Stimulators Can't |
| --- | --- |
| Build and strengthen muscles in your mid-section | Create a massive difference when used without a healthy diet and exercise |
| Help tone muscles | Work on a big amount of fat tissue |
| May cause muscles to contract | Trigger a change in your body mass index |
Features and Benefits of Ab Stimulators
Stimulating wave pattern for exercising abs
Different modes of function for adjusting the intensity according to your desired difficulty level
Secure batteries in the device for convenient use
Adhesive pads that are reusable
Alternate arm applications
Compact design for portability
Easy to attach and use
Ab Stimulator Warnings and Drawbacks
Every device that is designed for toning, strengthening or shaping muscle, has certain caveats with consumer use. These include skin irritation, shocks, pain, bruising, and in certain cases burns. However, this abdominal stimulation device uses electrical impulse technology for safe and effective stimulation of your abs.
While this device is completely safe to use, women who've had a cesarean delivery or undergone minimally invasive procedures like tummy tucks or liposuction must consult a doctor to ensure that the ab stimulator won't cause any harm to the incision site.
Tips to Get Positive Results from Ab Stimulators
The following are 5 key factors that you must consider if you want to make the best choice in ab stimulators: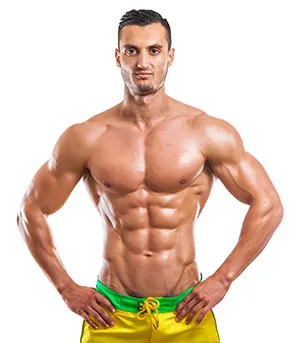 Size of the Ab Stimulator

Ab stimulators come in different shapes and sizes to cater to unique fitness needs. So, make sure you choose the one that fits you properly and suits your curves in terms of length and width. The larger the surface area, the better the toning and strengthening.

Reusable Gel Electrode Pads

Ab stimulators come with gel pads that are used for sending electrical impulses to muscles and complement the process of gaining muscle size and strength. Make sure your chosen stimulator comes with gel pads that are designed to remain sticky for at least a month, even with daily use.

Intensity Settings

For the best results, it is recommended to choose an ab stimulator that comes with customisable settings for intensity. This way you can start at a low intensity and increase the difficulty level over time for maximum benefit and best results.

In-built Technology

Ab stimulators harness the power of electrical impulse technology to take your ab exercises to the next level. With individual gel pads that transmit signals to your ab muscles, it works to stimulate the process with an intense wave pattern which can be tailored to your unique preferences.

Alternate Arm Application

Some brands also include additional arm pads for stimulating the muscles in your arm. This addition allows you to use the ab stimulator for toning your arms using the gels pads that are specifically designed to fit your arms.
Overview
Now you know what factors to look for before you click the "buy now" button. Don't forget to check that the product is CE Certified and read the reviews of your chosen product. Finally, make sure that it caters to your fitness goals and remember that toning your abdominal area can only happen if you are consistent with your healthy eating habits and fitness regime.