Active T5 Plus
60 Capsules | High Strength Thermogenic Supplement
This powerful supplement is a unique combination of 11 active ingredients that work together in perfect synergy to create this high strength Active T5 Plus formula. This thermogenic supplement works by boosting your energy levels to kickstart your bodies' natural slimming process. It also comes complete with a powerful Amino Acid complex which has been selected to aid the feeling of cravings to help balance your diet whilst you go about your weight management programme!
Thermogenic active T5 supplement
High strength natural formula
Vitamin B6 for normal energy-yielding metabolism
With Caffeine, Amino Acids and Capsicum
Enriched with bioavailability-enhancing Bioperine
Vegan
GMP
Gluten-free
Vegetarian
Free Delivery on all UK orders over £35.
Why Choose a Thermogenic Product?
Thermogenics, as the name implies, are a particular kind of food supplement designed specifically to help stimulate the body's heat production and are mostly based on ingredients chosen to provide the body with energy, stamina and drive. They are also generally enriched with amino acids and vitamins which are known to boost the body and contribute to the reduction of tiredness and fatigue. They are also included to help with the motivation and mental focus need to achieve fitness and wellbeing goals.
How To Use
Take 2 capsules of T 5 daily with water, one in the morning when you wake up (ideally at least 30 minutes before breakfast) and the second approximately 30 minutes before lunch. Try to avoid taking your T 5 Plus supplements in the evening, as the caffeine could affect your sleep patterns. Each bottle of T 5 contains 60 capsules and will last for 1 month (30 days). In order to properly assess the full effects of the supplement for your body, we suggest using for at least 3 months.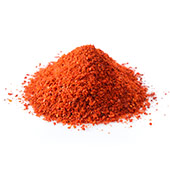 Capsicum
Also known as Peppers, Capsicum contains a pungent alkaloid called Capsaicin. This has been extensively studied for its potential biological properties. It has also been researched regarding its thermogenic and weight management properties. Find out more on this research here.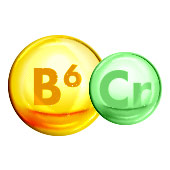 Vitamins & Minerals
Vitamin B6 contributes to normal energy-yielding metabolism as well as normal functioning of the nervous system and to the reduction of tiredness and fatigue. Meanwhile, Chromium contributes to normal macronutrient metabolism and to the maintenance of normal blood glucose levels.
Full List of Ingredients
Active Ingredients - Caffeine, L-Carnitine Tartrate, L-Tyrosine, L-tryptophan, Capsicum, Citrus Aurantium, Green Tea (from 4:1 extract), Narigin Extract, Bioperine Black Pepper Extract, Vitamin B6, Chromium.
Other Ingredients - Anti-Caking Agents - Silicon Dioxide, Magnesium Stearate.
Safe & Natural Supplement
The Active T5 Plus supplement is developed with the finest natural ingredients and therefore does not have any known side effects. As with any supplement, we suggest to read the entire list of ingredients to see if you are allergic to anything in the formula. You should not take this supplement if you are currently pregnant, if you are breastfeeding or are sensitive to caffeine. This T 5 is not intended for those under the age of 18.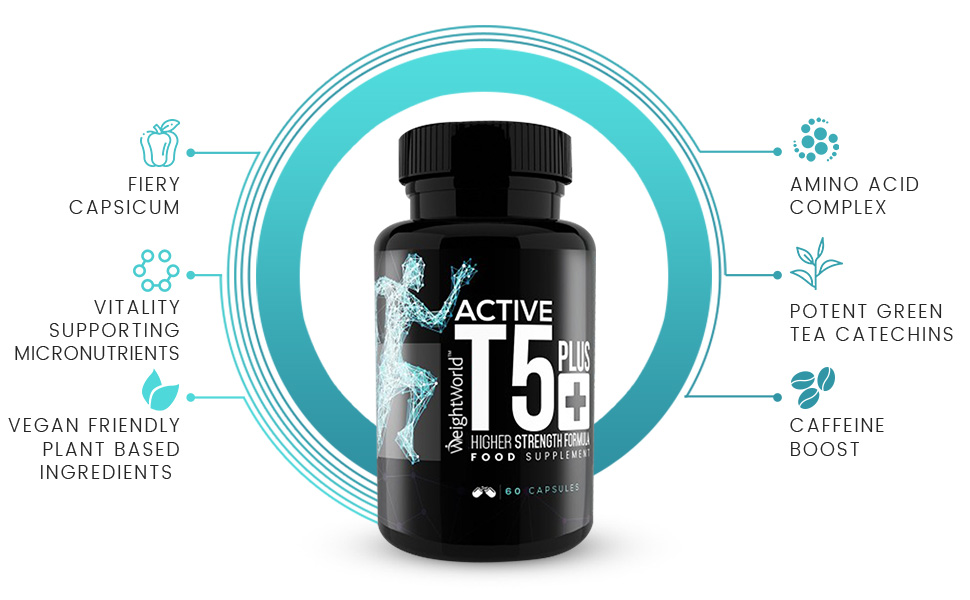 Read More

Active T5 Plus
60 Capsules | High Strength Thermogenic Supplement
Customer Reviews
At WeightWorld we strive to offer the best possible customer service and we take great pride in the feedback we have received from our customers. All testimonials and reviews below are the experiences and opinions of WeightWorld customers. They should not be considered as health, medical or medicinal claims. They are no substitute for taking medical advice.
Very good

4
81.82% based on 32 Reviews
* Results may vary from one person to another.