Glucosamine and Chondroitin Capsules
900 mg 60 Capsules | Joint Health Support Supplement
WeightWorld is proud to bring you Glucosamine and Chondroitin. This supplement is sourced from only the purest Glucosamine and Chondroitin and targets two key components of your joints. Firstly, the fluid that lubricates joints, and secondly the cartilage that surrounds them. The capsule form can be easily worked into your daily routine and each serving of our Glucosamine and Chondroitin supplement delivers a rare 900 milligrams (500 of Glucosamine and 400 of Chondroitin) of potency.
Formulated to help support joints
For protection and reinforcement
Premium Glucosamine and Chondroitin
Potent 900 mg capsules
60 servings in one pack
Dairy-free
Gluten-free
GMP
12.99
$26.10
You Save$9.10
Free Delivery on all UK orders over £35.
Why Glucosamine With Chondroitin?
Glucosamine with Chondroitin has been formulated as a joint supplement that you can take from the comfort of your own home, with the aim of helping to support the natural process through which you maintain healthy joints. Both Glucosamine and Chondroitin are active chemical agents in the body that have garnered a popular reputation among people opting for lifestyle choices to safeguard their joints.
Joint Lubrication
Glucosamine is a key ingredient in the formation of synovial fluid, the bodies' natural lubricant to protect the joints from wear and tear. The fluid surrounds the bones in a joint to create frictionless movement which prevents the bones from rubbing together and causing joint discomfort.
Cartilage Strength
An increasing number of studies have been undertaken that have linked Glucosamine and Chondroitin to joint health. Chondroitin is a key ingredient in the construction of cartilage, which lines the inside of joints as an impact cushion to absorb shock and external pressure.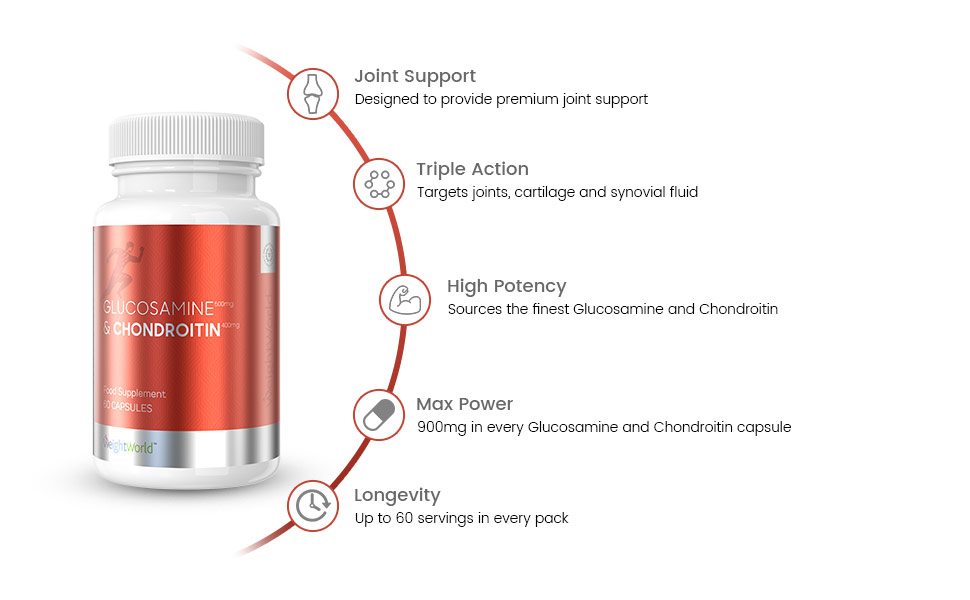 Full Ingredients List
Glucosamine Sulphate, Chondroitin Sulphate, Maltodextrin, Microcrystalline cellulose, Sodium Carboxy Methyl Cellulose, Magnesium Stearate, Silicon Dioxide, HPMC Coating (HPMC, Chlorophyll, Black Iron Oxide, Titanium Dioxide).
How To Take Glucosamine And Chondroitin Capsules
Take one or two capsules of Glucosamine With Chondroitin per day. These capsules should be consumed with water and in tandem with a nutritious meal. These capsules can also be consumed on either a full stomach or an empty stomach without any difference in outcome.
Advice When Taking Glucosamine & Chondroitin
This product should not be consumed as the primary fix for severe joint problems and for serious issues, medical consultancy should be sought after. Glucosamine and Chondroitin Capsules are designed to be consumed alongside a balanced diet and exercise, should not be consumed in replacement of food. This product is not suitable for consumption by vegetarians and vegans, and it possesses no known side effects. Always refer to the ingredients list before consuming if you have any specific allergies and this supplement is unsuitable for consumption by people below the age of eighteen.
Read More

Glucosamine and Chondroitin Capsules
900 mg 60 Capsules | Joint Health Support Supplement
Customer Reviews
At WeightWorld we strive to offer the best possible customer service and we take great pride in the feedback we have received from our customers. All testimonials and reviews below are the experiences and opinions of WeightWorld customers. They should not be considered as health, medical or medicinal claims. They are no substitute for taking medical advice.
Outstanding

5
82.86% based on 7 Reviews
* Results may vary from one person to another.